Miami está revolucionado con la llegada del argentino.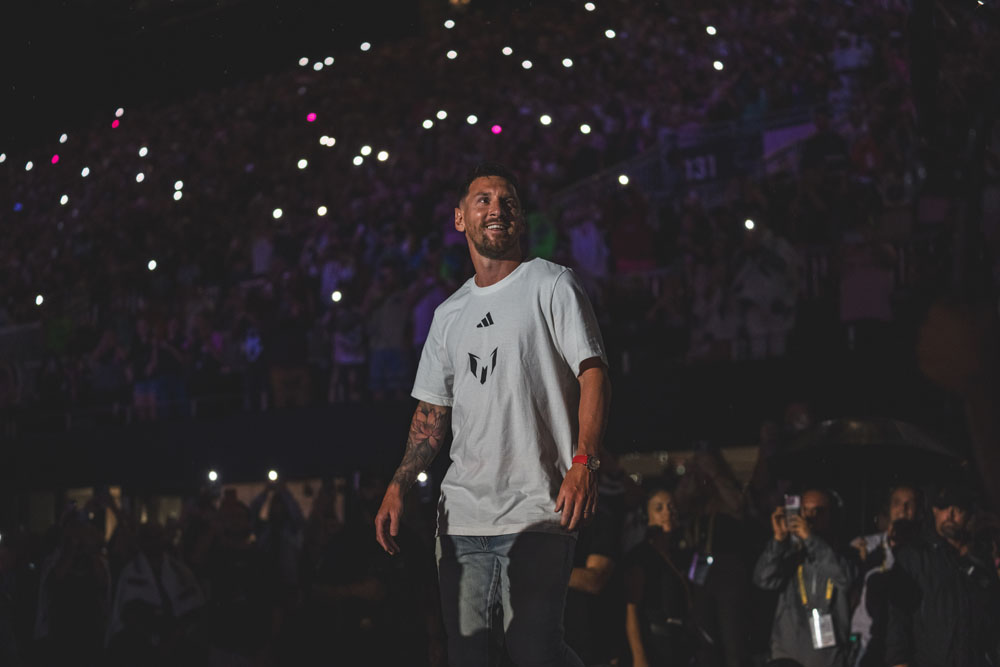 La espera se terminó y la euforia es total. Lionel Messi logró lo que nunca antes había ocurrido: que en Estados Unidos se hable más de fútbol que de NBA o NFL. Su llegada a la MLS generó una revolución en Norteamérica. Y en su primer juego demostró quien es el rey del futbol con su tremendo Golazo.
A pesar del mal clima, el ex jugador del PSG tuvo una cálida bienvenida a la MLS con un evento multitudinario en el DRV PNK Stadium. Más de veinte mil personas y prensa de todas partes del mundo se hicieron presentes en la presentación oficial del nuevo número 10 del Inter Miami, quien estuvo acompañado de su gran amigo y socio dentro del campo, Sergio Busquets, quien también fue presentado como nueva estrella del equipo en el mismo evento.
El capitán de la Selección Argentina causa furor en Norteamérica y con su presentación oficial se vivió un acontecimiento histórico para la historia del fútbol de Estados Unidos.
Las expectativas por verlo con la camiseta rosa y negra fueron muy grandes y el mejor jugador del mundo lo sabe: aseguró estar con "muchas ganas de competir y de ganar", además de haberse mostrado "muy feliz de haber elegido este proyecto". Al Diez se lo vio sonriente, ilusionado y comprometido con "ayudar a que el club siga creciendo".
Por su parte, Jorge Más, propietario mayoritario de Inter Miami, se mostró exultante con la llegada del siete veces ganador del balón de oro, e hizo hincapié en que el objetivo primordial del club ahora será competir por títulos. Y en ese sentido se encuentra trabajando a destajo en el mercado de pases para confeccionar una plantilla competitiva. Dentro del operativo seducción para convencer a Messi de llegar a Miami, se le aseguró tener un equipo a su altura y rodearlo de la mejor forma posible.
A la llegada de Leo, se le suman la contratación de Gerardo Martino como DT -ya lo dirigió en Barcelona y en la selección argentina-, y los arribos ya confirmados de Sergio Busquets, multicampeón con el Barcelona y campeón del mundo con España, y Jordi Alba. Además de ser grandes amigos de Messi, ambos han sido de los mejores socios que en argentino tuvo durante su carrera.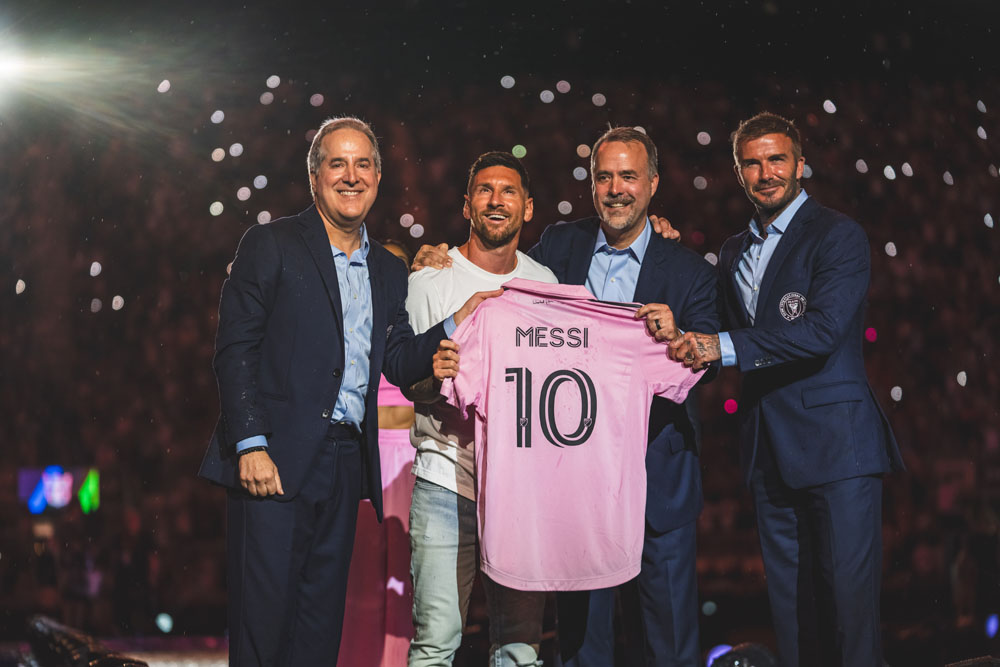 Además, existen negociaciones para contar en un futuro -cercano- con Luis Suárez, uno de los mejores amigos y socios que le dio el fútbol a Messi.
Por último, la idea es comprar talento joven en Sudamérica y traer algunos de los mejores prospectos sub-23 del continente, para terminar de darle forma a un equipo que en lo deportivo no vive su mejor momento, ya que se encuentra último en la tabla de posiciones, lejos de los puestos de clasificación a playoffs.
La llegada del campeón del mundo cambiará por completo el rumbo de un equipo que hasta ahora no encontró la fórmula, y también de la liga. Los rivales lo saben e incluso se baraja la posibilidad de que haya cambios estructurales en el formato de la MLS, para aprovechar el boom Messi y permitir la llegada de más figuras y talentos a la liga estadounidense.
El argentino firmó un acuerdo histórico, a la altura de su figura, donde además del salario correspondiente, el jugador contará con un porcentaje en las ventas de la indumentaria, un porcentaje de las ganancias por los derechos de transmisión (TV), y la posibilidad de que en un futuro Messi pueda adquirir parte de las acciones de un equipo de la MLS, tal como ocurrió con Beckham cuando llegó a Los Ángeles Galaxy. Además, será la cara de la próxima Copa América 2024 que se disputará en suelo americano, y la idea es que también lo sea para el Mundial de 2026, a disputarse en Estados Unidos, México y Canadá. Si bien Messi en más de una oportunidad aseguró que cree que Qatar 2022 fue su último mundial, este escenario deja una ventana abierta para la ilusión de verlo en su sexta Copa del Mundo, lo que lo convertiría en el jugador que más veces la haya disputado en toda la historia.
En sus primeros días en Miami, el impacto ha sido total. El club multiplicó por 10 sus seguidores en redes sociales, visualizaciones e interacciones. La camiseta con su nombre y el número 10 subió de precio y se encuentra agotada. Las entradas para los partidos de Inter Miami, que antes no llenaba el estadio, están casi agotadas y el valor de los boletos se disparó.
Está claro que Messi llegó para revolucionar la ciudad y la liga. El soccer será 'fulbo', al menos por un tiempo. El cambio ya empezó, y como dijo Messi en su presentación, van a pasar cosas y vamos a disfrutar. Pónganse cómodos, el mejor de todos los tiempos está en la casa.
The Messi Effect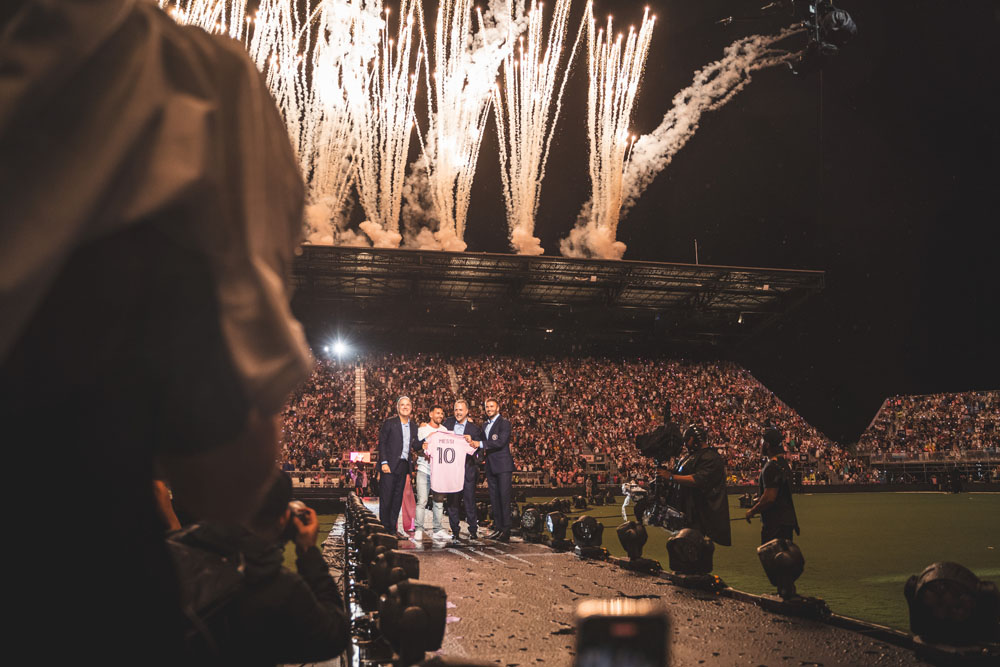 The wait is over, and the excitement is overwhelming. Lionel Messi has achieved something that had never happened before: making football more talked about in the United States than the NBA or NFL. His arrival in MLS has sparked a revolution in North America. And in his first game in Miami, he demonstrated who's the kind of soccer with his last second shocking goal.
Despite the bad weather, the former PSG player received a warm welcome to the MLS with a massive event that was held at DRV PNK Stadium. Over twenty thousand people and press from all over the world attended the official presentation of Inter Miami's new number 10, who was accompanied by his great friend and on-field partner, Sergio Busquets, also introduced as a new star of the team during the same event.
The captain of the Argentine National Team is causing a frenzy in North America, and his official presentation marked a historic event for the history of soccer in the United States.
Expectations to see him wearing the pink and black jersey were very high, and the world's best player knows it. He stated that he is "eager to compete and win," and he expressed his happiness in choosing this project. The "Ten" was seen smiling, enthusiastic, and committed to "helping the club continue to grow."
Jorge Más, majority owner of Inter Miami, was ecstatic about the arrival of the seven-time Ballon d'Or winner. He emphasized that the club's primary goal now is to compete for titles. They are working tirelessly in the transfer market to build a competitive squad. During the negotiations to convince Messi to come to Miami, they assured him of having a team that matches his level and surrounding him in the best possible way.
Joining Leo, is Gerardo Martino as the new coach – who had previously managed him at Barcelona and the Argentine national team – and confirmed the signings of Sergio Busquets, a multi-champion with Barcelona and a World Cup winner with Spain, and Jordi Alba. Both are great friends of Messi and were some of his best partners during his career in Argentina.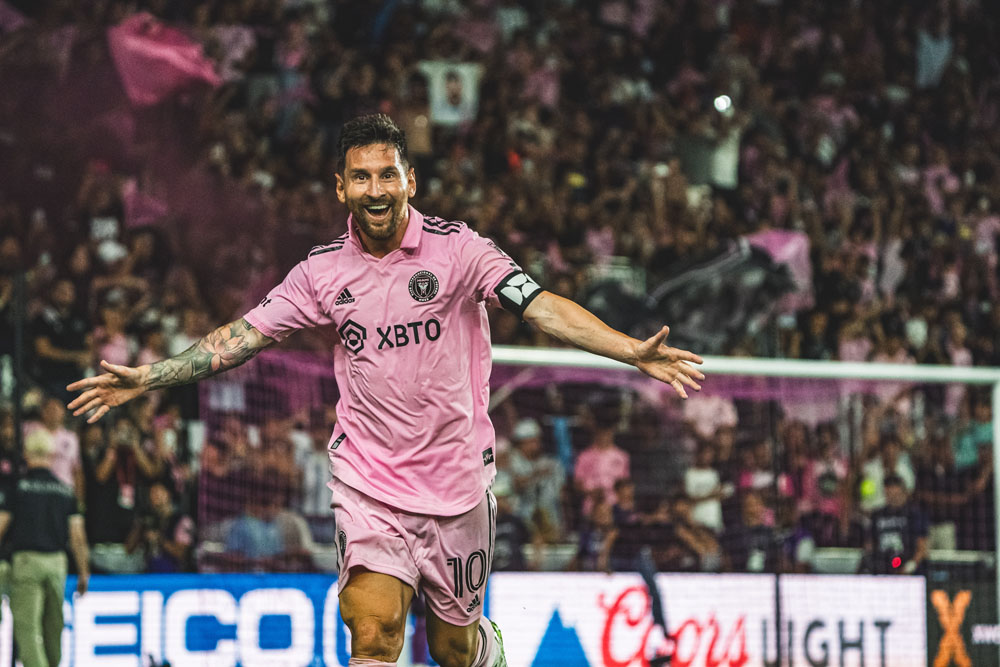 There are also ongoing negotiations to bring in Luis Suárez, one of Messi's best friends and football partners.
Furthermore, the plan is to invest in young talent from South America and bring in some of the best U-23 prospects from the continent to complete the team. Currently, the team is struggling in the sports aspect, sitting at the bottom of the standings, far from the playoff positions.
The arrival of the world champion will completely change the course of a team that has not yet found its formula and that of the league. Rivals know this, and there is even speculation about possible structural changes in the MLS format to capitalize on the Messi boom and attract more stars and talents to the American league.
The Argentine signed a historic deal, befitting his stature, where, in addition to his salary, he will receive a percentage of jersey sales, broadcast rights revenue, and the possibility of acquiring a stake in an MLS team in the future, like what happened with Beckham when he joined Los Angeles Galaxy. Additionally, he will be the face of the upcoming Copa America 2024, to be held in the United States, and the plan is for him to also be the face of the 2026 World Cup, hosted in the United States, Mexico, and Canada. Although Messi has stated more than once that he believes Qatar 2022 was his last World Cup, this scenario leaves a window of hope to see him in his sixth World Cup, which would make him the player with the most appearances in the history of the tournament.
During his first days in Miami, the impact has been immense. The club's social media followers, views, and interactions have multiplied by ten. Jerseys with his name and the number 10 saw a price increase and are now sold out. Tickets for Inter Miami's matches, which previously did not fill the stadium, are nearly sold out, and their value has skyrocketed.
It's clear that Messi has come to revolutionize the city and the league. Soccer will be "Fulboll," at least for a while. The change has already begun, and as Messi said during his presentation, exciting things will happen, and we will enjoy the ride.