When a group of visionary developers realized that South Florida was experiencing a shift in demand for luxury residential living, moving away from hectic coastal condos, they came up with a unique residential project that offers customizable estates in a private 44 tropical acres enclave.
"AKAI Estates is the first project of its kind in Southwest Ranches. The exclusivity, privacy, and ability to customize residences to exactly what a buyer desires is what sets AKAI Estates apart from any development in South Florida," Alex Yokana, Co-developer of Akai Developer.
Located at 4730 Akai Drive, this new development offers spacious homes in a quiet, rural-style living environment. Each on two private acres, there will be 16 ultramodern estates, the first of its kind in North America.
Rather than selling pre-built homes, the development team takes a design-build approach that allows buyers to customize their homes to fit their families and lifestyle.
"There are almost no large blocks of land left in South Florida. So, when we came across this property six years ago, we immediately saw the opportunity to develop a boutique project that we could set apart from anything else being built," says Alex Yokana, co-developer of AKAI Estates.
Residences are priced from $8 million and range up to $14 million. They have a gated entry staffed with 24-hour security and a host of community amenities, including a helicopter pad.
Each estate includes an aquatic entertainment area and is highly customizable with the ability to add features, including putting greens, tennis/pickleball courts, or even a basketball court.
This high-end living concept unfolds across five open floor plans starting at 8,000- 15,000 Square Feet under AC and styling ranging from 1-3 levels, 6-8 bedrooms, and 8.5 baths with a selection of exterior/interior living spaces and pool size. The designer brilliantly created a seamless integration concept of bringing the outdoor, indoor.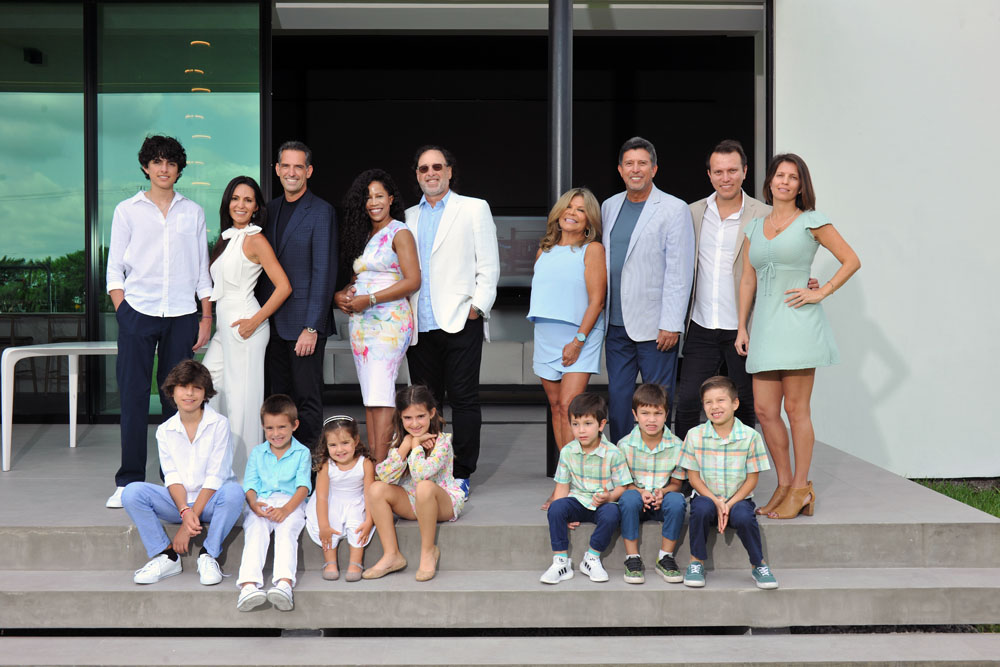 THE DEVELOPMENT TEAM
The AKAI team has a diverse background and brings together some of the most experienced and forward-thinking minds in finance, real estate development, construction, and architecture. Dedicated to their lovely families, they recognize the importance of tranquility, space, and a safe living environment.
"We bring a lot of professionals together to make an incredible experience for the buyer, says Jairo Vela, project co-developer.
Developers Alex Yokana from Brazil, Jairo Vela from Colombia, Michael Sochaczevski from Canada, and designer Vasco Viera from Portugal have raised the bar on residential suburban living standards. Alex Yokana has a construction background and is the founder and qualifier for Contempus Construction Company. Jairo Vela is an architect and co-founder of Axis, a coworking space in the heart of Fort Lauderdale. Micahel Sochaczevski is a Canadian developer and investor working on residential development projects in the U.S. and Canada since the late 1990s. Leading the sales team is Compass' Bento Queiroz.
"Where we really differentiate ourselves is that we're giving our buyers a curated experience where they can interact with the architect," says Michael Sochaczevski, co-developer of AKAI Estates.
THE DESIGNER
Vasco Viera
Internationally acclaimed architect Vasco Vieira is the founder and head architect of Portugal-based firm Vasco Vieira Arquitectos. His work has ranged from individual villas to large eco-resorts, including hotels, restaurants, spas, and commercial buildings. With notable European projects, the firm has won awards for its previous work in individual villas, hotels, restaurants, spas, and commercial buildings, including Best European Development.
"My aim for the AKAI villas was to create a new and exciting architectural experience, establishing a constant interaction between the interior and exterior spaces, with each villa embracing the terrain," says Vieira. "Not only do all the main living spaces flow flawlessly with the exterior spaces, but the creation of a series of atriums allows for constant contact with greenery and nature while experiencing the villa, he says."
Some beautiful details and practical features in Akai Estates include 15-foot façade doors and 12-foot retractable glass panel doors that seamlessly transition between indoor and outdoor living spaces.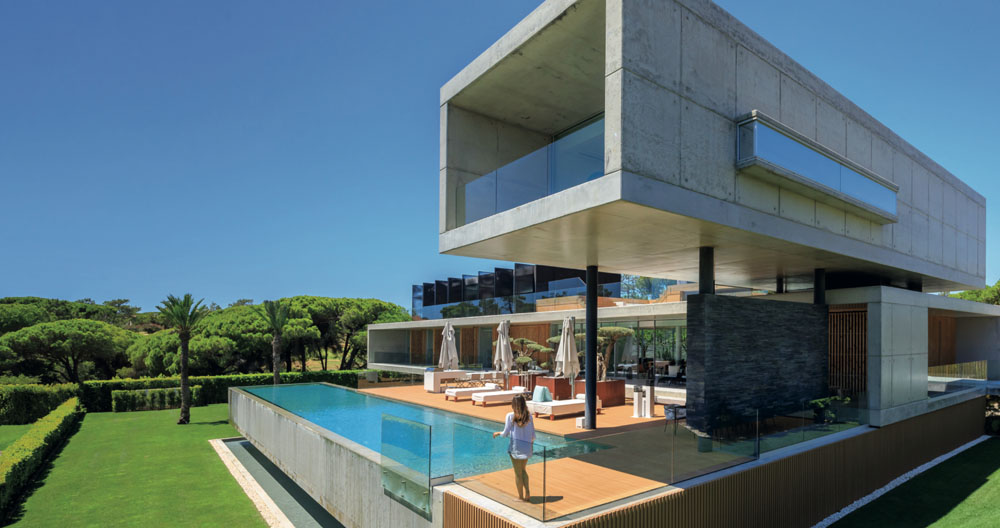 OUTSTANDING LOCATION
Ideally located close to Miami and Fort Lauderdale, Akai Estates has access to South Florida's top-rated schools, fine dining, entertainment, and culture.
"We saw in southwest ranches an opportunity to build outstanding architectural design integration of indoor and outdoor living in a serene private environment for a fraction of the cost that could be found anywhere else. Come see our development. You will be impressed," says co-developer Sochaczevski.
Location highlights include The Club at Weston Hills with 18-hole golf clubs by world-renowned Robert Trent Jones, Jr., Southwest Ranches Equestrian Park, Center for the Performing Arts, American Heritage School, as well as easy access to major airports and highways between Miami and Fort Lauderdale.
RECENT BUYERS
AKAI Estates has received enormous interest and an uptick in activity from New York and Northeast markets. Southwest Ranches and the rest of South Florida have seen an influx of wealthy buyers seeking the South Florida lifestyle and tax breaks.
From Chicago, the owner of the nation's most prominent natural products broker, Bill Weiland, purchased an Akai Estate for $15.4 million, a record for Broward County.
Prasad Hedge, from Connecticut, COO of Miami-based 777 Partners, and his wife Ruby bought an Akai two-acre lot for $8M.
AKAI Estates: Donde la Privacidad y el Prestigio se Encuentran
Por: Nancy Esteves
Fotos: Enrique Tubio
Cuando un grupo de desarrolladores visionarios se dio cuenta de que el sur de Florida experimentaba un cambio en la demanda de viviendas residenciales de lujo, alejándose de los agitados condominios costeros, concibieron un proyecto residencial único que ofrece fincas personalizables en un enclave privado de 44 acres en medio de un entorno tropical.
"AKAI Estates es el primer proyecto de su tipo en Southwest Ranches. La exclusividad, privacidad y la posibilidad de personalizar las residencias según los deseos de los compradores es lo que distingue a AKAI Estates de cualquier otro desarrollo en el sur de Florida", afirma Alex Yokana, codesarrollador de Akai Developer.
Ubicado en 4730 Akai Drive, este nuevo desarrollo ofrece amplias viviendas en un entorno tranquilo y de estilo rural. Cada una se encuentra en dos acres privados y se construirán 16 fincas ultramodernas, las primeras de su tipo en América del Norte.
En lugar de vender casas preconstruidas, el equipo de desarrollo adopta un enfoque de diseño y construcción que permite a los compradores personalizar sus hogares para que se adapten a sus familias y estilo de vida.
"Prácticamente no quedan grandes extensiones de tierra en el sur de Florida. Así que, cuando encontramos esta propiedad hace seis años, inmediatamente vimos la oportunidad de desarrollar un proyecto boutique que se destacara de cualquier otra construcción", dice Alex Yokana, codesarrollador de AKAI Estates.
Las residencias tienen un precio que oscila entre los $8 millones y los $14 millones. Cuentan con una entrada cerrada con personal de seguridad las 24 horas y una amplia gama de comodidades comunitarias, que incluyen una plataforma para helicópteros. Cada finca incluye un área de entretenimiento acuático y se puede personalizar en gran medida, con la capacidad de agregar características como canchas de golf, canchas de tenis/pickleball e incluso una cancha de baloncesto.
Este concepto de vida de lujo se despliega a través de cinco planos de planta abiertos, que van desde los 8,000 hasta los 15,000 pies cuadrados bajo aire acondicionado, con estilos que van desde 1 hasta 3 niveles, de 6 a 8 habitaciones y 8.5 baños, con una selección de espacios interiores y exteriores y el tamaño de la piscina. El diseñador ha creado brillantemente un concepto de integración perfecta que fusiona el exterior con el interior.
EQUIPO DE DESARROLLO
El equipo de AKAI cuenta con una amplia experiencia y reúne a algunas de las mentes más experimentadas e innovadoras en finanzas, desarrollo inmobiliario, construcción y arquitectura. Dedicados a sus queridas familias, reconocen la importancia de la tranquilidad, el espacio y un entorno seguro para vivir.
"Reunimos a muchos profesionales para crear una experiencia increíble para el comprador", dice Jairo Vela, codesarrollador del proyecto.
Los desarrolladores Alex Yokana de Brasil, Jairo Vela de Colombia, Michael Sochaczevski de Canadá y el diseñador Vasco Viera de Portugal han elevado los estándares de vida suburbana residencial. Alex Yokana tiene experiencia en construcción y es el fundador de Contempus Construction Company. Jairo Vela es arquitecto y cofundador de Axis, un espacio de coworking en el corazón de Fort Lauderdale. Michael Sochaczevski es un desarrollador e inversor canadiense que trabaja en proyectos de desarrollo residencial en Estados Unidos y Canadá desde finales de la década de 1990. Dirigiendo el equipo de ventas se encuentra Bento Queiroz de Compass.
"Lo que realmente nos diferencia es que brindamos a nuestros compradores una experiencia personalizada en la que pueden interactuar con el arquitecto", dice Michael Sochaczevski, codesarrollador de AKAI Estates.
EL DISEÑADOR
Vasco Viera
El aclamado arquitecto internacional Vasco Vieira es el fundador y arquitecto principal de la firma Vasco Vieira Arquitectos, con sede en Portugal. Su trabajo ha abarcado desde villas individuales hasta grandes eco-resorts, incluyendo hoteles, restaurantes, spas y edificios comerciales. Con proyectos destacados en Europa, la firma ha ganado premios por su trabajo previo en villas individuales, hoteles, restaurantes, spas y edificios comerciales, incluido el Mejor Desarrollo Europeo.
"Mi objetivo para las villas de AKAI era crear una experiencia arquitectónica nueva y emocionante, estableciendo una interacción constante entre los espacios interiores y exteriores, con cada villa abrazando el terreno", dice Vieira. "No solo fluyen perfectamente todos los espacios principales de vida con los espacios exteriores, sino que la creación de una serie de atrios permite un contacto constante con la vegetación y la naturaleza mientras se disfruta de la villa", agrega.
Algunos detalles hermosos y características prácticas en Akai Estates incluyen puertas de fachada de 15 pies y puertas de paneles de vidrio retráctiles de 12 pies que hacen una transición fluida entre los espacios interiores y exteriores.
UBICACIÓN EXCEPCIONAL
Idealmente ubicado cerca de Miami y Fort Lauderdale, Akai Estates tiene acceso a las escuelas de mayor calificación, restaurantes de alta cocina, entretenimiento y cultura del sur de Florida.
"Vimos en Southwest Ranches una oportunidad para construir una destacada integración de diseño arquitectónico entre la vida interior y exterior en un entorno privado y sereno, a una fracción del costo que se podría encontrar en cualquier otro lugar. Ven a ver nuestro desarrollo. Te impresionarás", dice el codesarrollador Sochaczevski.
Destacados de la ubicación incluyen The Club at Weston Hills con campos de golf de 18 hoyos diseñados por el mundialmente reconocido Robert Trent Jones, Jr., Southwest Ranches Equestrian Park, el Centro de Artes Escénicas, American Heritage School, así como un fácil acceso a los principales aeropuertos y autopistas entre Miami y Fort Lauderdale.
COMPRADORES RECIENTES
AKAI Estates ha despertado un enorme interés y un aumento en la actividad de los mercados de Nueva York y el noreste. Southwest Ranches y el resto del sur de Florida han visto una afluencia de compradores adinerados que buscan el estilo de vida y los beneficios fiscales de Florida.
Desde Chicago, el propietario del bróker de productos naturales más prominente de la nación, Bill Weiland, compró una propiedad en Akai por $15.4 millones, estableciendo un récord en el condado de Broward.
Prasad Hedge, de Connecticut, COO de 777 Partners con sede en Miami, y su esposa Ruby compraron un terreno de dos acres en Akai por $8 millones.