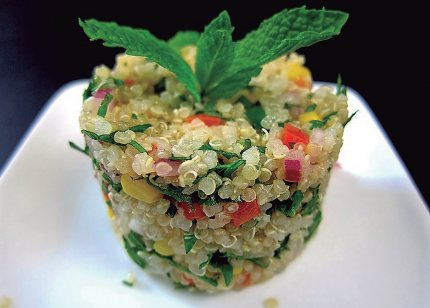 La cocina peruana, considerada como una de las más privilegiadas del mundo, heredó de la historia su ingenio, su mestizaje y su
sabor. La fusión de su cocina se debe al intercambio cultural a través del tiempo, donde destacan la inmigración española, africana, china, japonesa e italiana. ..
Irina C. Herrera Díaz digna representante de la cocina peruana en Europa no solo se ha preocupado por el crecimiento de la gastronomía sino por la importancia de los alimentos del Perú, dando a conocer en  sus preparaciones la Quínoa más conocida
como el Grano de Oro, contiene un alto valor proteico para los diabéticos, contiene grasas monoinsaturadas y poliinsaturadas,
lo que disminuye el colesterol en la sangre, celíacos contiene muy poco gluten y personas con intolerancia a la lactosa.
Posee más cantidad de minerales que los cereales su contenido de vitamina B y C es superior a la del trigo es rico en fibra, también actúa como antioxidante. Irina ha desarrollado el concepto de Quínoa Fusión  en la búsqueda de nuevas estrategias para vincular la Quínoa con las principales corrientes culinarias del mundo.
Irina C. Herrera Díaz, profesional con una gran trayectoria de más de 25 años en temas relacionados a la gastronomía peruana. Posee una amplia experiencia en promoción, desarrollo, empresarial, capacitación y cooperación. Siempre en constante coordinación con organismos públicos y privados. Logrando difundir insumos y productos peruanos a nivel local e internacional. Proponiendo show cookings y/o workshops como canales y estrategias clave de promoción y desarrollo de sus innovaciones y fusiones en gastronomía
mundial; asumiendo el rol de embajadora de la cultura peruana en Cinco Continentes. Coordinadora de la red mundial de aliados
gastronómicos. Su amor a la cocina, su interés y compromiso han contribuido a los proyectos para combatir la desnutrición infantil en el Perú.
---
Hispanic Heritage Month,  A tribute to Peruvian food.

Peruvian cuisine, considered one of the most privileged of the world, is also one of the most fascinating food cultures in the world. It is unmatched in both its diversity and individuality. It is a fusion of many different cultures; it retains unique elements of each, yet is a distinct cuisine all its own.
Its main influences are the indigenous Inca peoples; the Spanish conquistadors; African slaves brought by the Spanish; and large waves of immigrants who became integral components of the cultural and culinary framework. Irina C. Diaz Herrera, a representative of Peruvian cuisine in Europe, reveals the importance of Peruvian. She says that Quinoa, its main staple, is a healthy food that contains high protein for diabetics,  monounsaturated and polyunsaturated fats, which lowers blood cholesterol, contains very little gluten, and is good for people with lactose intolerance. It's very high in minerals and rich in fiber and also acts as an antioxidant. Irina has developed the concept of "Quinoa Fusion" in her recipes and always finds new ways to incorporate Quinoa into culinary recipes around the globe.
Irina C Herrera Diaz, who is an amazing chef, has assumed the role of ambassador of Peruvian culture in Five Continents and has her own TV cooking program. Her love of cooking and commitment has contributed to projects that combat child malnutrition in Peru.