habiendo Vivido en el Caribe, he sido afortunada de experimentar, de primera mano, las celebraciones del carnaval. Son toda una explosión de música, comida, baile y fabulosos trajes que van con esos días. ¡La belleza en ello es que los locales ponen su corazón y alma en esta gran celebración de vida! Para apreciar realmente el carnaval, debes entender la cultura y tradición detrás de todo y luego sabrás por qué esta fiesta es un evento épico cultural. Diversión desmedida es lo que experimenté durante tres días de conciertos y fiestas callejeras masivas en el Carnaval Bahamas Junkanoo. ¡La fiesta nunca paró! Pero sí sabemos cuándo empezó. Fue en la Gran Bahamas en Abril y continuó en Nassau en Mayo con fabulosas festividades, buena vibra y una increíblemente alta energía espiritual en la gente No se trata este de un evento único. Es en cambio una colección de celebraciones. El término Junkanoo surgió del líder Ghanés, Jhon Connu, un legendario príncipe de África del oeste. Otros sospechan que viene del francés "gens inconnus" que se traduce en "desconocido" o "persona enmascarada". En este día, los esclavos de las Bahamas podían dejar las plantaciones y celebrar la temporada navideña con su familia y amigos. Desde la emancipación, la parada del Junkanoo ha sido celebrada en otras épocas del
año. Por los últimos dos años, Las Bahamas la ha celebrado también en Abril-Mayo.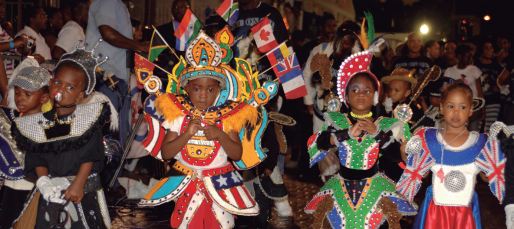 ---
BAHAMAS JUNKANOO CARNIVAL
Having lived in the Caribbean, I was fortunate enough to experience some of the liveliest carnival celebrations on different islands. For those that haven't had the carnival experience, it's definitely something to add to your bucket list. It's an explosion of music, food, dance and fabulous costumes and the festivities go on for days. The beauty of it is the passion that goes into it all. Islanders
truly pour their heart and soul into this grand celebration of life! To really appreciate it, you must first understand the culture behind it. For the most part, carnival is a celebration of freedom from slavery in which locals honor their cultural heritage and tradition.
My most recent travel expedition was Bahamas Junkanoo Carnival, three days of non-stop concerts and a massive street party, a destination experience of unrivaled fun. The party never stopped! It first started in Grand Bahamas in April and continued in Nassau in May with fabulous festivities, great positive vibes and amazing high energy spirited people. Bahamas Junkanoo Carnival, in its second year, is not a single event: it is a collection of celebrations, concerts, cultural shows and street parades that pull from all aspects of Bahamian culture and heritage. So what is Junkanoo? The word junkanoo is said to be derived from a Ghanaian leader, John Connu, a legendary West African Prince, who outwitted the English and became a local hero. Others say it comes from the French 'gens inconnus,' which translates as 'unknown' or 'masked people'. So the story goes: On this day, Bahamian slaves were able to leave plantations and celebrate the Christmas season with family and friends. This was a chance to let loose with song and dance in these troubled times. During the early years of the festival, Junkanoo parade participants wore unusual masks and walked on stilts.
Since emancipation, Junkanoo has been celebrated at other times of the year as well – such as New Years and in June. For the past two years, Bahamas has added a Carnival that takes place in April-May. The original music of junkanoo in the Bahamas was played with goombay goatskin drums, cowbells, conch shell horns [later replaced by bicycle horns], and whistles.
Events and experiences at Junkanoo Carnival:
Youth Culture Fest
A junior parade and cultural show, showing an appreciation for indigenous materials and Bahamian culture.
Grand Bahamas Weekend
A prelude to Music Masters Nassau, the top 25 semifinalists from the Bahamas Junkanoo Carnival Song Competition compete for a spot in the finals. Taino Beach is transformed into a cultural village, showcasing the culinary and artistic talents of Grand Bahamians.
Da Cultural Village, Nassau
This is the heart of Bahamas Junkanoo Carnival bustling with activity including food, culture, arts, craft and nonstop entertainment featuring Junkanoo, Rake 'n' Scrape and world rhythms.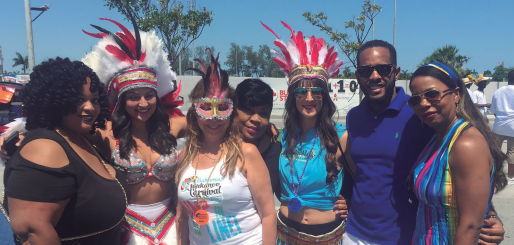 Music Masters
The biggest concert of the Bahamas Junkanoo Carnival season features top Bahamian and international artists. Featured this year were Rake and Scrape superstar D Mac; along with Bahamian band Visage, Trinidadian Soca queen Destra; Grammy award winning hip hop artist Wyclef Jean; Jamaican Reggae artist Tarrus Riley and Cuban hit maker, Laritza. Performing alongside the Bahamian and international artists were the top ten finalists in the Music Masters Song Competition Rush-Outs Rhythmic sound of a drum starts tapping out a tempo in the evening. This rhythm builds into an intoxicating beat calling everyone out into the streets in what they call a "rush out." Performers appear in extravagant costumes and burst into dancing in a parade.
Road Fever — A Soul Stirring Parade
Road Fever is the original Bahamian masquerade street party that closes out the annual Bahamas Junkanoo Carnival. This costume parade incorporates masses of people "Shaking up the Streets". Long before the 'rushout', Junkanoo dance troupes – groups of up to 1,000 – will have been busy rehearsing their dazzling routines for months. The musicians will have perfected their rhythms and they perform day and night on goatskin drums, cowbells, whistles, brass instruments and horns, and the imaginative costume designers will have worked non-stop to weave their own special magical costume. As the Junkanoo parade moves through the streets of
downtown Nassau, the energy of the non-stop dancing squads and the beat of the music inspire the vast crowds of supporters and spectators to start moving! It's an incredible experience of the most decked-out costumes, which can be spotted from miles away. I literally was whirled through droves of people in a circle of feathers and had to just go with the flow in this five mile dance procession. At the end, judges award cash prizes for the best music, best costume and best overall group presentation.
Behind the Scenes:
I actually visited the Junkanoo World Museum & Arts Center and the museum where I experienced Drumming, cowbelling, and looked through a costume expo where I got the inside scoop on carnival preparations—and even wore a Bob Marley worn native headdress! Costume-makers literally spend about four and a half months making costumes from crepe paper, cardboard,
feathers and a sprinkling of their own magical touches. Bahamians long-await the opportunity to strip down, and strap into carefully crafted mobile artwork.Competition is so fierce that groups have a "shack" (base camp) where they practice their routines every
day, but once on the road, everyone becomes part of the road fever and one big group.
Accommodations
Beautifully situated on a 1,000-foot-stretch of spectacular beachfront, I stayed at Meliá Nassau Beach All-Inclusive, which was a great place to unwind and relax and rest my feet after all that dancing… The beaches in the Bahamas are just breathtaking…and there are
some exquisite fine dining restaurants that feature fresh caught local seafood like Cafe Matisse and Luciano's of Chicago that I
had a chance to enjoy.
I'm definitely signing up for the next Junkanoo Carnival… keep you posted when the time gets closer on all the festivities…