Solo para cambiar las cosas un poco, si estás buscando una experiencia única de viaje, los resorts que te presentamos a continuación ofrecen prácticas actividades inspiradas en cada destino y su cultura local.
Dale rienda suelta a tu Picasso interno en el espacio de arte de Le Méridien Chambers Minneapolis
Ubicado en los edificios gemelos insignes del distrito teatro en el corazón de Minneapolis, Le Méridien Chambers Minneapolis incorpora a sus huéspedes en la escena artística de la ciudad desde el momento en que atraviesan la puerta. Además de contar con una galería propia del lugar y un "art-o'mat" interactivo en el lobby (una máquina expendedora de cigarrillos cuyo propósito fue renovado para dispensar coloridos artefactos donados por artistas de todo el mundo), el hotel recientemente lanzó un Espacio de Arte que inspira a los viajeros a volverse creativos con implementos tales como lápices de colores, pinturas al agua de colores, almohadillas al carboncillo para dibujar, caballetes, y más. Este espacio es complementario para los invitados del hotel y un gran lugar para conocer viajeros afines con una inclinación por el arte.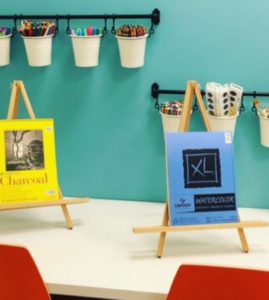 Channel Your Inner Picasso in the Art Room at Le Méridien Chambers Minneapolis
Located in twin landmark revival buildings in the heart of Minneapolis' bustling theater district, Le Méridien Chambers Minneapolis immerses guests in the city's art scene from the moment they walk through the door. In addition to an on-property gallery and an interactive 'art-o'mat' in the lobby (a repurposed cigarette vending machine that dispenses colorful artifacts donated by artists from around the world), the hotel just launched an Art Room that inspires travelers to get creative with supplies such as colored pencils, watercolor paints, charcoals sketch pads, easels and more. The Art Room is complimentary for hotel guests and a great place to meet like-minded travelers with a penchant for art.
---
Aprende a hacer pasteles en el Resort & Spa Renaissance Toscana Il Ciocco.
Enclavado en la colina de una amplia finca de dos millas, en el corazón de la emblemática región italiana de Toscana, el resort & spa Renaissance Toscana Il Ciocco domina el valle Serchio, una de las áreas más inexploradas de Italia. Al llegar a la propiedad, los huéspedes pueden comer un bocado o disfrutar de un snack con toque casero como hojas de salvia frita en el Lounge Nour, justo a la derecha del lobby. Además, cada jueves en el lobby, los huéspedes pueden disfrutar de una demostración para hacer pasteles presentada por la pastelería del resort y cada viernes, los invitados pueden empezar su fin de semana con una cata de vinos presentada por el vinatero local, Gabriele Da Prato.
Learn to Make Pastries at Renaissance Tuscany Il Ciocco Resort & Spa
Nestled on the hill of an expansive two-mile estate in the heart of Italy's most beloved region, Tuscany, the Renaissance Tuscany Il Ciocco Resort & Spa overlooks the mountainous Serchio Valley, one of the most unexplored areas of Italy. Upon arrival to the property, guests can grab a bite or enjoy local home-made snacks like fried sage leaves at Nour Lounge, located right in the lobby. In addition, every Thursday in the lobby, guests can enjoy a pastry making demonstration presented by the resort's pastisseur and every Friday, guests can start off their weekend with a wine tasting presented by local vintner Gabriele Da Prato.
---
Sé feliz en el Resort & Casino Stellaris de Aruba Marriott
Este resort incorporó recientemente un jardín de hamacas llamado "La Zona feliz" donde los huéspedes pueden relajarse, disfrutar los alrededores de Palm Beach, y anunciar, a través de divertidos y coloridos carteles de madera flotante hechos por locales, qué es lo que los trae a ser felices en la Isla feliz, como la familia, los amigos, un cumpleaños o su luna de miel, etc. Buscando representar los colores únicos de Aruba con una apariencia divertida y juguetona, las pinturas de la artista Maja Lepsanovic incluyen animales como los gecos (lagartijas nocturnas) y los búhos, plasmados con diferentes técnicas de pintura y materiales tales como piedras, perlas y bambú. Cuando los huéspedes visitan la "Zona Feliz", si postean una foto en sus redes sociales y etiquetan al resort, pueden ganar divertidos premios como una ronda gratuita de tragos en el acuabar.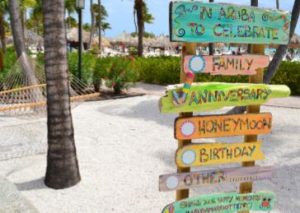 Get Happy at Aruba Marriott Resort & Stellaris Casino
Aruba Marriott Resort & Stellaris Casino recently introduced a hammock garden called The Happy Zone where guests can relax, take in the serene Palm Beach surroundings, and via locally-painted, colorful driftwood signs, can denote what is making them happy on the One Happy Island – such as family, friends, a birthday or honeymoon, etc. Aiming to represent the unique colors of Aruba with a fun and playful look, the paintings by artist Maja Lepsanovic incorporate animals such as geckos and owls, along with different painting techniques and materials such as stones, pearls, and bamboo. When guests visit The Happy Zone, if they post a photo on social media of themselves there tagging the resort's handles, they're entered to win fun prizes like a free round of drinks at the swim-up bar.