One of the biggest trends at the fall and winter 2016 fashion shows are the use of masculine touches to accentuate feminine features. As shown, some fall/winter cool elements were added that made us totally fall in love with these looks!
Metallic is in as seen in skirts, dresses, tops, pants and everything in between–silver, gold, copper and more. Shiny metallic details are even more attractive when appearing as art!
Oversized clothing has kept its strong position among the best fashion trends for many seasons now! During our review on street styles, we found coats in many different materials, from colorful faux furs to leather and suede, and of course, the all time must wear—the boots.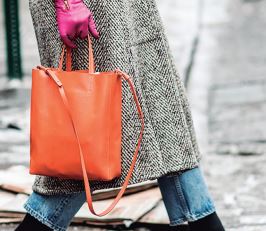 ¡Increíbles tendencias en esta temporada de Otoño/Invierno!
Quizás la más grande tendencia en los shows de las temporadas de otoño e invierno de 2016 fue el uso de la masculinidad para acentuar algunos aspectos de la femineidad. Pero como vemos en las calles, esto fue adaptado con otros elementos cool del otoño/invierno que ¡nos enamoraron completamente!
Los looks metálicos están a la vuelta de la esquina tal como los vemos en faldas, vestidos, tops, pantalones y todo lo que parezca plateado, dorado, cobre y ¡más! La variedad de detalles resplandecientes son incluso más atractivos cuando aparecen como arte.
La moda de la ropa de gran tamaño ha mantenido su posición fuerte entre las mejores tendencias fashion por ¡muchas temporadas ya! Un vistazo en los estilos callejeros nos lleva a ver abrigos en diferentes materiales, desde coloridas pieles de imitación hasta cuero y gamuza, con un largo extremo en las piezas que te llevan a otro detalle extra: las botas.