¡Los amantes del mundo al aire libre estarán encantados con lo más reciente en estilos para sus ambientes exteriores! La tendencia es traer lo de adentro hacia afuera—para crear ambientes confortables que sean tanto funcionales como bellos. También hay una tendencia a ir hacia los espacios sustentables que sean conscientes de nuestra madre Tierra y sus ecosistemas.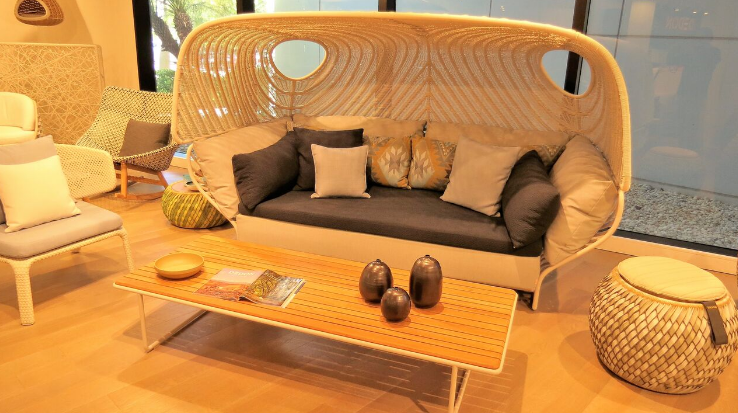 Espacios exteriores totalmente personalizados: los patios se han convertido en extensiones de los espacios interiores, completados con muebles y accesorios. Más allá de los decks y las barbacoas, el patio se puede transformarse en cocinas a todo funcionamiento con hornos de ladrillo y parrilleras, salas y comedores confortables con chimeneas y románticos dormitorios.
• Patios iluminados y altamente tecnológicos: equipar estos ambientes con iluminación creativa y funcional, además de mejoras tecnológicas es casi un deber. El WiFi del patio y las instalaciones de TV son solo algunas maneras en las que un jardín
se torna en un acogedor ambiente de alta tecnología.
• Jardínes eco-amigables: seleccionar y cultivar plantas nativas para atraer aves, insectos y vida salvaje – ayuda a crear espacios
ambientalmente conscientes. La instalación de iluminación solar o luces de energía eficiente LED es otra manera en la que pueden
ser parte de la nota ecológica.
• Jardines comestibles: la demanda de opciones de bajo mantenimiento ha llevado a crear jardines hechos en contenedores,
los cuales no requieren cuidados amplios y son una tendencia. Hierbas frescas, frutas y vegetales agregan textura y variedad de
colores a los paisajes, mientras proveen suministros frescos de deliciosos ingredientes.
• Características con agua: jardines con cascadas y paredes de piedras agregan una impresionante dimensión a nuestros patios.
---
Ultimate Outdoor Living Spaces
Backyardenthusiastwill be thrilledwiththelatest outdoor livingstyles! Thetrend is to bringtheindoors outside — to createcomfortablelandscapesthat are bothfunctionalandbeautiful. There's also a shift toward sustainablelandscapesthat are mindfulforthe Earth anditsecosystems.
• Fully customized outdoor living spaces for entertaining. Landscapes have become extensions of interior spaces, complete with furniture and appliances. Beyond basic decks and patios, landscapes can be transformed into full-service kitchens with brick ovens and grills, comfortable living and dining rooms featuring fireplaces and fire pits, and romantic canopy bedrooms.
• Lighted and high-tech landscapes. Equipping these landscapes with creative and functional lighting and technological
enhancements is a must. Backyard Wi-Fi and TV installations are just some of the ways gardens are getting tech-savvy.
• Eco-friendly and native gardens. "Naturescaping" — selecting and growing native plants to attract birds, insects and wildlife —
is one method landscapers can create environmentally conscious landscapes. The installation of solar-powered lighting or energyefficient LED lights is another way landscapes can go green.
• Edible landscapes. The demand for low-maintenance options has made container gardens, which often do not require extensive
care a trend. Fresh herbs, fruits and vegetables add texture and color variety to landscapes, while providing a fresh supply of delicious ingredients.
• Freshwater features. Rain barrels, rain gardens and stone retaining walls add stunning dimension to lush landscapes.