Preparen la cámara (y el estómago) ya que estos hoteles les brindan la perfecta oportunidad para ambos ¡—playas maravillosas- delicias culinarias –fotos espectaculares!
Brunch en la playa del JW Marriott Cancún Resort & Spa Cancún, México.
Este resort en Cancún es un paraíso para los amantes de la cocina y los aficionados del Instagram, está ubicado en el corazón de la
zona hotelera de Cancún frente al mar. El brillante equipo F&B del Cancún JW Marriott ha creado recientemente una canasta playera
de brunch que contiene todo para un picnic gourmet. Las dos variedades de cestas están llenas de opciones hechas para cualquier
gusto u ocasión. Ideal para novios en luna de miel, escapes de chicas, o diversión familiar en la playa, las canastas playeras de Brunch
pueden ser disfrutadas desde los divanes privados Bali del resort, o justo en la arena, a solo unos pasos del brillante mar azul del Caribe mexicano.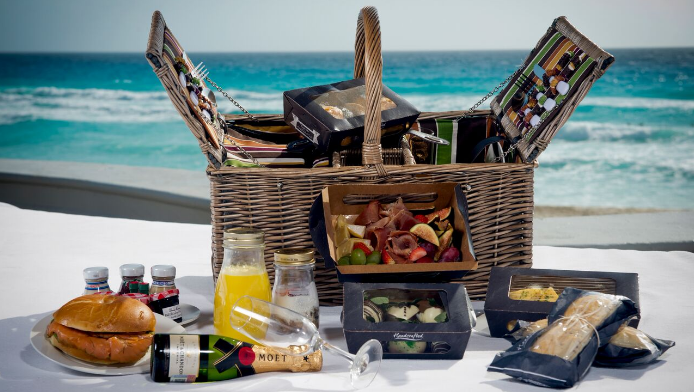 Brunch on the Beach at JW Marriott Cancun Resort & Spa | Cancun, Mexico.
JWMarriottCancunResort & Spa is a foodie's andInstagram lover's paradise in theheartofCancun's Hotel Zone. To bringthisbeachfront property's top-notch culinary offeringsbeyonditsrestaurant walls, thebrilliant JW Marriott Cancun F&B teamrecentlycreated a Beach BrunchBasketthatperfectlypackagesallthefixingsfor a gourmetpicnicspread. Whetherguestswant to sip green juiceor toastchampagne, munchMexican crudités ordiginto bacon-egg burritos, thetwo basketvarieties are filled to thebrimwith
options suited for any taste or occasion. Ideal for honeymooners, girls' getaways, or some family fun on the beach, the Brunch Beach Baskets can be enjoyed from the resort's private Bali daybeds, or right in the sand, just steps from the bright blue Mexican-Caribbean.
---
Una Fiesta en la playa en Júpiter Resort & Spa | Júpiter, Florida
Este hotel realmente sabe cómo lanzar una fiesta ideal para sesiones fotográficas. Situado en la franja dorada de la costa Atlántica, dotada con dunas naturales, el único espacio con vista al océano del resort ofrece escape tropical donde los invitados pueden relajarse y disfrutar de la fácil y aireada vida playera. Este verano, la propiedad lanzó una experiencia culinaria privada en la playa para grupos –un Happy Hour típico mexicano con un delicioso guacamole, tacos de pescado fresco al grill, y una barra coctelera de margaritas
para hacerlas uno mismo en frascos de vidrio. Y como ninguna fiesta está complete sin entretenimiento, música en vivo y vistas del destellante turquesa del océano hacen de este atardecer un bocadillo extra que vale totalmente la pena.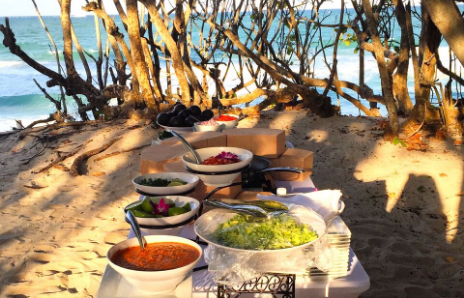 A Beachside Fiesta at Jupiter Beach Resort & Spa | Jupiter, Florida
Jupiter Beach Resort & Spa really knows how to throw a party ideal for photo opps. Situated on a strip of golden Atlantic coastline dotted with natural dunes, the area's only oceanfront resort offers a laidback, tropical escape where guests can relax and enjoy the
easy breezy beach life. This summer, the property launched a private beachside culinary experience for groups — a pop-up Mexican-inspired Happy Hour with made-to-order guacamole, fresh grilled fish tacos, and a DIY mason jar margarita bar. And because no fiesta is complete without entertainment, a live musician and views of the glittering turquoise ocean make this sunset snack extra snap-worthy.
---
Everything's Better in a Jar at San Juan Marriott Resort & Stellaris Casino | Puerto Rico
With San Juan MarriottResort & Stellaris Casino's recently revampedmenus anddishes, you can't help butsnapawaythesecondyourfoodarrivesatthe table. Playingwithfunnewpresentations, theresortintroduced a fewdishes in glassjars, such as theOctopus Salad andSevenFloor Salad (lettuce, bacon, tomatoes, red onions, sweet peas, parmesan, lime aioli). Thesecreativedishes are fun to eatandfun to photograph, andmayeven inspire you to switchup howyou prepare yourmealsat home. Enjoyviewsofarguablythebestbeach in San Juan andtheturquoiseoceanwaters, andmaybeevencatch a surfer ridingby, whichalllookevenbetterwith a deliciousmeal in theforeground.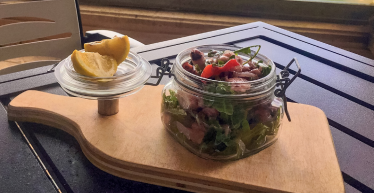 Todo es mejor en un "frasco" en el Resort San Juan Marriott & Casino Stellaris | Puerto Rico
Con los recientemente renovados menús y platos del Resort San Juan Marriott & Casino Stellaris no puedes evitar de sorprenderte en el momento que tu comida llega a la mesa. Jugando con divertidas nuevas presentaciones, el resort incorporó un par de platos en frascos de vidrio, tales como la ensalada "Pulpo" y la Ensalada "Siete pisos" (lechuga, tocineta, tomates, cebolla roja, guisantes dulces, parmesano, aioli lima). Estos platos creativos son divertidos de comer y perfectos para fotografiar, e incluso quizás te inspiren a cambiar la manera en que prepares tus comidas en casa. Aquí podrán disfrutar de una maravillosa vista de la que podría decirse que es la mejor playa en San Juan, de aguas turquesas, también podrás ver personas practicando el surf mientras disfrutas de una deliciosa comida.
---
Lleva tu picnic al Sandpearl Resort Clearwater Beach, Florida.
La foto del picnic perfecto la puedes tomar durante una nueva experiencia llamada "Picnic en el Paraíso", en el Resort "SandPearl", donde podrás degustar deliciosas comidas y a la vez llevar tu cámara para tomar fotos espectaculares y subirlas en tu instagram. Los chefs de "Caretta on the Gulf", restaurante de cuatro diamantes, han creado dos menús innovadores y perfectos para picnics – Shorely Delicious con sándwiches de pavo y jamón serrano, y el Island Antipasto con charcutería, quesos, y platos de frutas. Para un escape diurno o a la puesta del sol, estas canastas vienen completas con todo lo esencial. Pueden pedirse para llevar a muchos lugares cercanos, como la Isla Caladesi, la Isla Honeymoon, o en un paseo privado en bote. Se requiere 24 horas de pre-aviso para que "Picnic en el Paraíso" pueda ser preparado, también lo pueden pedir a través del room service.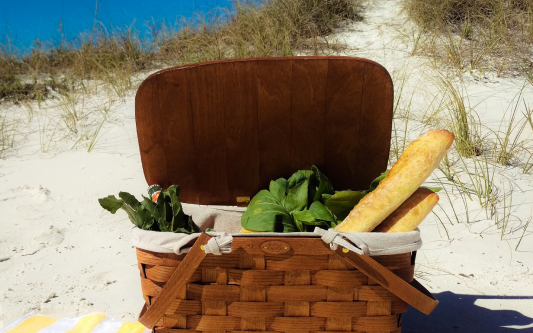 Take Your Picnic to Go at Sandpearl Resort Clearwater Beach, Florida
The perfect picnic pic is within reach through Sandpearl Resort's new Picnic in Paradise experience, teasing you to fill your camera roll
and stomach with these delicious eats. The chefs at Sandpearl Resort's AAA Four-Diamond restaurant, Caretta on the Gulf specially created two innovative and tasty to-go picnic basket menus – Shorely Delicious starring turkey and ham ciabatta sandwiches and Island Antipasto featuring charcuterie, cheese, fruit, and nut platters. For a daytime or sunset getaway, these baskets come complete with all the essentials and can be taken to go to many nearby spots, such as Caladesi Island, Honeymoon Island, or on a private boat charter. An advance notice of 24 hours is required and Picnic in Paradise can be booked through room service.
---
Sunset Guacamole and Coconut Cocktails at CasaMagna Marriott Puerto Vallarta Resort & Spa | Puerto Vallarta,
Mexico
On a sandystripbetweenthe Sierra Madre Mountainsand Banderas Bay, theCasaMagna Marriott Puerto VallartaResort & Spa is located in theupscale marina area, just a short drive from Puerto Vallarta, a charming, friendlytownwithanauthenticMexicanvibe
offering a vibrant culinary scene. Every Tuesday and Friday, guests can get a taste of local flavor at the beachfront Las Casitas restaurant, with the Sunset Guacamole experience – where they'll find one of the resort's culinary experts working the molcajete to make some of the freshest guacamole. After a brief demonstration, guests can take a seat and order their own to enjoy as the sun dips below the horizon. Guests can also head to the pool to cool off and enjoy the resort's brand new CocoBar, offering a variety of alcoholic and nonalcoholic cocktails, all served in coconuts and incorporating coconut water to help guests stay hydrated. The CocoBar is open daily from 12 – 6 p.m. Favorites include the Coco Loco, Coco Cosmo and CocoLandia.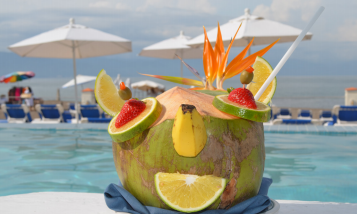 Guacamole al atardecer y cocteles de coco en el Casa Magna Marriott Puerto Vallarta Resort & Spa | Puerto Vallarta, México
En una franja arenosa entre las montañas de Sierra Madre y la bahía Banderas, el Magna Marriott Puerto Vallarta está ubicado en la zona donde se encuentra una marina de lujo, apenas a un corto viaje desde Puerto Vallarta, un encantador y amigable pueblo auténtico mexicano ofrece una vibrante escena culinaria. Cada martes y viernes, los visitantes pueden deleitar del sabor local en este restaurante con vista a la playa "Las Casitas", con la experiencia del "Sunset Guacamole" (Guacamole al atardecer) – donde encontraran uno de los expertos culinarios del resort trabajando el molcajete para hacer uno de los guacamoles más frescos que hayan probado. Luego de una breve demostración, los invitados pueden tomar asiento y ordenar por su cuenta y disfrutar la puesta del sol. También pueden ir a la piscina para refrescarse y disfrutar del nuevo CocoBar, que ofrece una variedad de cócteles, todos servidos en coco y que incorporan el agua de coco para ayudar a los visitantes a mantenerse hidratados. El CocoBar está abierto todos los días de 12 a 6 de la tarde. Los favoritos incluyen el "Coco Loco", "Coco Cosmo" y "CocoLandia".