Whether it's singing, dancing or her latest adventure — acting, the Princess of Urban Pop Becky G has definitely got it together. Becky G recently stole the show at the Latina American Music Awards taking the prize for "Favorite Female Artist" followed by the exclusive release and captivating presentation of her new Spanish single "Mangu."
Hola Latinos Magazine's cover star this month was just a few years ago creating YouTube covers of pop artists. Today, she's creating her own hits songs, doing commercials for CoverGirl, a breakout role on the hit Fox show "Empire", and starring in her first feature film role in Hollywood debut of the remake of Power Rangers. The Mexican-America 19-year-old star, whose achievements already include a number one hit on the Billboard Latin Charts ("Can't Get Enough" with Pitbull), is embarking on a multifaceted career shaping up to be nothing short of iconic.
"I'm trying something new," Becky says in regards to her new album, which follows up 2013's Play It Again EP. "I'm so proud of my roots and I've always loved Spanish music. Because I'm such a big fan and I knew I could make it, I felt like, why not? I had just finished filming Power Rangers and it was the perfect time to start a new chapter." Becky describes her new Spanish album as "urban with a mainstream pop appeal," a fun, storydriven set to serve as inspiration for her devoted "Beasters" fan base—including 14 million supporters following her every move on social media.
"Each of the album's songs, for me as the artist, is very inspiring," says Becky. "It's easy to visualize the music videos, the stage choreography at tours and award shows. There's a dynamic to each song, a lot of texture and a lot of layers. Even if you don't speak the language, music is universal (as we know) and it's something everybody speaks." The album's buzz single "Sola" debuted at #1 on the iTunes Latin Pop chart. The song's video, which Becky co-directed, amassed more than 15 million views on YouTube in less than three weeks. "It was time for me to dabble into the crossover world," she says of her present musical direction.
In regards to her new film role: "Trini is very special to me," Becky describes. "One, because she's the debut character I get to play in my first feature film and two because she's not aware of her own strength yet she's very powerful. It's a true coming of age story and I learned a lot about myself playing her. I love how empowering she is." Armed with an unrivaled work ethic (as a nine-year-old, she convinced her parents to allow her to start going to auditions for commercials to contribute to the family's income after they lost their home and moved into her grandparents' converted garage), Becky's singing, writing and production talents as a young teen first came to the attention of Kemosabe Records' founder Dr. Luke through YouTube covers, in particular, her version of JAY Z and Kanye West's "Otis."
A current CoverGirl® spokeswoman, Becky was recently honored by her home city of Inglewood, California for contributions to the Hispanic community—including recording 2015's "We Are Mexico," a song Becky released in response to Donald Trump's remarks against illegal Mexican immigrants—and has been one to watch since her official debut single "Becky From The Block" received instant acclaim in 2013 (the video racking up 55 million views on YouTube, with a cameo from Jennifer Lopez). Recognized as one of Rolling Stone's "18 Teens Shaking Up Pop Culture," Becky will next be heard as lead voice talent in animated comedy Gnome Alone, slated for a spring 2017 release.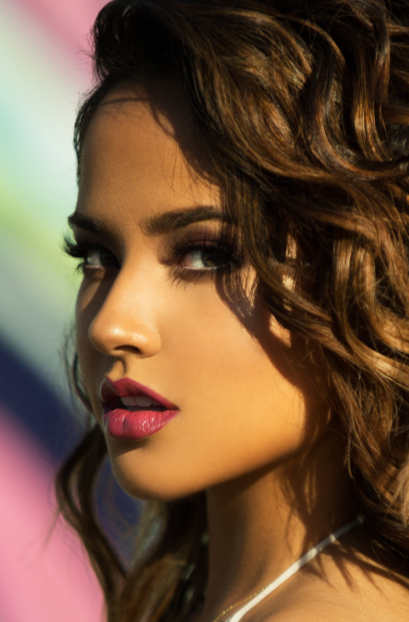 go here Becky G, Un Icono de la juventud Latina
Ya sea cantando, bailando – o su última aventura – actuando, la Princesa de Pop Urbano Becky G definitivamente es un éxito total. Becky G se robó el escenario en los Latin American Music Awards con el premio de "Favorite Female Artist" seguido por el lanzamiento exclusivo y una cautivante presentación de su nuevo sencillo en español "Mangu".
Becky G, nuestra portada de Hola Latinos Magazine este mes, hace solo uno años creaba cubiertas para los artistas pop en YouTube. Hoy en día, ella crea sus propias canciones exitosas, hace comerciales para CoverGirl, ha actuado en la exitosa serie de Fox "Empire" como Valentina, y pronto será la protagonista en el debut de Hollywood en la nueva version de Power Rangers. La estrella de tan solo 19 años de edad, cuyos logros ya incluyen un éxito número 1 en los Latin Billboard Charts con su sencillo (Can't Get Enough feat. Pitbull), ser invitada especial para un exitoso rol en EMPIRE (la aclamada serie dramática de la cadena FOX) y su primer papel en un largometraje haciendo parte del elenco de "Saban's Power Rangers"; se ha embarcado en una carrera multifacética que está transformándose en algo casi icónico. Que sigue en la enérgica agenda de la sensación juvenil?
"Estoy experimentando con algo nuevo", dice Becky refiriéndose al respecto de su nuevo álbum en español. "Estoy muy orgullosa de mis raíces y siempre he adorado la música en español; y por el cariño que le tengo es que supe que podría hacer esto, me dije a mi misma, porque no? Acababa de terminar de filmar Power Rangers así que era el momento perfecto para empezar un nuevo capítulo". Becky describe su álbum como música "Urbana con el atractivo del Pop convencional", un disco divertido que se concentra en contar historias que sirvan de inspiración a su devota fanaticada que se hacen llamar "Beasters", y que está compuesta por 14 millones de seguidores que acompañan todos sus movimientos a través de las redes sociales.
"Sola", el sencillo del disco que está dando de qué hablar, debutó en la posición #1 del listado Pop de ITunes. El video de la canción, que Becky codirigió, obtuvo más de 15 millones de visitas en YouTube a solo 3 semanas de su lanzamiento. "Ya era hora de que me aventurara al mundo del crossover", dice ella de su dirección musical en este momento. En la nueva versión de la película Power Rangers (a lanzarse el 24 de marzo del 2017), Becky interpreta a Trini: "Trini es muy especial para mi" nos cuenta Becky. "Primero, porque ella es el personaje que voy a interpretar en mi primer largometraje, y segundo, porque ella no es consciente aún del nivel de su fuerza, sin embargo es muy poderosa. Es una historia autentica sobre el crecimiento personal y aprendí mucho de mí misma interpretándola. Me encanta la autoconfianza que ella me da".
A sus nueve años, cuando su familia perdió su casa y tuvo que irse a vivir a un garaje adaptado en casa de sus abuelos, convenció a sus padres para que le permitieran empezar a hacer audiciones para comerciales y así contribuir a los ingresos de la familia), el talento de Becky para cantar, escribir y producir a pesar de su corta edad llamó la atención Dr. Luke (fundador de la disquera Kemosabe Records) a través de los covers que ella hacía en YouTube, particularmente, la versión que ella hizo de "Otis." La canción de JAY Z y Kanye West's
Además de sus funciones como portavoz de la marca CoverGirl®, Becky recibió recientemente un reconocimiento por parte de su ciudad natal Inglewood, California en honor a sus contribuciones a la comunidad hispana, que incluyen entre otras cosas la grabación en el año 2015 de la canción "We Are Mexico" (Somos México), canción que Becky lanzó en respuesta a las declaraciones que Donald Trump hizo en contra de los inmigrantes mexicanos que se encuentran en los Estados Unidos de forma ilegal. Becky ha sido una de las artistas a seguir desde el lanzamiento oficial de su sencillo debut "Becky From The Block" en el año 2013, el cual recibió elogios inmediatos (el video, que tuvo una aparición especial de Jennifer Lopez y ha sido visitado más de 55 millones de veces en YouTube). Becky ha sido reconocida por la revista Rolling Stone como una de las "18 adolescentes que están revolucionando la cultura pop". La próxima vez que escuches a Becky será en el rol principal como talento vocal en la comedia animada Gnome Alone, cuyo lanzamiento está planeado para la primavera del año 2017.