By: Nicole Esteves
1. Aura Skypool:
The Aura Skypool, located 200 meters atop The Palm Tower, boasts the title of the planet's highest 360-degree infinity pool. It offers an exclusive pool day experience with uninterrupted views of the emirate. From the vantage point of the 50th floor, guests can enjoy sweeping views of Dubai's iconic landmarks such as The Palm, the Burj Al Arab, and the gulf beyond, providing an incredible opportunity to alter one's perspective of the city from above. Tickets for the three available sessions can be pre-purchased online at approximately $46 per person.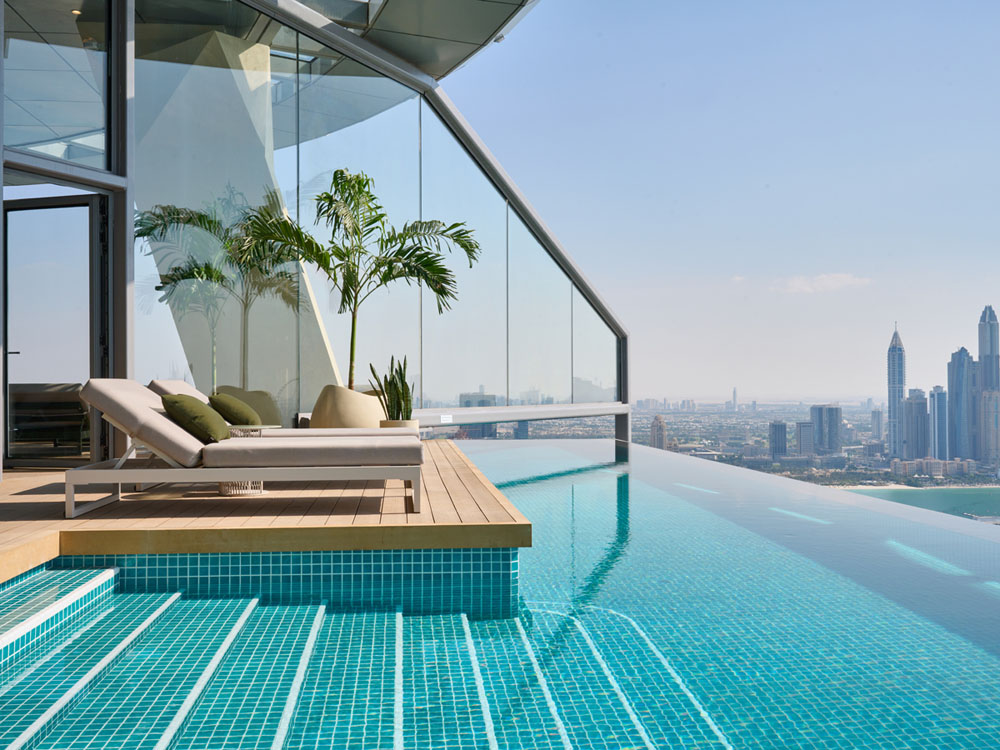 2. Jumeirah Mosque:
The Jumeirah Mosque, which is the only mosque in Dubai accessible to non-Muslim visitors, attracts a diverse range of travelers and is a popular photography spot. It is considered one of the most stunning mosques in the emirate, constructed entirely from white stone in the medieval Fatimid style and offering a breathtaking view at dusk. The mosque is open to visitors six days a week, with Fridays reserved for prayer. Knowledgeable guides lead tours, enhancing the experience for visitors.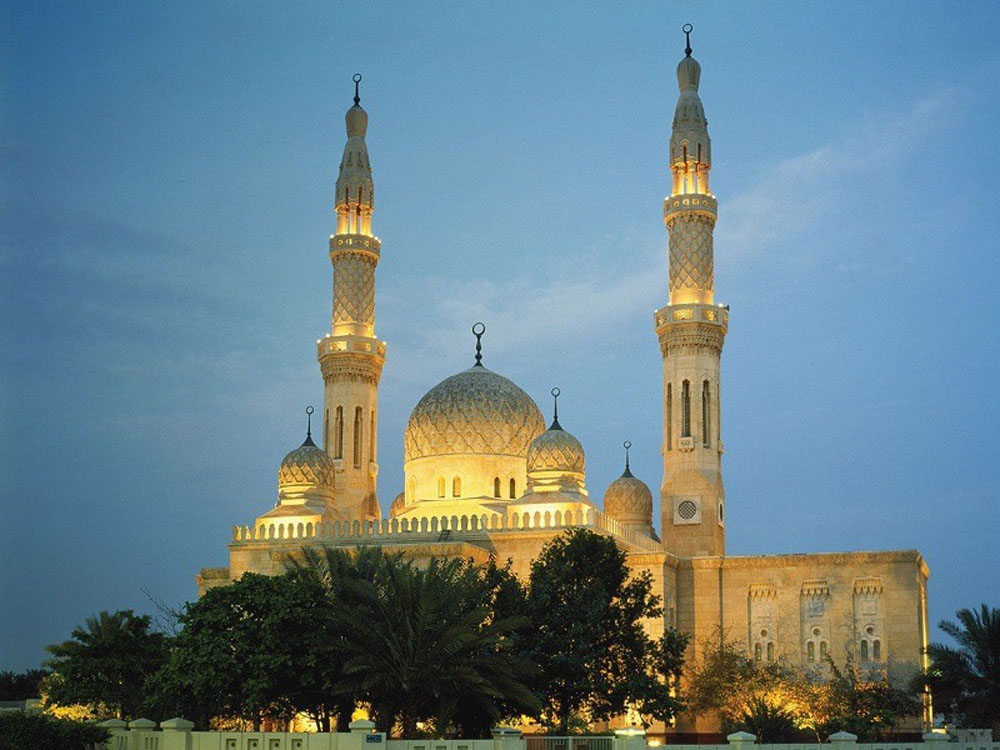 3. Deep Dive Dubai:
Deep Dive Dubai is the world's deepest pool, with a staggering depth of 60 meters. The pool features a sunken city, making it a popular destination for diving enthusiasts to explore. With a capacity of 14 million liters of water, this facility is tailored to cater to the needs of water lovers. The deep diving experience is only available to those with certifications, while snorkeling on the surface and scuba-diving up to 12 meters are open to individuals above 10 years of age. In addition, Deep Dive Dubai is the largest underwater film studio in the region, equipped with 56 cameras and capable of creating different moods, making it a must-try experience. Tickets are required and can be purchased online in advance.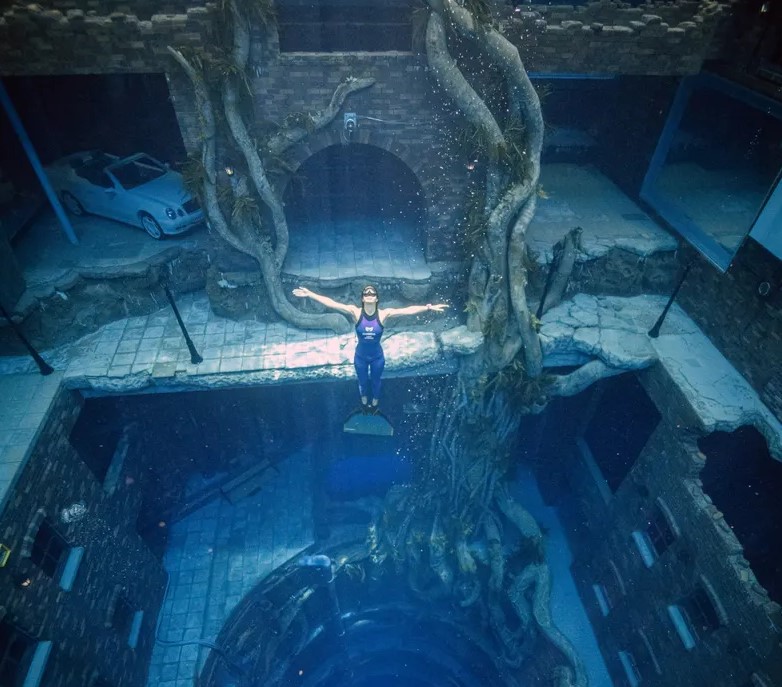 4. Aquaventure Waterpark:
Aquaventure, which has recently been expanded by a third, is now recognized as the world's largest waterpark. The newest addition to the venue, Trident Tower, features the Middle East's largest kids-only waterparks – Splashers Lagoon and Splashers Cove. Aquaventure boasts over 30 slides and attractions, including the emirates' longest lazy river, thrilling rides like the Leap of Faith and Poseidon's Retreat, and a private beach. Visitors can enjoy record-breaking waterslides that promise an adrenaline rush, as well as family-friendly options like Splashers Park and the Lazy River. The waterpark also provides opportunities for up-close-and-personal interactions with stingrays, dolphins, and sea lions.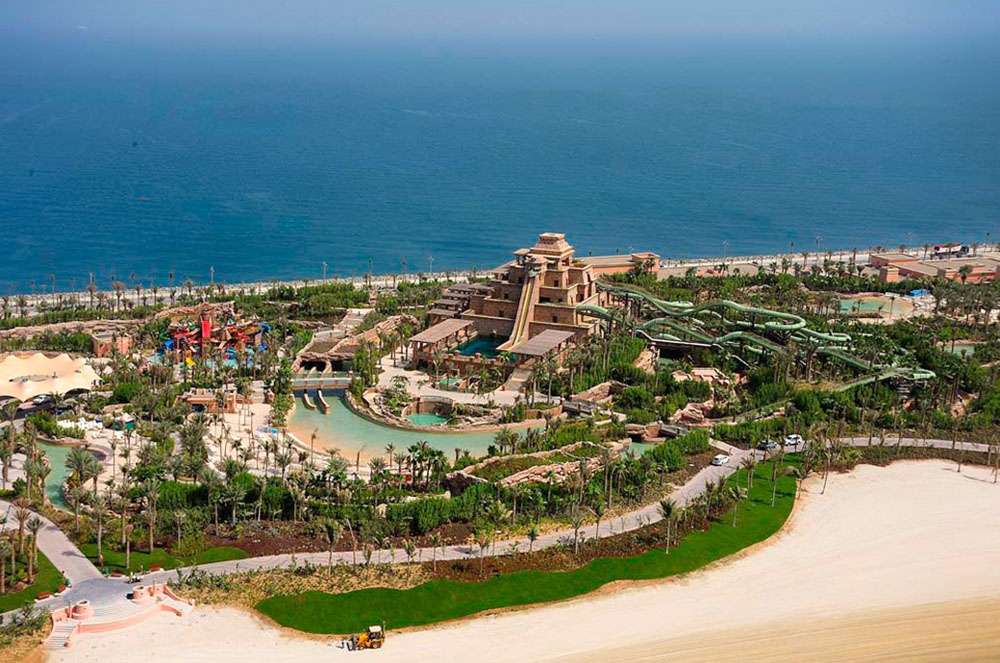 5. Al Marmoom Camel Race Track:
Al Marmoom Camel Race Track is a favored heritage destination that attracts camel racing enthusiasts from all over the world, including locals. It is a great way to experience the Middle Eastern culture, which dates back to the 7th century. The grandstands are typically filled with camel owners, trainers, and handlers, and almost all seats provide an excellent view of the races. It's important to note that races usually begin early, between 7 a.m. and 9 a.m., and that commentary and announcements are made in Arabic.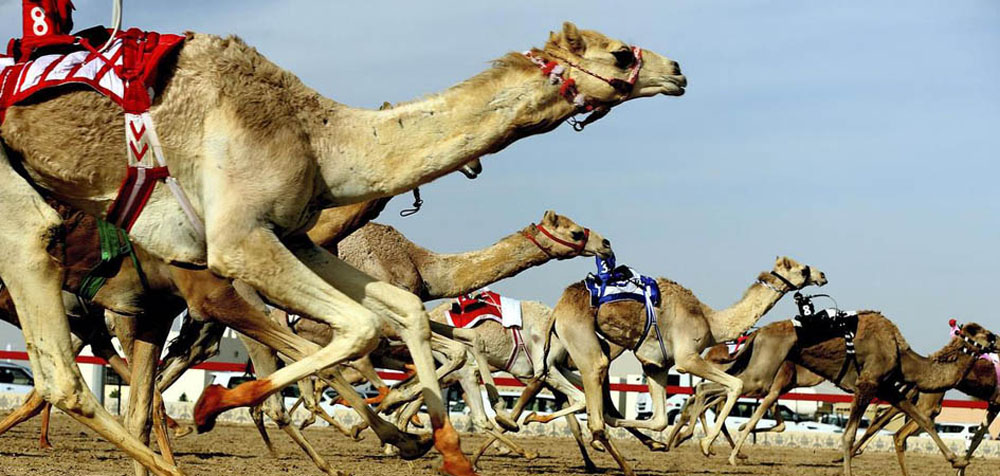 6. Ain Dubai:
Ain Dubai is the world's largest observation wheel, standing 75 meters taller than the London Eye. Located on Bluewaters Island, the wheel offers stunning panoramic views from a height of 250 meters above ground level. Visible from various locations across Dubai, this attraction is popular among schools, businesses, families, tourists, and locals alike. Ticketed rides are available, and passes can be purchased at the venue or online.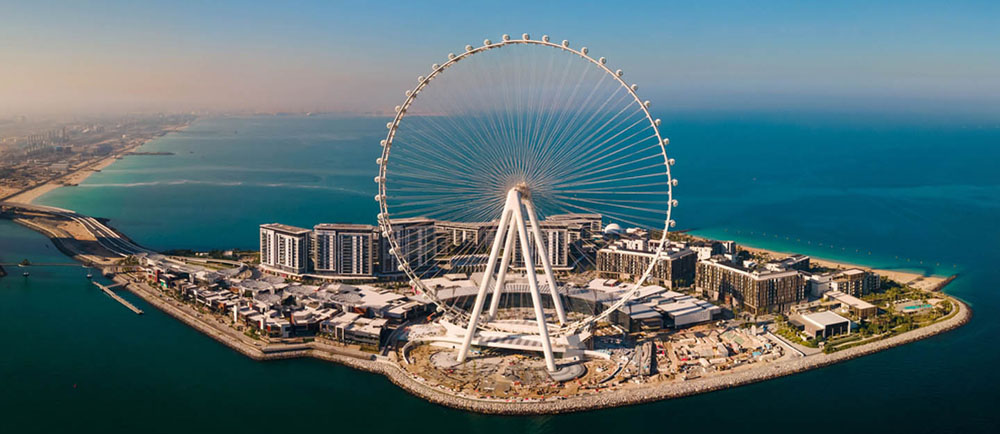 7. Ski Dubai:
Located in the middle of a mall in the desert, the world's third-largest indoor ski slope is a breathtaking sight. A daily lift ticket costs around $138, excluding equipment rentals. Alternatively, the Snow Daycation pass, which provides access to non-skiing activities such as tubing, costs $75 per person, but it's recommended that you arrive early to avoid long wait times. The venue is popular among families with children, most of whom partake in various rides, penguin visits, and the Snow Cinema, rather than skiing. However, if you're a ski enthusiast, there are two runs and a designated freestyle area available (although it doesn't quite compare to Vail).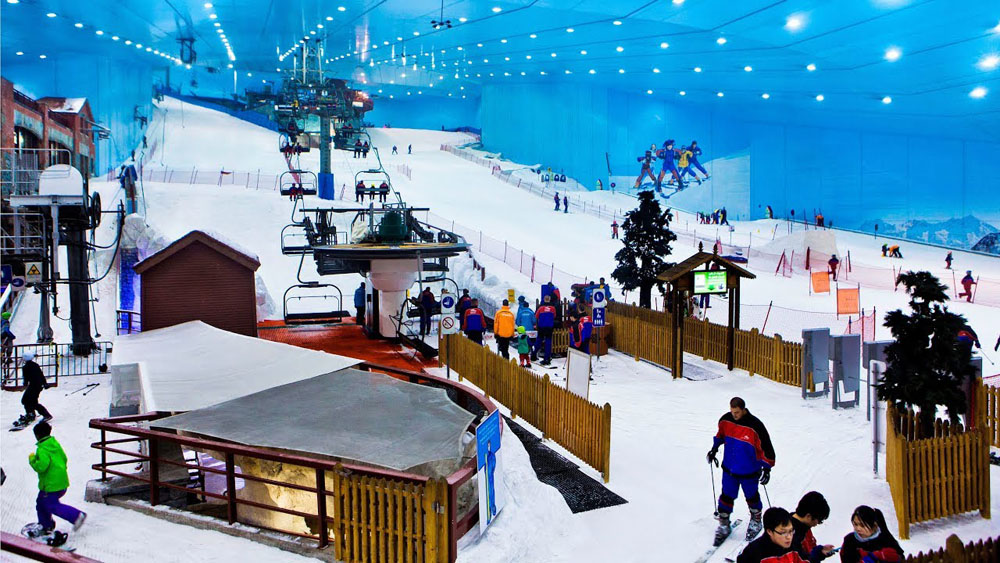 8. The Dubai Fountain:
Dubai's world-renowned fountain is the tallest in the world and puts the fountains in Vegas to shame. Numerous fountain shows are scheduled every day, propelling 22,000 gallons of water 500 feet in the air within the 30-acre Burj Lake. Furthermore, a new floating viewing platform allows visitors to get up close and personal with the action, and the best part is, it's completely free! If you're at the Dubai Mall, chances are you'll spot the fountain, so take a moment to appreciate the show.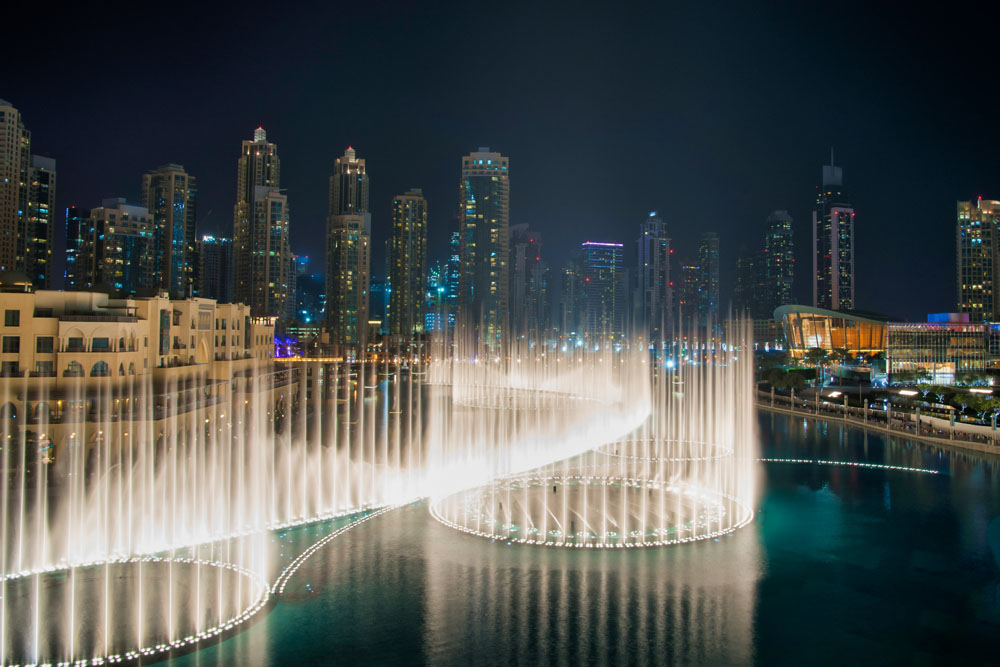 9. Flying with Falcons by Balloon Adventures Dubai:
Experience a private adventure like no other, with only the pilot and a falcon handler accompanying you in the hot air balloon. You will be picked up from your hotel and driven to the desert where you can enjoy breathtaking views of the rolling landscape from above. You may even catch a glimpse of Oryx and camels wandering through the sands below. This tour is perfect for those seeking a unique way to immerse themselves in the local culture or for a special occasion with a loved one. Reservations are necessary to secure your spot.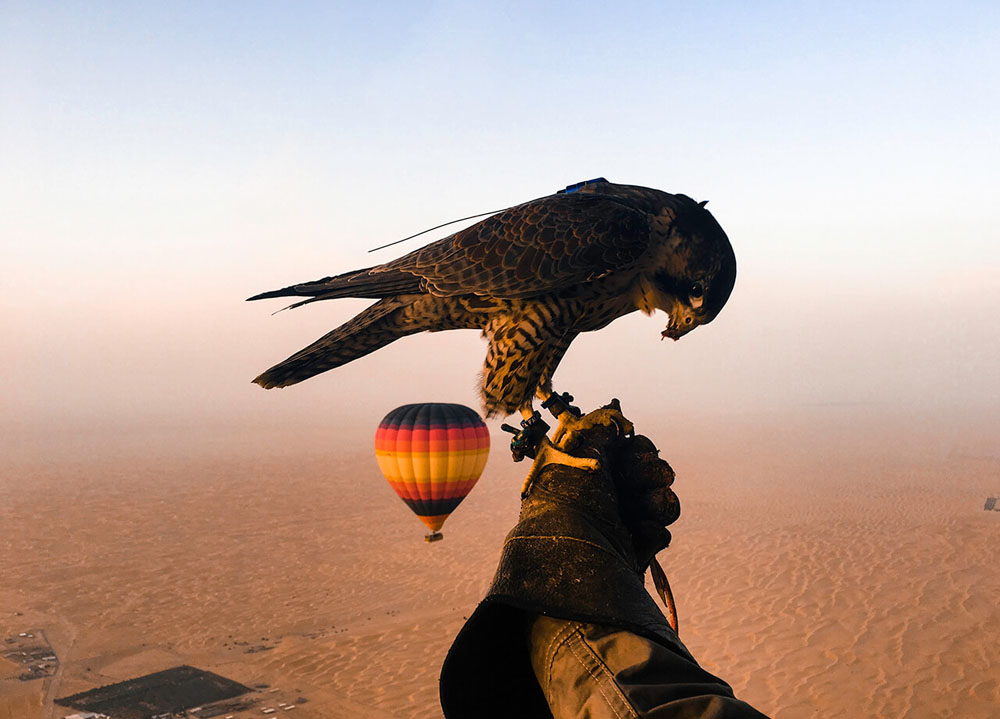 10. The Dubai Mall:
With nearly 100 million visitors per year, the Dubai Mall is the world's largest shopping center, boasting over 1,200 shops. While it's easy to get lost in its vast expanse, it's an ideal spot to escape the heat and indulge in luxury retail therapy. The mall attracts more tourists than both New York City and Los Angeles combined, making it a must-visit destination for travelers from all over the globe.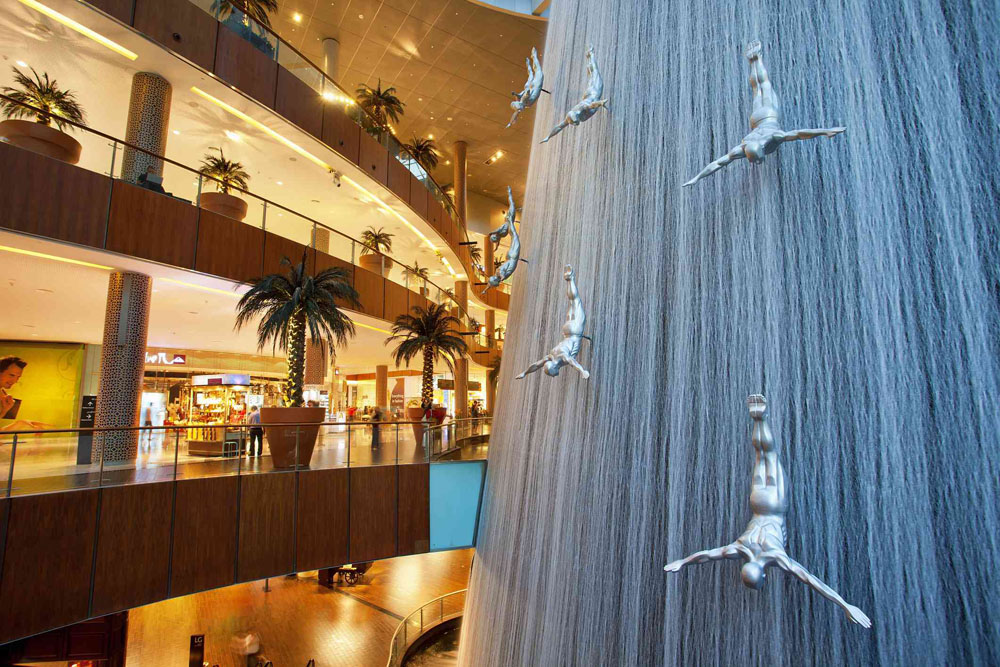 Las 10 mejores cosas que hacer en Dubái
Por: Nicole Esteves
1. Aura Skypool: Aura Skypool, está ubicada a 200 metros sobre The Palm Tower, ostenta el título de la piscina infinita de 360 grados más alta del planeta. Ofrece una experiencia exclusiva de un día en la piscina con vistas ininterrumpidas del emirato. Desde el piso 50, los huéspedes pueden disfrutar de vistas panorámicas de los lugares emblemáticos de Dubai, como The Palm, Burj Al Arab e incluso más allá del golfo, lo que brinda una oportunidad increíble para cambiar la perspectiva de la ciudad vista desde arriba. Los boletos se pueden comprar por adelantado en línea con un costo de aproximadamente $46 por persona.
2. Mezquita de Jumeirah: La Mezquita de Jumeirah, que es la única mezquita en Dubái accesible para visitantes no musulmanes, atrae a una amplia gama de viajeros y es un lugar popular para tomar fotografías. Se considera una de las mezquitas más impresionantes del emirato, construida completamente con piedra blanca en estilo fatimí medieval y que ofrece una vista impresionante al atardecer. La mezquita está abierta a los visitantes seis días a la semana, a excepción de los viernes que son reservados para la oración. Guías expertos dirigen los recorridos, convirtiendo así la experiencia de los visitantes en una ruta increíble.
3. Deep Dive Dubai: Deep Dive Dubai es la piscina más profunda del mundo, con una asombrosa longitud de 60 metros. La piscina presenta una ciudad hundida, lo que la convierte en un destino muy solicitado y popular para los entusiastas del buceo. Con una capacidad de 14 millones de litros de agua, esta instalación está diseñada para satisfacer las necesidades de los amantes del agua. La experiencia de buceo profundo solo está disponible para aquellos con certificaciones, mientras que el snorkel en la superficie y el buceo de hasta 12 metros están abiertos a personas mayores de 10 años. Además, Deep Dive Dubai es el estudio de cine submarino más grande de la región, equipado con 56 cámaras y capaz de crear diferentes sensasiones, lo que lo convierte en una experiencia imperdible. Se requieren boletos y se pueden comprar en línea con anticipación.
4. Parque acuático Aquaventure: que recientemente ha sido ampliado en un tercio más, ahora es reconocido como el parque acuático más grande del mundo. La última incorporación al lugar, Trident Tower, cuenta con los parques acuáticos más grandes de Medio Oriente, los únicos con la característica de "solo para niños": Splashers Lagoon y Splashers Cove. Aquaventure cuenta con más de 30 toboganes y atracciones, incluido el río lento más largo de los emiratos, atracciones emocionantes como Leap of Faith y Poseidon's Retreat, y una playa privada. Los visitantes pueden disfrutar de toboganes de agua sin precedentes que prometen un subidón de adrenalina, así como opciones familiares como Splashers Park y Lazy River. El parque acuático también brinda oportunidades para interacciones cercanas y personales con rayas, delfines y leones marinos.
5. Pista de carreras de camellos de Al Marmoom: Este es un destino patrimonial favorito que atrae a los entusiastas de las carreras de camellos de todo el mundo. Es una excelente manera de experimentar la cultura del Medio Oriente, que se remonta al siglo VII. Las tribunas suelen estar llenas de propietarios de camellos, entrenadores y guías, y casi todos los asientos ofrecen una excelente vista de las carreras. Es importante tener en cuenta que las carreras suelen comenzar temprano, entre las 7 a. m. y las 9 a. m., y que los comentarios y los anuncios se realizan en árabe.
6. Ain Dubai: Ain Dubai es la rueda de observación más grande del mundo, 75 metros más alta que el London Eye. Ubicada en Bluewaters Island, la rueda ofrece impresionantes vistas panorámicas desde una altura de 250 metros sobre el nivel del suelo. Visible desde varios lugares de Dubái, esta atracción es popular entre escuelas, empresas, familias, turistas y lugareños por igual. Los viajes con boleto están disponibles y los pases se pueden comprar en el lugar o en línea.
7. Ski Dubai: Ubicada en medio de un centro comercial en el desierto, la tercera pista de esquí cubierta más grande del mundo ofrece una vista impresionante. Un boleto de elevación diario cuesta alrededor de $ 138, sin incluir el alquiler de equipos. Alternativamente, el pase Snow Daycation, que brinda acceso a actividades que no son de esquí, como tubing, cuesta $ 75 por persona, pero se recomienda llegar temprano para evitar largos tiempos de espera. El lugar es popular entre las familias con niños, la mayoría de los cuales participan en los paseos, visitas a pingüinos y el Snow Cinema, en lugar de esquiar. Sin embargo, si eres un entusiasta del esquí, hay dos pistas y un área de estilo libre designada disponible (aunque no se compara con Vail).
8. La Fuente de Dubái: La fuente de renombre mundial de Dubái es la más alta del mundo y avergüenza a las fuentes de Las Vegas. Numerosos espectáculos de fuentes están programados todos los días, impulsando 22,000 galones de agua a 500 pies en el aire dentro del lago Burj de 30 acres. Además, una nueva plataforma de visualización flotante permite a los visitantes conocer de cerca la acción y, lo mejor de todo, ¡es completamente gratis! Si está en el Dubai Mall, es probable que vea la fuente, así que tómese un momento para apreciar el espectáculo.
9. Flying with Falcons by Balloon Adventures Dubai: experimente una aventura privada como ninguna otra, con solo el piloto y un adiestrador de halcones acompañándolo en el globo aerostático. Lo recogerán en su hotel y lo llevarán al desierto, donde podrá disfrutar desde el cielo de impresionantes vistas del paisaje ondulado. Incluso puede echar un vistazo a Oryx y camellos deambulando por las arenas. Este tour es perfecto para aquellos que buscan una forma única de sumergirse en la cultura local o para una ocasión especial con un ser querido. Las reservaciones son necesarias para asegurar su lugar.
10. The Dubai Mall: Con casi 100 millones de visitantes al año, Dubai Mall es el centro comercial más grande del mundo, con más de 1200 tiendas. Es un lugar ideal para escapar del calor y disfrutar de una terapia de compras de lujo. El centro comercial atrae a más turistas que la ciudad de Nueva York y Los Ángeles juntos, lo que lo convierte en un destino de visita obligada para viajeros de todo el mundo.