MG Developer recently hosted a sophisticated ribbon-cutting event to celebrate its first sales showroom for the Gables Village, one of the most expansive and exclusive enclaves to be built in the City Beautiful. Many notable community leaders gathered to participate in the festivities, including Mayor Vince Lago, Commissioner Rhonda Anderson, and other key dignitaries.
The Seville, Spain-themed event featured Spanish traditions, a cigar-maker, Spanish music, and dancing. Butlers served Cava and fine Spanish wines, decadent delicacies, and desserts for all guests to enjoy at the official opening celebration of the new gallery.
"We are so excited about opening our first showroom as we get closer to breaking ground on Gables Village," said Alirio Torrealba, CEO, MG Developer. "I want to give a special thanks to our partners that believed in us." LESTE, VYV, Linkvest Capital, ONE Capital, are the investors in the development. One Sotheby's is the exclusive broker for the Gables Village.
"These partnerships solidify our vision for building luxurious residences in one of the most sought-after cities in the world to live," added Torrealba.
Led by Venezuelan-native Alirio Torrealba, MG Developer is a residential property development company headquartered in Coral Gables, Florida, that provides a comprehensive array of real estate-oriented services, from concept creation and property site selection to project advancement. He currently has several projects completed and others in the works throughout Miami and is recognized as Coral Gables most active developer.
Gables Village is their most expansive endeavor to date in the City of Coral Gables– a 48-residence collection inspired by the province of Seville, Spain. The $50 million development will be completed by 2024. It will pay homage to George Merrick's legacy, and original vision, for this parcel of the City Beautiful in a traditional, yet modern way.
Inspired by Merrick's seven villages, Gables Village will have Mediterranean Revival-Style Architecture, designed by De La Guardia Victoria Architects & Urbanists, and will be bordered by gardens inspired by the alcoves in the Plaza de España. Units will vary in style and size, including one-bedroom flats to four-bedroom townhomes ranging from 1,750 sq. ft. to 3,100 sq. ft. The village will also boast recreational amenities, including a multipurpose room, a pool, and a Wellness Center for residents to enjoy. Construction for the project starts in Fall 2022 and will be completed in 2024.
"We take a lot of pride in building in the City Beautiful, and the communities we build are for the people who enjoy the sophisticated lifestyle Coral Gables offers. We develop luxury residences that inspire, and this new gallery does just that. As soon as you walk in, you feel in awe and at home simultaneously," said Torrealba.
The Gables Village event culminated with remarks made by Coral Gables' Mayor Vince Lago; Alirio Torrealba, CEO of MG Developer; Gables Village architect Maria de la Guardia of De La Guardia Victoria Architects & Urbanists; and Daniel de la Vega, President of One Sotheby's International. Mark Trowbridge, President of the Coral Gables Chamber of Commerce, was the event's emcee.
"We are thrilled to be here with you in this stunning new gallery, getting a glimpse of our future. We are very proud to be a part of bringing Gables Village to life in our City," said City of Coral Gables Mayor Vince Lago. "We have never seen a project of this magnitude receive such praise since its introduction to the City. MG Developer understands the importance of building residences that align with our City's rich history, tradition, and aesthetic values, for which our City is known. We are all eager to see this vibrant community come to fruition."
The sales gallery provides buyers with a preview and chance to see, touch, and feel all of the modern touchpoints and luxurious finishes they can soon find in their homes. "It will truly inspire people to want to be in Coral Gables and be part of this new luxurious enclave," concluded Torrealba.
Before MG launched Gables Village, its most recent row of luxury townhomes, Althea Row, nearly sold out in less than 90 days, and it will soon wrap up its master-planned Biltmore Square community with the completion of Biltmore Row. The ten exclusive townhomes featuring 5,561 square feet each have elaborate coralline-stoned entryways that trace back to the heritage of classical design elements found in Spanish colonial architecture.
When completed, Gables Village will be located at 535 Santander Avenue. It will include townhomes, duplexes, lofts, flats, and an archway with raised residences above ground level, creating a distinct welcoming feeling in the Gables Village enclave. It will be set throughout 17 lots, replacing the existing rental apartments bordered by Malaga Avenue, Santander Avenue, Segovia Street, and Hernando Street.
Located at 2990 Ponce de Leon Boulevard, the new Gables Village showroom is now open Monday through Friday from 10 a.m. to 5 p.m., Saturdays from 11:00 a.m. to 3:00 p.m., and Sundays from 12:00 to 4:00 p.m. You can also schedule an appointment by calling 786.833.6398. For more information, visit www.MGDeveloperMiami.com.
ALIRIO TORREABLA, CEO MG DEVELOPER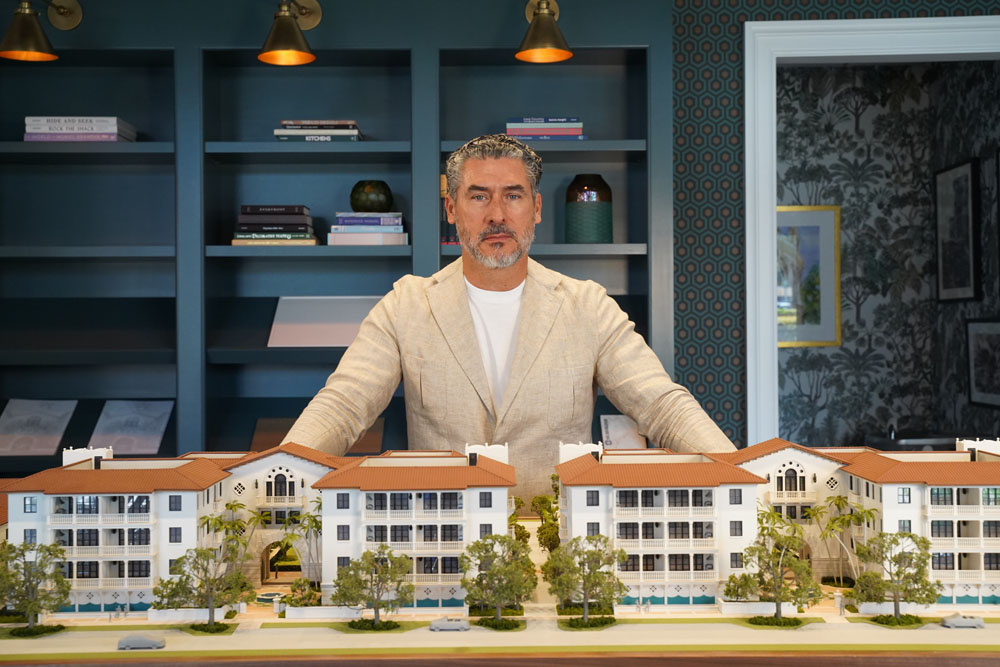 As a member of the Coral Gables community, MG Developer is committed to beautifying the City and has supported the City's Art in Public Places program. It was the first to commission artwork for the City's program with an original stone sculpture at Balboa Plaza called "A Midsummer Night's Dream," which is now a popular spot for families and visitors of Coral Gables. The firm is truly an advocate of public exhibitions and is also a key proponent of organizations that elevate the City's standard of living and enhances the area's unique lifestyle and aesthetic design.
---
MG Developer inaugura la galería de ventas del proyecto residencial de lujo
MG Developer, el desarrollador de uno de los proyectos más amplios y exclusivos que se construirá en Coral Gables, organizó un sofisticado evento inaugural para celebrar su primera galería de ventas. Muchas personalidades disfrutaron del exclusivo evento, incluyendo el alcalde Vince Lago, la comisionada Rhonda Anderson, así como también otros funcionarios clave.
El evento temático de Sevilla, España, contó con tradiciones españolas que incluyeron un tabaquero, música y bailes españoles que sirvieron como entretenimiento, mientras que los mayordomos sirvieron cava y vinos españoles finos, delicias y postres, para que todos los invitados del exclusivo evento disfrutaran de la celebración de inauguración de la nueva galería.
"Estamos muy entusiasmados con la apertura de nuestra primera sala de ventas a medida que nos acercamos a la construcción de Gables Village", dijo Alirio Torrealba, director ejecutivo de MG Developer. "Quiero darle un especial agradecimiento a nuestros socios, quienes confiaron en nosotros". LESTE, VYV, Linkvest Capital, ONE Capital, son los inversores del desarrollo. One Sotheby's es el bróker exclusivo para el Gables Village.
"Estas alianzas solidifican nuestra visión de construir residencias de lujo en una de las ciudades más cotizadas del mundo para vivir", agregó Torrealba.
Dirigida por Alirio Torrealba, oriundo de Venezuela, MG Developer es una empresa de desarrollo de propiedades residenciales con sede en Coral Gables, Florida, la cual brinda una amplia gama de servicios orientados a bienes raíces, desde la creación de conceptos y la selección del lugar ideal para la propiedad, hasta el avance del proyecto. Actualmente tiene varios proyectos terminados y en plena planificación en todo Miami, y es el desarrollador más activo de Coral Gables.
El proyecto más reciente e importante de la compañía en la ciudad de Coral Gables es "Gables Village", una colección de 48 residencias inspirada en la provincia de Sevilla, España. El desarrollo de $50 millones se completará para 2024 y rendirá homenaje al legado y la visión original de George Merrick para esta parcela de Coral Gables de una manera clásica pero moderna.
Inspirado en los siete pueblos de Merrick, Gables Village se construirá con una arquitectura de estilo renacentista mediterráneo, diseñada por De La Guardia Victoria Architects & Urbanists, y estará bordeada por jardines inspirados en las alcobas de la Plaza de España. Las unidades variarán en estilo y tamaño, desde apartamentos de una habitación hasta casas de lujo de cuatro habitaciones que varían en tamaño, desde 1750 pies cuadrados hasta 3100 pies cuadrados, y un centro de bienestar para el disfrute de los residentes. La construcción del proyecto comienza en el otoño de 2022 y se completará en 2024.
"Nos enorgullece mucho construir en City Beautiful (Coral Gables). Las comunidades que construimos son para aquellas personas que disfrutan del estilo de vida sofisticado que Coral Gables ofrece. Desarrollamos residencias de lujo que inspiran, y esta nueva galería hace precisamente eso. Tan pronto como entras, te sientes asombrado y como si estuvieras en casa al mismo tiempo", dijo Torrealba.
El exclusivo evento de Gables Village culminó con diversos comentarios realizados por el alcalde de Coral Gables, Vince Lago; Alirio Torrealba, director general de MG Developer; la arquitecta de Gables Village, Maria de la Guardia de De La Guardia Victoria Architects & Urbanists; y Daniel de la Vega, presidente de One Sotheby's International. Mark Trowbridge, presidente de la Cámara de Comercio de Coral Gables fue el maestro de ceremonias del evento.
"Estamos encantados de estar hoy aquí con todos ustedes en esta impresionante nueva galería, vislumbrando nuestro futuro. Estamos muy orgullosos de ser parte de este proyecto que dará vida a Gables Village en nuestra ciudad", dijo el alcalde de la ciudad de Coral Gables, Vince Lago. "Nunca habíamos visto un proyecto de esta magnitud recibir tantos elogios, desde que se presentó por primera vez a la Ciudad. MG Developer comprende la importancia de construir residencias que estén en línea con la historia, tradición y valores estéticos de nuestra Ciudad, por los cuales nuestra Ciudad es conocida. Todos estamos ansiosos por ver que esta vibrante comunidad se haga realidad".
La galería brinda a los compradores una exclusiva vista previa y les da la oportunidad de ver, tocar y sentir todos los puntos de contacto modernos y acabados lujosos que pronto podrán encontrar en su hogar. "Realmente inspirará a la gente a querer estar en Coral Gables y ser parte de este nuevo enclave lujoso", concluyó Torrealba.
Antes de que MG lanzara Gables Village, su proyecto más reciente de casas de lujo, Althea Row, casi se agotó en menos de 90 días, y pronto concluirá su magistralmente planificada comunidad, Biltmore Square, con la finalización de Biltmore Row. Las 10 exclusivas casas de lujo con 5,561 pies cuadrados cada una, poseen entradas de piedra coralina que se remontan a la herencia de los elementos de diseño clásico que se encuentran en la arquitectura colonial española.
Cuando esté finalizado, Gables Village estará ubicado en 535 Santander Avenue e incluirá casas de lujo, dúplex, lofts, apartamentos y un arco con residencias elevadas sobre el nivel del suelo, creando una sensación de bienvenida distintiva en el enclave de Gables Village. Se distribuirá en 17 lotes, reemplazando los pisos de alquiler existentes delimitados por la Avenida Málaga, la Avenida Santander, la Calle Segovia y la Calle Hernando.
Ubicado en el 2990 Ponce de Leon Boulevard, el nuevo showroom de Gables Village se encuentra abierto de lunes a viernes de 10 a. m. a 5 p. m., los sábados de 11:00 a. m. a 3:00 p.m. y domingos de 12:00 a 16:00 hrs. También puede programar una cita llamando al 786.833.6398. Para más información visite www.MGDeveloperMiami.com.
ALIRIO TORREALBA, CEO MG DEVELOPER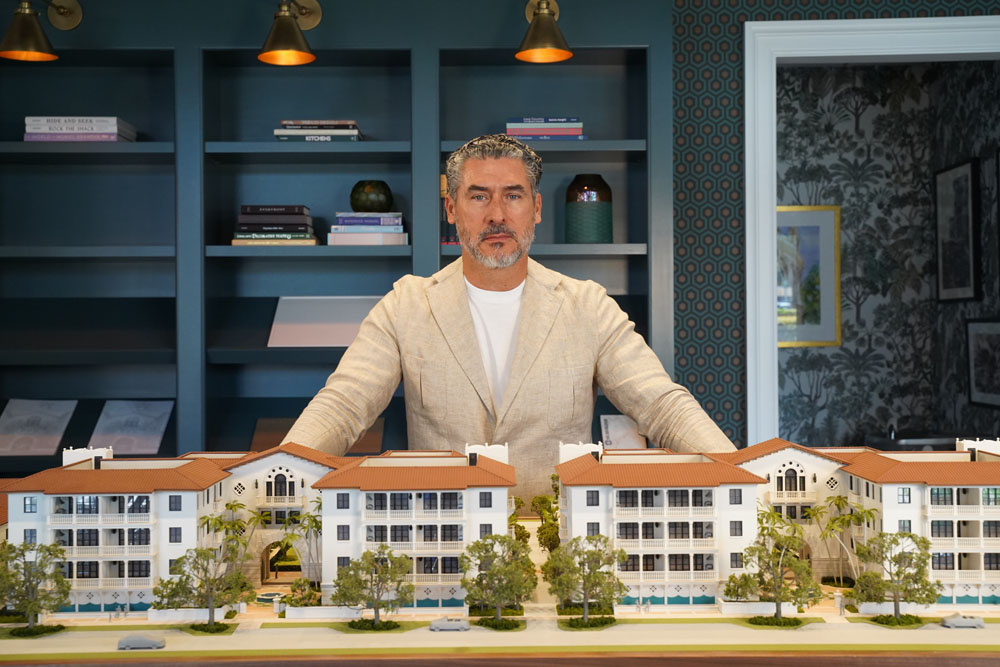 Como miembro de la comunidad de Coral Gables, MG Developer está comprometido con el embellecimiento de la ciudad y apoya el programa Arte en lugares públicos de la ciudad. Fue el primero en encargar obras de arte para el programa de la ciudad con una escultura de piedra original en Balboa Plaza llamada "Sueño de una noche de verano",  el cual ahora es un lugar popular para familias y visitantes de Coral Gables. La firma es verdaderamente una defensora de las exposiciones públicas y también es una defensora clave de las organizaciones que elevan el nivel de vida de la ciudad y mejoran el estilo de vida y el diseño estético únicos de la zona.