The vision for Coral Gables living in a new era of luxury real estate.
In 2015 a new developer to Coral Gables broke ground on his first luxury project, Biltmore Parc. In 2017, it announced that one of the first of a number of their Coral Gables-based developments, the townhouse community on Valencia Avenue was 100 percent sold out. In December of 2020, MG Developer, a company founded by Alirio Torrealba, began building its 8th property in the city and despite the pandemic, MG's mission for the city never wavered. In fact, MG Developer remained focused on building beautiful homes that provide authentic sophisticated luxury living without compromising any detail. Since the company's first project,they have been creating a number of new developments that not only complement the city's character, but that truly elevate its standard of living in a variety of ways.
During these changing times, the company has been diligently working at finalizing its master-planned community — Biltmore Square, a modern addition to the classic charm of Coral Gables, which will be completed in 2022. "Our new townhome residences in Coral Gables' Biltmore Square enclave are the perfect place for newcomers to settle in and enjoy warm weather, ample indoor and outdoor space, all whilebeing in proximity to the city's core of luxury lifestyle amenities," says Alirio Torrealba, CEO and Founder of MG Developer. From golf to shopping and dining, residents of Biltmore Square get to enjoy all the privileges of sophisticated living. Ron Shuffield, President and CEO of Berkshire Hathaway HomeServices (BHHS) EWM Realty, the highly-respected realty company now leading sales and marketing for MG's Althea Row and Biltmore Row, said, "MG Developer has done remarkable things and is an integral part of the Coral Gables community. We look forward to watching the company's vision for the city evolve." The realty company that has been seeing a great deal of interest from Northerners, believes MG's developments are a match for those looking for an ideal location, luxury living, privacy as well as access to shopping, dining and cultural attractions.
MG's unique and luxurious residences at Biltmore Square are all within walking distance of Downtown Coral Gables yet secluded enough to enjoy the area's lush landscapes and quaint neighborhood. A city rich in history, yet with urban flair. Its proximity to first-class amenities such as Rivera Country Club, The Biltmore Golf Club, first-rated dining and shopping in Miracle Mile, museums, universities and an international airport just three miles away make it a spectacular place to live and a real estate investment that will maintain its value. Offering the best of both worlds–a modern, yet classic flair to the city's international architecture, Biltmore Square's classic-style blocks mark the community's latest addition of luxury townhomes in Coral Gables.
The latest collection of combined 15, 4-bedroom/4.5 bath elevatored residences – ten at Biltmore Row, and five at the adjacent Althea Row, are ideally located on the tree-lined Anderson Road in Coral Gables. The grand, oversized townhomes range from 4,500 square feet to 5,500 square feet, and are priced starting from $3.4 million.
All of MG's contemporary enclaves offer their own unique charm and distinct design elements. In Coral Gables, MG developed Valencia Townhomes, The Ponce, Villa Blanc, and Biltmore Square, which includes Biltmore Parc and the award-winning Beatrice Row residences. MG is now building Biltmore Row and about to finalize construction on Althea Row. Currently, MG Developer is the most active developer in Coral Gables.
Most recently, Colliers International announced that a finance team led by Jeffrey Donnelly and Dmitry Levkov structured more than $16 million in equity financing for the combined 15 residences of Biltmore Row and Althea Row.
MG Developer's role in supporting the Coral Gables lifestyle through distinct residences and unique art has brought an added layer of originality to the city's charm and appeal for all residents to enjoy. It's all part of the vision to building beautiful. "Our vision was and still is to establish enclaves within this historic city and create the next chapter for residents to take part in" concludes Torrealba
Coral Gables Enters a New Era with MG Developer's Luxury Residential Enclave, Biltmore Square.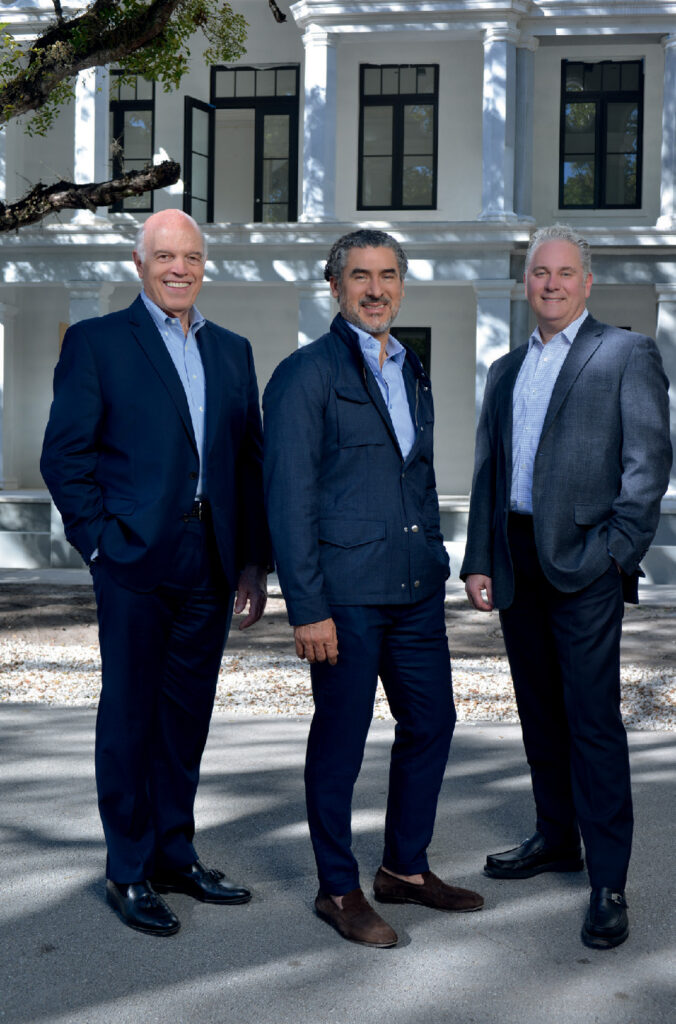 MG Developer recently broke ground on Biltmore Row, which will be completed in 2022, while Althea Row has been in construction since it broke ground in late2019 and is slated for completion in 2021. Both of these townhome developments, designed by the revered De La Guardia Victoria Architecture, will join Biltmore Parc and Beatrice Row to finish-off Biltmore Square, a luxurious enclave that reflects the city's tradition of The City Beautiful, which embodies MG's vision for the City — a destination replete with Coral Gables' lifestyle amenities.
"MG Developer has established a reputation of creating Coral Gables' finest luxury residences, and its recently completed Beatrice Row is substantially similar in style, architecture, size and in caliber of finishes," said Jeffrey Donnelly, Colliers' Executive Director.
With the addition of these townhomes, Coral Gables is gaining another quintessential development built to serve connoisseurs of luxury that have been seeking urban amenities at a short distance, while enjoying the quaint lifestyle of a sophisticated town square. All of MG's contemporary enclaves offer their own unique charm and distinct design elements, yet they all coalesce with The City Beautiful's rich history and architectural aesthetics.
"MG Developer has done great things in Coral Gables and we highly regard Alirio's confidence in our expertise as we finalize his unique neighborhood's final phase," said Ron Shuffield, President and CEO of BHHS EWM Realty. " Alirio and the MG team are an integral part of the Coral Gables community and we look forward to watching his vision for the city evolve. "
Earlier this year, Beatrice Row was presented with the Institute of Classical Architecture & Art Addison Mizner Award for Florida and the Caribbean as the best Multi-Family Residential project for its advancement and promotion of the ideals of classicism and traditional design in architecture and urbanism.
For additional information on Biltmore Row, Althea Row or any other MG Developer community, please contact 305.239.2116 or visit www.MGDeveloperMiami.com