una verdadera gema ubicada al norte del paraíso
Aves de muchas clases, con plumajes coloridos que cantan a toda hora, olas del mar que rompen elegantemente en la línea costera, un cielo que se funde en el horizonte con el azul zafiro del océano y un muy exclusivo campo de golf en tonos esmeralda profundo: eso es Karibana, un remanso de paz donde la brisa marina refresca de día y anima la noche. En el centro de este incomparable destino se yergue el hotel Conrad de la cadena Hilton: una estructura de arquitectura majestuosa que conjuga la modernidad de un bar central en el lobby con las imponentes puertas y ventanas que dan paso a una panorámica de 4 piscinas y por supuesto, a la playa. Joseph Mildenberg, el gerente comercial de Karibana, cuenta que los espacios del hotel Conrad estuvieron inspirados en el clima del Caribe. "El arte y la arquitectura se mezclan para ofrecer un hermoso toque, permitiéndonos disfrutar pinturas y esculturas de artistas colombianos como David Manzur, Ana Mercedes Hoyos, Edgar Negret y Pedro Ruiz en un amplio ambiente fresco y elegante", dice.
En los caminos finamente delineados que rodean al hotel, los carros de golf vienen y van con jugadores de todas partes del mundo por el único campo de golf que colinda con el mar caribe en Colombia. Karibana atrae también tanto a un ejército de tenistas, algunos de clase mundial, que disfrutan de cómodas canchas, como a amantes de una infinidad de deportes náuticos entre los que se encuentra el kitesurfing. En Karibana, los espacios abiertos invitan a las personas que disfrutan del ejercicio físico en general a caminar o correr por sus alrededores en cualquier momento del día o de la noche.
Este paraíso a media hora de Cartagena ofrece aún más, el aire limpio y una tranquilidad inusual, esa que tanto aprecian los que aman la vida cercana a la naturaleza, la privacidad de una caminata costera o simplemente el disfrute de las bondades naturales del Caribe colombiano.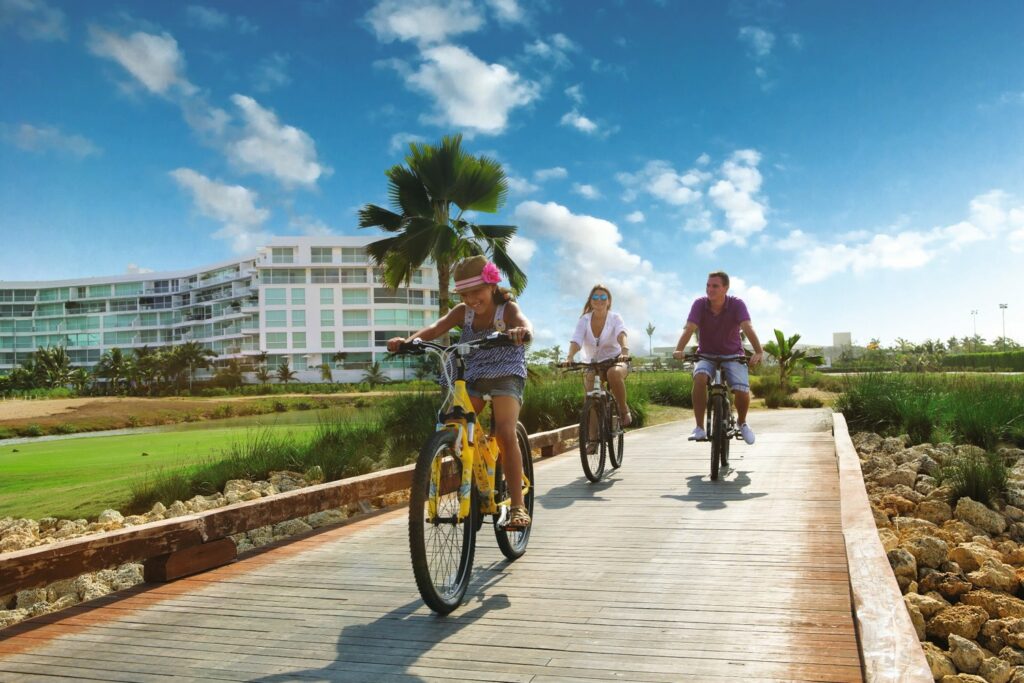 Sería un delito no probar el suculento pargo frito acompañado de tostones, o los patacones y el arroz con coco en el Club de Playa. La oferta incluye infinidad de opciones culinarias en cinco diferentes restaurantes para complacer los gustos de los visitantes de cualquier parte del mundo. Karibana, tiene todo esto y aún más. No sólo es un glorioso oasis para vacacionar, aquí también se puede tener una casa para veranear, para residir permanentemente y hasta para retirarse en un paraíso seguro y tranquilo del Caribe. Esta joya tan especial está ubicada a tan solo media hora del aeropuerto internacional de Cartagena, ciudad Patrimonio de la Humanidad y que acaba de ser nombrada como el mejor destino para luna de miel, según los World Travel Awards, algo así como los Oscar de los viajes.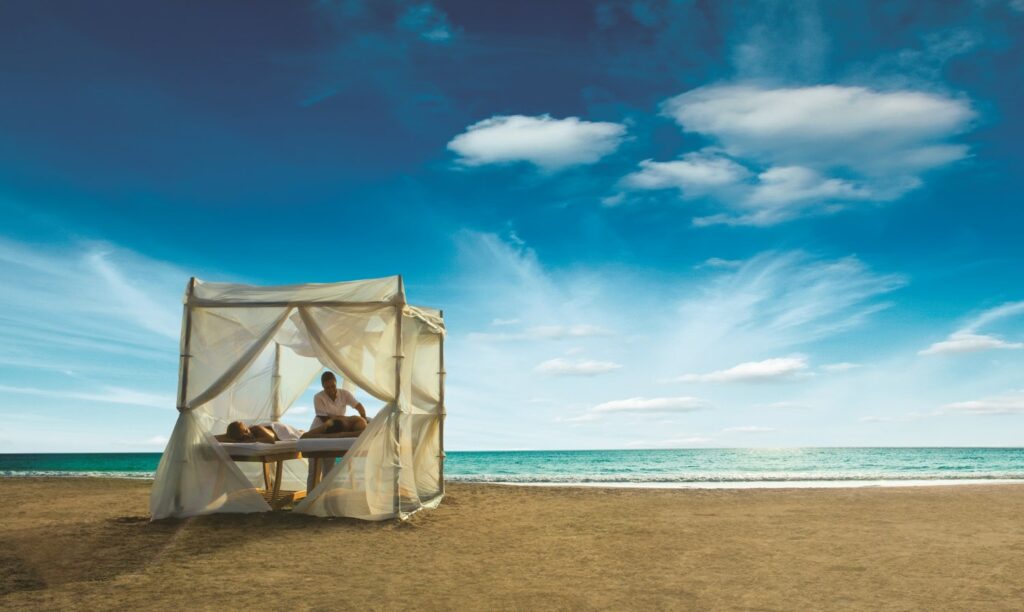 Tanto los edificios residenciales como las habitaciones del hotel tienen hermosas vistas al mar y al campo de golf, que acoge torneos de talla internacional. Todos los socios del Club Karibana tienen acceso a las piscinas, spas, área de juegos para niños, excelente gastronomía, salones para eventos, bares y diversión de todo tipo. Además, ahora mismo hay lotes a la venta para quienes desean construir su soñado paraíso personal.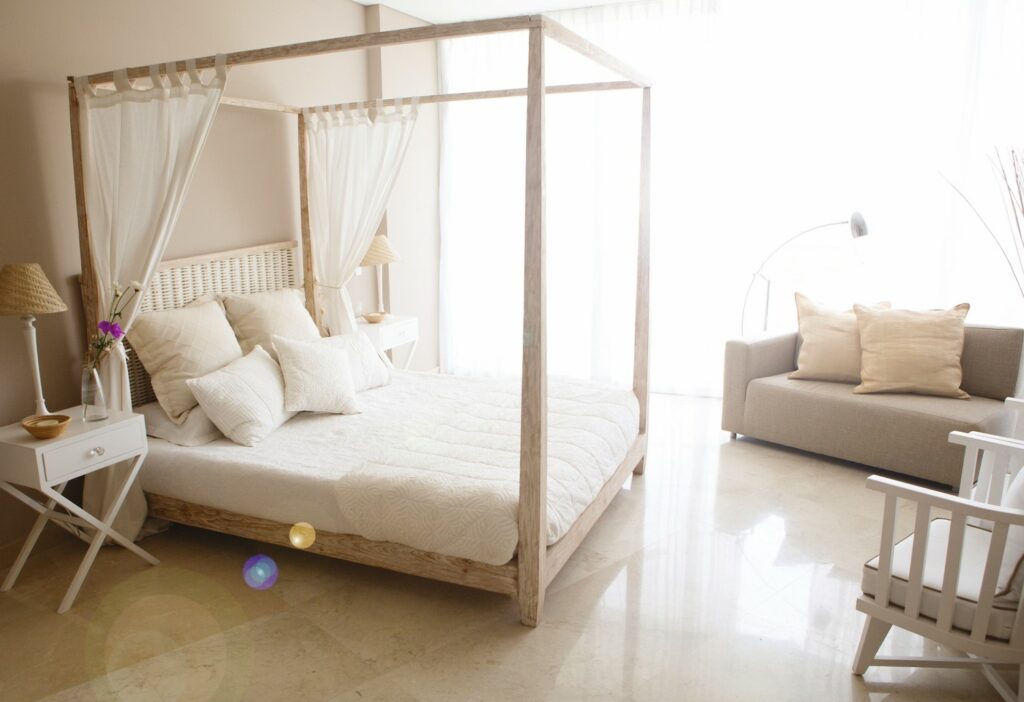 "Próximamente estarán disponibles 137 nuevos apartamentos, con áreas desde los 1,335 hasta los 2,293 pies cuadrados, y precios que oscilan entre los 347.000 y los 768.000 dólares. Además, hay disponibles a la venta 46 lotes con áreas desde los 5,920 hasta los 13,262 pies cuadrados, y precios que van desde los 305.000 a los 470.000 dólares", explica la asesora Susana Berastegui.

Los residentes y visitantes de Karibana tienen a su disposición un campo de golf de 18 hoyos, diseñado y construído por Nicklaus Design, catalogado desde el año 2016 por la Revista Golf Digest como el mejor campo de golf en Colombia. Además, canchas de tenis en superficie Plexi Cushion, la misma tecnología utilizada a nivel profesional en el US y Australian Open, un Club House con piscina semiolímpica, Spa, gimnasio, restaurante, bar y salón para eventos. Y si gustan del mar, un Club de Playa con 1 kilómetro de aguas paradisíacas, piscina, restaurante y bar.
A todo lo anterior se suman las amenidades del Hotel Conrad: 5 restaurantes, bares, 4 piscinas con vista al mar, Spa, gimnasio, y un salón de fiestas con capacidad para 1.400 personas. ¿Dónde más hallar semejante paraíso al alcance de la mano?
KARIBANA
a true gem north of paradise

Many species of colorful birds singing, sea waves crashing elegantly on the coastline, a sky that blends in the horizon with the blue sapphire ocean, and a breathtaking golf course set in deep emerald tones– this is Karibana, a piece of heaven where the soft sea breezes blow freshly cooling the day and making the nights wonderfully vibrant. In the center of this incomparable destination, you'll find the Conrad hotel by Hilton: a majestic architectural structure that combines both modern and traditional style. There's a great central bar in the lobby and magnificent doors and windows that give way to a panoramic view of 4 swimming pools and a beautiful beach. Joseph Mildenberg, commercial manager of Karibana, says that the spaces of the Conrad hotel were inspired by the Caribbean climate. "Art and architecture blend to offer a beautiful touch, allowing us to enjoy paintings and sculptures by well-known Colombian artists such as David Manzur, Ana Mercedes Hoyos, Edgar Negret and Pedro Ruiz, in an open, fresh and elegant ambiance," he says.
On the finely defined paths that surround the hotel, golf carts come and go with players from all over the world to the only golf course that borders the Caribbean Sea in Colombia. Karibana attracts a slew of tennis players, some of them world-class, who enjoy the comfortable and updated courts that are open year-round and the extensive water sports activities like kitesurfing. Their great open spaces invite people who truly enjoy physical activity.
Located half an hour from Cartagena, this paradise offers peace and tranquility. A walk along the beach or simply the joy of being close to nature are some of the best things the Colombian Caribbean has to offer.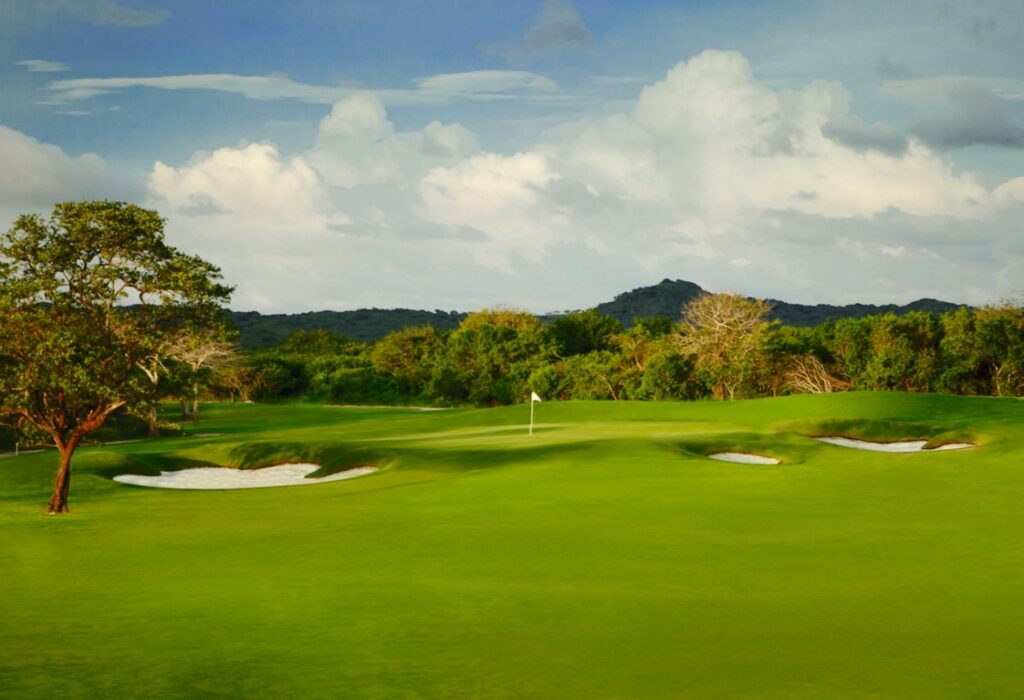 It would certainly be considered a crime not to try the succulent fried snapper accompanied by tostones, or patacones (fried plantains) and coconut rice at the Beach Club. The place offers many culinary options in five different restaurants catering to the tastes of local visitors, as well as international guests. Not only is Karibana considered a glorious vacation oasis, but a place where you can actually own a summer home or even retire in a safe and peaceful paradise in the Caribbean.
This gem is located just half an hour from the international airport of Cartagena, a World Heritage City that has just been appointed as the best honeymoon destination by the World Travel Awards, something like the Oscars in the travel sector.
Both residential buildings and hotel rooms offer beautiful views of the sea and the golf course, and hosts international golf tournaments. All members of the Karibana Club have access to swimming pools, spas, playing areas for children, excellent cuisine, rooms for events, bars and entertainment of all kinds. Right now, Karibana is offering land for sale for those who wish to build in paradise.
"Soon, 137 new apartments will be available, with areas ranging from 1,335 to 2,293 square feet, and prices ranging between $ 347,000 and $ 768,000. In addition, 46 lots are available for sale with areas from 5,920 to 13,262 square feet, and prices ranging from $ 305,000 to $470,000," says advisor Susana Berastegui.
Residents and visitors of Karibana have access to an 18-hole golf course designed and built by Nicklaus Design, listed since 2016 by the Golf Digest Magazine as the best golf course in Colombia. In addition, Plexi Cushion surface tennis courts, the same technology used professionally in the U.S. and Australian Open. Also, a Club House with semi-Olympic pool, Spa, gym, restaurant, bar and events room.
Beachgoers can enjoy a one-kilometer long Beach Club of paradisiacal waters, swimming pool, restaurant and bar.
Residents also have access to the amenities of the Conrad Hotel: 5 restaurants, bars, 4 swimming pools overlooking the sea, Spa, gym, and an events room with capacity for 1,400 people