Romero Britto, el icónico artista pop de renombre mundial, es un maestro en la creación de arte audaz, moderno y colorido, inspirado en su amor por la vida y apego a la felicidad. Como uno de los artistas pop contemporáneos más famosos del siglo veintiuno, sus obras se han exhibido en galerías y museos en más de 100 países y su forma única de pintura ha dado como resultado uno de los estilos más exitosos de esta era.
Desde pinturas, esculturas y obras registradas, su sello ha sido colocado en algunas de las marcas más prestigiosas del mundo. Y por supuesto, el propio brasileño ha puesto el ojo – o digamos el pincel- en rostros de personalidades tan icónicas como los de la realeza británica, a quienes ha
dedicado varias de sus pinturas. La infanta Leonor, los Reyes de España, Alberto y Charlene de Mónaco, los Duques de Cambridge y la Princesa de Gales son sólo algunos de los miembros de la realeza que integran su amplia colección de retratos de personalidades
Nacido en Brasil, Romero Britto tiene una historia inspiradora. Sus pinturas más tempranas fueron creadas en lienzos improvisados con pintura de dedos o lo que fuera que pudiera conseguir, ya que no podía pagar los pinceles, pero aun así era capaz de crear un estilo icónico con prácticamente nada. Y ahora, en la cima del mundo del arte pop, él todavía no olvida sus inicios y se ha convertido en uno de los filántropos más importantes de la actualidad.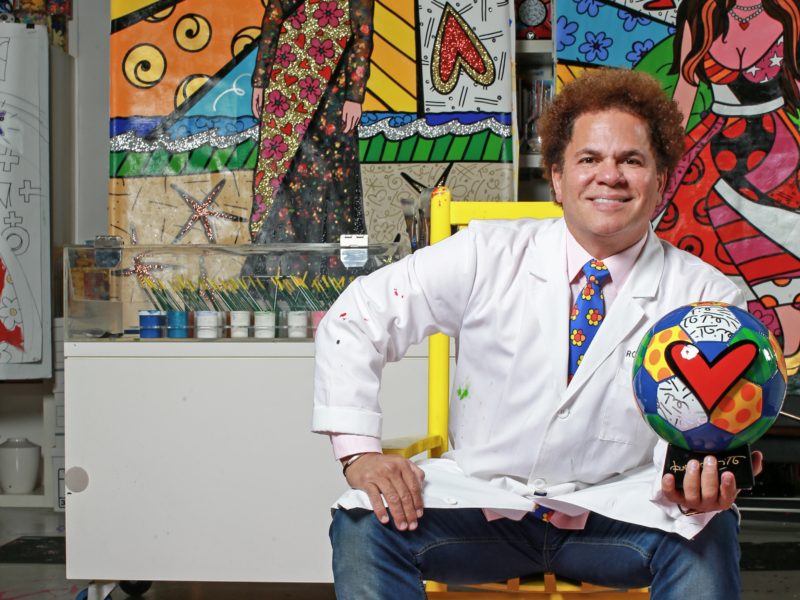 -Su arte exuda mensajes positivos, ¿Se considera un optimista sin esperanzas? ¡Sí! Muy optimista. Muy optimista
-Usted es un artista verdaderamente apasionado; ¿Cree que a través de su arte ha hecho un cambio positivo en el mundo? Espero que las personas que están coleccionando mi trabajo y están expuestas a mi arte, espero que les haga felices. Que traiga un poco de alegría y felicidad a las personas que se paran delante de mis piezas.
-Brasil y Miami fueron los puntos de partida de su carrera global, ¿qué lugar especial ocupan en su corazón? Amo Brasil y amo Miami. Al llegar a Miami, sentí que había nacido de nuevo. Cada vez que viajo y regreso sigo sintiendo que he nacido de nuevo. La ciudad me ha abrazado mucho. Amo Miami tanto como Brasil.
-Su arte está en los principales museos del mundo, ¿hay alguien que le gustaría agregar a su portafolio? Estoy muy emocionado de que muchos museos estén reuniendo mi trabajo. Recientemente
tuve exposiciones en Rusia, Corea, el Museo de Arte, pero lo más importante para mí es que muestren mi arte en las casas de las personas.
¿Cuál es tu opinión sobre Art Basel 2018? ¿Algo que no te pierdas? Espero que, una vez más, Art Basel traiga luz y diversión a los coleccionistas de todo el mundo y a los que están en Miami.
-¿Un rostro que te encantaría plasmar en tu pop art? Esa es una buena pregunta. He hecho tantos retratos. En realidad no sé en este momento a quién me gustaría hacer proximamente.
-¿Qué te inspiró a pintar al papa Francisco? Su amabilidad, su generosidad y la esperanza que él le da al mundo.
-¿Cuál es el tema de tu nueva colección? Más AMOR
-De todas las marcas globales que tu arte engalana, ¿cuál es tu favorita? Todos ellos son mis favoritos. Son grandes partidarios de mi trabajo. Rolls Royce, Ferrari, Dolce & Gabbana, Hermes
-Usted recientemente logró una marca de vinos de Argentina usara su arte, ¿disfruta del vino? Me encanta el vino y, en particular, el vino argentino con mi etiqueta. Norton Wines
-¿Qué música escucha Romero Britto cuando está creando una obra de arte? Música pop
-Háblenos de su edición limitada Kippah? ¿Qué le inspiró? El poder dar, la familia, la comunidad.
-¿Tiene alguna obra de arte especial que llamaría su mayor logro? La pirámide en Hyde Park
-También tiene un balón de fútbol Britto, ¿Es usted un gran fanático del fútbol? Amo el futbol. Crecí con el fútbol.
-¿Qué sigue en el horizonte de Britto, cualquier nuevo proyecto que quiera compartir con nuestros lectores? Hay tantos proyectos en las obras. ¡Demasiados para enumerar!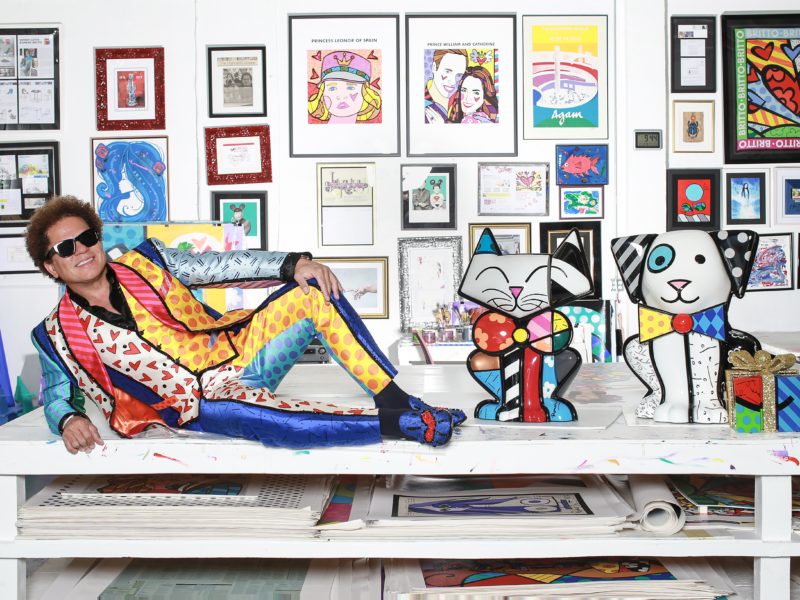 Pop Art Power ROMERO BRITO
Globally-renowned iconic pop artist Romero Britto is a master at creating bold, modern, colorful art inspired by his love for life and happiness. One of most famous Contemporary Pop Artists of the twenty-first century, his works have been exhibited in galleries and museums in over 100 countries and his unique form of painting has resulted in one of most successfullyrecognized styles of this era.
From paintings, sculptures and trademarked works, his mark has been placed on some of the most prestigious brands in the world. Britto has set his eye – or let's say his brush – on painting the faces of iconic personalities. British royalty, Infanta Leonor, the Kings of Spain, Albert and Charlene of Monaco, the Dukes of Cambridge and the Princess of Wales are just some of the members of royalty that make up his extensive collection of portraits.
And now at the top of the Pop Art world, he still doesn't forget his beginnings and has become one of the most important philanthropists of today.
Your art exudes positive messages, do you consider yourself a hopeless optimist? Yes! Very optimistic. Very hopeful
-You are a truly passionate artist; do you think that through your art you have made a positive change in the world? I hope that people that are collecting my work and are exposed to my art – I hope it makes them happy. I hope it brings some joy and happiness to people that stand in from of my pieces.
-Brazil and Miami were the starting points of your global career, what special place do they hold in your heart? I love Brazil and I love Miami. Coming to Miami I felt like I was born again. Every time I travel and return I still feel like I am born again. The city has embraced me so much. I love Miami as much as Brazil.
-Your art is in major museums worldwide is there anyone left that you would like to add to your portfolio? I am very excited that many museums are collecting my work. I recently had shows in Russia, Korea, The Museum of Art, but the most important to me is to have my art shown in people's homes.
-What's your take on Art Basel 2018? Anything not too be missed? I hope that, once again, Art Basel will bring light and fun to collectors around the world and based in Miami
-A face you would love to capture in your pop art? That is a good question. I have done so many portraits. I actually don't know at this point who I would love to do next.
-What inspired you to paint Pope Francis? His kindness, his generosity, and the hope that he gives to the world.
-What is the theme of your new collection? More LOVE.
-Of all the global brands your art graces, which is your favorite? They are all my favorite. They are huge supporters of my work. Rolls Royce, Ferrari, Dolce & Gabbana, Hermes.
-You recently have your artwork on an Argentina wine brand, do you enjoy wine? I love wine and, in particular, the Argentine wine with my label on it. Norton Wines.
-What music does Romero Britto listen to when he is creating a work of art? Pop music.
-Tell us about your Limited edition kippah? What inspired you? Giving. Family. Community.
-Do you have a special art piece that you would call your biggest accomplishment? The Pyramid at Hyde Park.
-You even have a Britto soccer ball, are you a big soccer fan? I love soccer. I grew up with soccer.
-What's next on Britto's horizon, any new projects you would like to share with our readers? There are so many projects in the works. Too many to list.