"Buscamos inspiración en el arte clásico, en el Art Deco y en la época de oro del Miami de los años 50s"
"Inspired by Classic Art, Art Deco and Miami´s Golden Age of the 50s"
Ser director de arte de Faena Hotel trae consigo la gran tarea de materializar la increíble visión de Alan Faena (su creador), con quien "Rafa" –como le dicen sus allegados-, trabaja directamente desde hace 6 años.
Rafael nos cuenta sobre el concepto de arte del Hotel Faena Tratamos de crear un espacio como ningún otro, un lugar único en donde mezclamos diferentes estéticas que representan al mundo faena. El arte y ser originales, son algunos de nuestros pilares. La mayoría de las cosas que se ven en el Hotel Faena son custommade.
Buscamos la perfección en todo, la armonía de colores y formas, atender cada detalle y ante todo brindar un servicio de lujo. Nuestro color de cabecera es el rojo que identifica al Hotel Faena. Se ve desde las sombrillas de la playa, hasta en los uniformes de los empleados, e incluso en las pajillas de los tragos.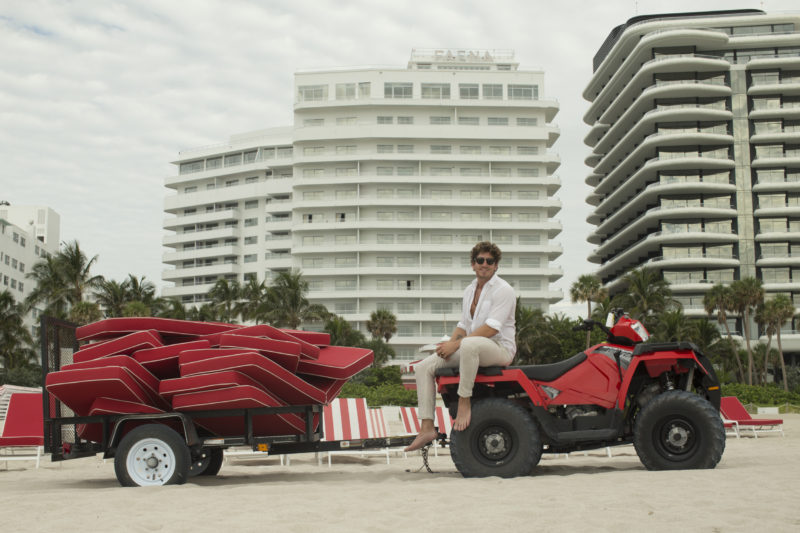 As Faena's Art Director, Rafael has successfully carried out the grand vision of owner Alen Faena for the past six years.
"We try to create a space like no other, a unique place where we mix different aesthetics that represent the world of Faena. Original art is one of our pillars. Most of the things you see at the Hotel Faena are custom-made.
We seek perfection in everything, the harmony of colors and shapes, in the details and above all provide a luxury service. The color red characterizes Hotel Faena. And it can be seen from the umbrellas on the beach, employee uniforms and even in the straws for drinks," say Rafael.