Every year that passes, Art Basel Miami Beach becomes bigger and better. "Art Baselers" get ready for an even more fabulous mega event featuring more satellites and sister shows and amazing VIP parties. It will most certainly be an art to get through Art Basel this year. So to make it easier, here are some of the main events not to be missed
What's New Art Basel Miami Beach (Dec. 7-10)
New Galleries 2017: Applicat-Prazan (Paris), Tyler Rollins Fine Art (New York), Inman Gallery (Houston), Muria Centeno (Portugal), Philipp Kaiser's sculptures and performance art at Collins Park, A Gentil Carioca (Brazil).
A selection of galleries that are completely new to the Miami Beach: Dépendance, Antenna Space, Isla Flotante, Jaqueline Martins, ApplicatPrazan – and Sfeir-Semler who will be participating in the galleries sector for the first time.
Editor's Pick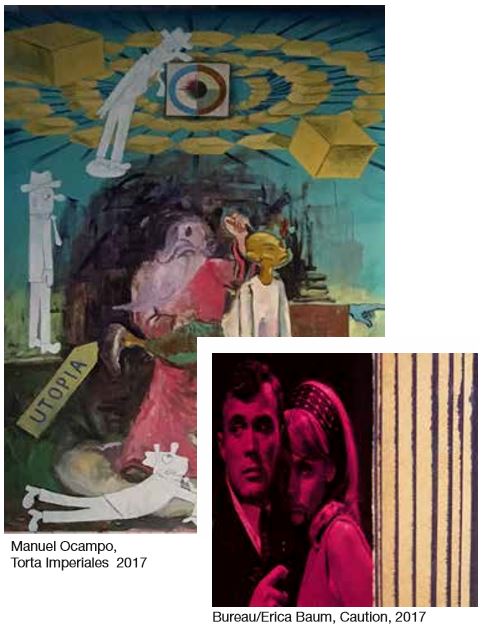 For the first time at Art Basel (Dec. 7-10)
Fountainbleu Hotel Ballroom Abstract/personality artist Rachel Harris will feature her work "Red Tides." The show is inspired by Red tide, a natural phenomenon that occurs when the eco system is out of balance in the ocean. The artist will also be donating a percentage of the proceeds to Oceanic, a foundation to keep plastic out of the water.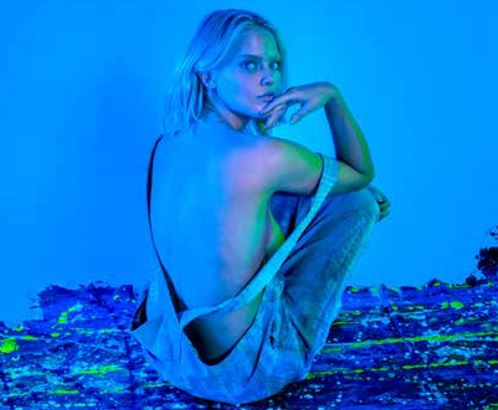 Design Miami (Dec. 6-10)
Meridian Avenue and 19th Street. Happening alongside Art Basel, the world's top galleries gather to present museum-quality exhibitions of twentieth and twenty-first-century furniture, lighting and art pieces. Louis Vuitton is will be presenting their ever-popular Objets Nomades limitededition collection of travel-inspired furniture and home accessories, created in collaboration with international designers. This year, Louis Vuitton will present an exclusive never-before-seen edition of theBomboca Sofa, a new piece designed in partnership with the Campana Brothers, Fernando and Humberto Campana, who drew inspiration from the city of Miami.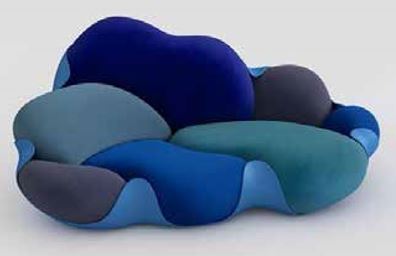 This modular piece is made up of a rigid shell featuring the same leather Louis Vuitton uses for its bags, along with cushions made of textured fabrics and velvet in five different shades of blue and turquoise.
Pictured below: Louis Vuitton Objets Nomades limited edition collection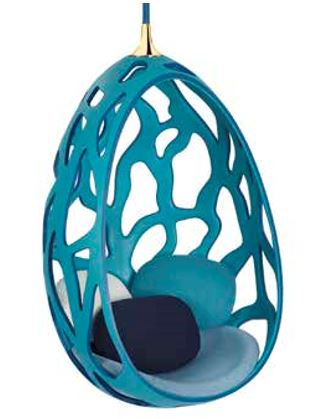 Other Objet's making their Design Miami debut include pieces created by Atelier Oï such as the Swing Boat, the Belt Chair and the Spiral Lamp with its twisted straps of leather.
Scope Miami Beach (Dec. 5-10)
801 Ocean Drive, Miami Beach SCOPE has collaborated with The Melech Collection, launched by sixtime NBA All-Star Amar'e Stoudemire. Stoudemire will curate a 40 foot installation as a highlight of SCOPE Miami Beach's Special Programs.Artist Felipe Pantone created- Chromadynamic Dimensional Courtesy of Mirus Gallery specific installation for the Atrium of its Miami Beach Pavilion.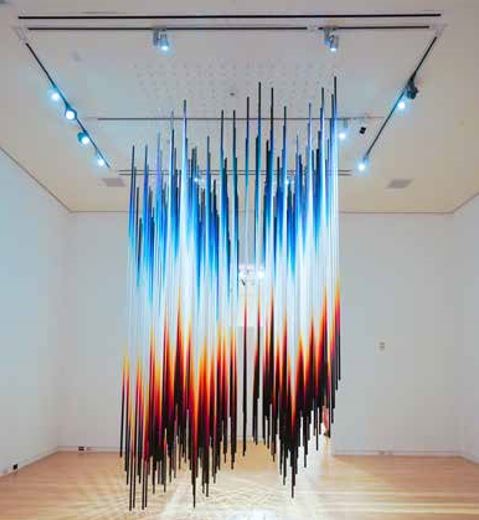 Pulse Miami Beach (Dec. 7-10)
4601 Collins Ave., Miami Beach This year's PROJECTS Special Commission by Hector Arce-Espasas, whose sculptural installation "Ode to Paradise (Dancers)" presents a series of his iconic ceramics positioned throughout a new site-specific environment created specifically for PULSE. Installations and performances feature works by Fischer Cherry, Jeana Klein, Phoenix Lindsey-Hall, Alan Rath, Aya RodriguezIzumi, Hiba Schahbaz and Matthew Sleeth.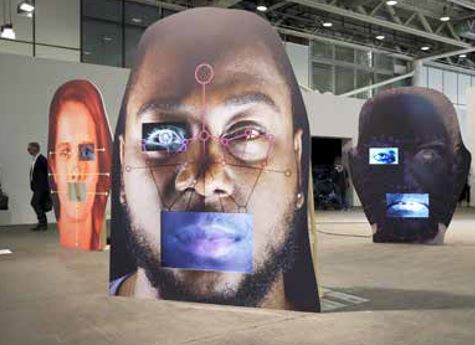 Form Miami (Dec. 6-10)
1723 Washington Ave., Miami Beach
New to the fair this year is FORM, which is owned by Atlanta-based Urban Expositions, and also produces SOFA CHICAGO, Art Aspen, Houston Art Fair, and Art Palm Springs. Form presents works from international galleries featuring glass, ceramic, wood and fiber.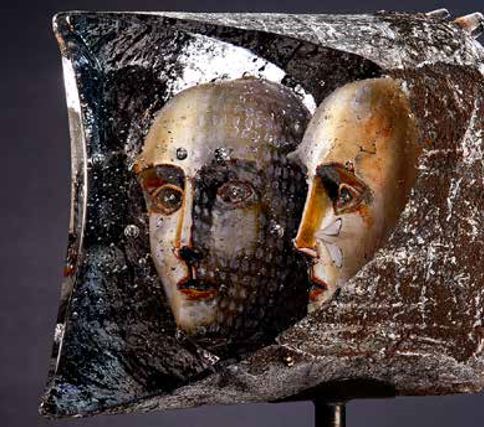 Untitled (Dec. 6-10)
Ocean Drive and 12th street SculptureCenter will feature Limited Editions by Nairy Baghramian, Rochelle Goldberg, Elizabeth Jaeger, Sanya Kantarovsky, Katrín Sigurdardóttir, and Anicka Yi. Albertz Benda is presenting a site-specific installation by Thomas Fougeirol and Brie Ruais.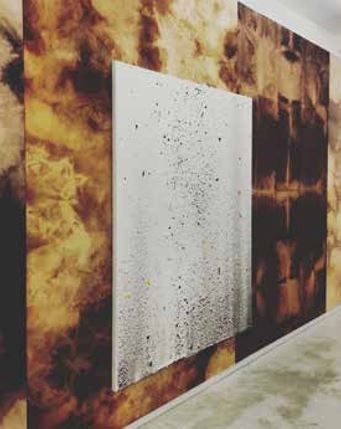 For UNTITLED, Fougeirol has created a new series of 'Gold paintings' that will be exhibited for the first time in the United States.
Nada Art Fair Miami Beach (December 7 -10)
Ice Palace Studios, 59 NW 14th Street, Miami (New Location) From New York, exhibiting galleries include CANADA, Derek Eller Gallery, Karma, Marlborough Contemporary, Martos Gallery, Rachel Uffner Gallery, Kate Werble Gallery and White Columns. From The Hamptons: Halsey Mckay Gallery (and Karma).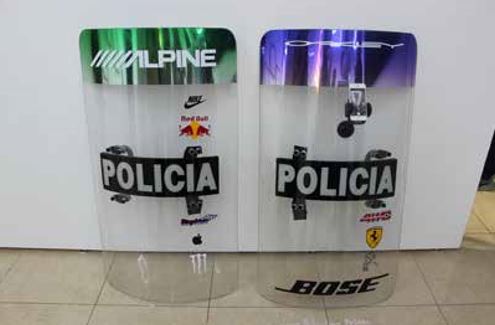 For the 2017 edition, the NADA International Gallery Prize was awarded to CARNE Gallery (Bogotá) and Dawid Radziszewski (Warsaw).
Beyond Art Basel
-CONTEXT ART MIAMI (DEC. 5-10) 1 Herald Plaza, NE 14th Street Miami
-SUPERFINE! (Dec. 6-10) 56 NE 29th St., Miami
-ART MIAMI (Dec. 5-10) 1 Herald Plaza Art Miami is the leading international contemporary and modern art fair that takes place in each December during Art Week.
-RED DOT (Dec. 6-10) 1700 NE 2nd Ave.
-ARTSPOT MIAMI (Dec. 6-10) 1700 NE 2nd Ave.
-SPECTRUM MIAMI (Dec. 6-10) 1700 NE 2nd Ave.
-AQUA ART MIAMI (Dec. 6-10) Aqua Hotel, 1530 Collins Ave. Miami Beach
Pérez Art Museum Miami (PAMM)
Once again will be the philanthropic benefactor of the VIP Previews for Art Miami and CONTEXT Art Miami. Pérez Art Museum Miami promotes artistic expression and the exchange of ideas, advancing public knowledge and appreciation of art, architecture and design.
Design district must see:
Rubell Familly Collection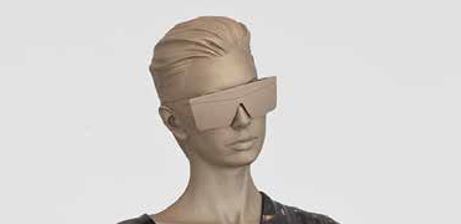 VIP Parties Selects:
Krug and St. Regis Supper Series Every night from December 5 to 8, at exactly 12 am, the grand St. Regis Bal Harbour will host a midnight dinner party, with fashion bigwig Naeem Khan hosting an extra special dinner on December 6 by invite-only. Ruinart Bar in the Collectors Lounge Ruinart Bar's VIP space will serve the label's blanc de blancs, rosé, and blanc. A sculpture by artist Jaume Plensa will also be on display in the lounge. The Premiere of Storybooked by Marriott Marriott Hotels will unveil its short-form documentary series Storybooked, which follows the travels of four international artists around the world on December 8 hosted at the W South Beach. House of Rémy MVP Experience Rémy Martin will host an over-the-top sports-themed party. December 9's House of Rémy MVP Experience will host a star-studded basketball game and interactive art installation on the rooftop of Swish boutique. The Global Gift Gala December 7th from 7-11 p.m. at the Eden Roc Miami Beach Hotel. Eva Longoria Baston and Ricky Martin, along with distinguished guests in Miami, will come together in an effort to raise funds for Puerto Rico and Florida A star-studded affair, the event will include a red carpet and champagne reception, a five-course dinner, a thrilling live auction, as well as remarkable performances from talented entertainers. Ticket prices start at $250.