Clarins and FEED have just announced the launch of  this year's National Million Meal Mission. This venture aims to provide 1,200,000 meals to children around the world in 17 days – starting on April 22nd, and ending on May 8th, 2016. Nine retailers across the country will be o ering a FEED 10 pouch lled with deluxe Clarins products. Each pouch provides 10 meals to children, helping them grow, learn and thrive – an investment in their futures.
For many children around the world, hunger is  not only a daily struggle, it is life threatening. School meals offer hope. Clarins believes that beauty comes from the heart and is expressed by taking direct action to help those less fortunate. The company's pioneering social policy has always supported health, environmental and educational initiatives in under-developed nations around the globe, which is in sync with FEED's global philosophy – "Create Good Products That Help FEED The World."
Since 2011, FEED and Clarins have provided over 10 million meals to children around the world. Through this year's National Million Meal Mission, FEED and Clarins hope to make the world a better place for present and future generations, one meal at a time.
After witnessing the effects of hunger firsthand when traveling as a WFP Honorary Spokesperson, Lauren Bush Lauren founded FEED Projects in 2007 with the simple idea of creating products that would engage people in the fight against hunger. As a social business, FEED believes that everyone has the right to basic human necessities, such as healthy nutritious food. Their enduring principle lies at the heart of what they do: people's choices of what to buy and wear have the power to change the world. As such, all of their products are produced under fair-labor conditions, and when sold, they each have a measurable donation attached to it. The company's choice to work with the United Nations World Food Program school meal initiative was a way to benefit children not only though nutrition, but also through education. Research shows that when children are given school meals, attendance doubles and performance greatly improves. FEED's personal commitment to working against hunger is matched with a commitment to the environment and to safe and healthy working conditions for everyone they work with. Eight years since its founding, FEED has built a movement connecting customers to the cause, one bag at a time.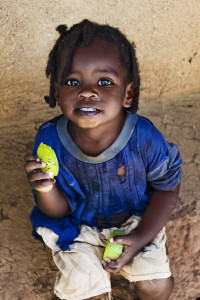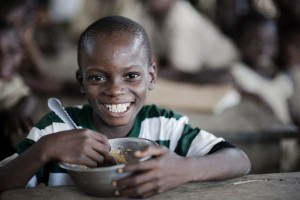 ESPAÑOL
UNA BELLA COLABORACIÓN EVOLUCIONA
CLARINS y FEED están orgullosos de anunciar el lanzamiento de National Million Meal Mission. Esta nueva y emocionante iniciativa tiene como objetivo de proveer 1,200,000 comidas a niños alrededor del mundo en 17 días – empezando el 22 de Abril, y acabando el 8 de Mayo de 2016. Nueve distribuidores en los Estados Unidos ofrecerán un estuche FEED 10 lleno de productos deluxe de Clarins. Cada estuche permite ofrecer 10 comidas a niños, ayudándoles a aprender, crecer y a desarrollarse – una inversión en sus futuros.
Para muchos niños en el mundo, el hambre no solo es una lucha diaria, sino también una amenaza en sus vidas. Comidas ofrecidas en la escuela dan esperanza. Desde el 2011, FEED y Clarins han proveído más de 10 millones de comidas a niños alrededor del mundo. A través de National Million Meal Mission, FEED y Clarins esperan hacer del mundo un sitio mejor para generaciones presentes y futuras, comida a comida.
CLARINS
Clarins es conocido alrededor del mundo por ayudar a generaciones de mujeres a conseguir una belleza natural y autentica. El respeto se manifiesta en todos los ámbitos de actividad de Clarins: respeto del consumidor, de las plantas, del medio ambiente; respeto del ser humano. Clarins cree que la belleza nace en el corazón y se expresa mediante la adopción de medidas directas para ayudar a los más desfavorecidos. El compromiso social del grupo Clarins a favor de un modelo de Desarrollo Responsable se traduce en el apoyo que proporciona a asociaciones médicas, humanitarias y medioambientales en naciones subdesarrolladas alrededor del globo. El progreso es la base de la filosofía de Clarins, que siempre se ha comprometido a hacer la vida más bella – ocupándose del presente a la vez que considerando el bienestar de generaciones futuras. "Dejar un mundo mejor" es un lema que Clarins lleva a cabo en todo lo que hace.
FEED
Después de un viaje como embajadora del United Nations World Food Programme (WFP), Lauren Bush Lauren funda FEED Projects en 2007 con la simple idea de crear productos que tengan el poder de sensibilizar al público sobre el aumento del hambre en el mundo. Como empresa de carácter social, FEED cree que todo el mundo tiene derecho a necesidades humanas básicas, como una buena alimentación. Su principio se encuentra en todo lo que hacen: lo que cada persona elige comprar tiene el poder de cambiar el mundo. Es por esto que todos sus productos son elaborados bajo condiciones laborales justas, y obtienen una donación mesurable a la hora de su venta. La elección de la compañía de trabajar con el programa alimenticio administrado por las Naciones Unidas fue un gran beneficio para los niños no solo a través de la alimentación, sino también a través de la educación. Estudios recientes muestran que cuando se ofrecen comidas a alumnos en las escuelas, la asistencia al colegio aumenta el doble y el rendimiento mejora en gran medida. Teniendo como objetivo global "Crear buenos productos que ayuden a alimentar el mundo," FEED ha establecido un movimiento conectando consumidores a la causa, estuche a estuche.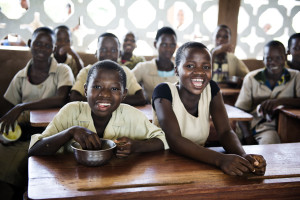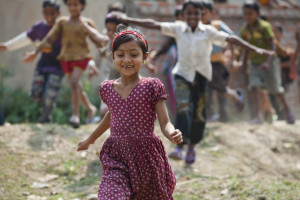 Lauren Bush on feed:
1. Lauren, the FEED and Clarins partnership is a fantastic initiative.  Why is this initiative so important for you?

Our collaboration with Clarins has been such an organic relationship from day one. It's a privilege to work with a partner who values giving back in the way that Christian Courtin-Clarins does—as evidenced by his commitment to turn Clarins' "gift with purchase" program into a "gift with purpose" program.  The FEED + Clarins pouches truly do reflect an amazing purpose—to date, we've been able to donate 10 million school meals through the partnership. That's 10 million opportunities for better futures for children around the world. 
 2. How did the FEED and Clarins partnership come to life?

 FEED was introduced to the Clarins US team over five years ago. Upon first meeting, it was clear that our organizations were aligned in wanting to make the world a better place.  We started by creating activations together at their various beauty counters in Bloomingdales and Nordstrom with the goal of raising one million meals. About a year or so into our partnership, Christian Courtin-Clarins and some of the Clarins team joined me on a giving trip to Honduras to see our work firsthand.  Now five years in and 10 million meals later our partnership continues to expand internationally raising even more meals and awareness about hunger. It is truly as out tag line suggests – "a beautiful partnership".
 3. How do you think the beauty industry can inspire change in the world today?

 In my mind, there is such an obvious link here. I'm a firm believer that beauty starts on the inside—choosing to live out of a place of compassion and generosity. Our beauty products should reflect that, and it's been so amazing to see companies like Clarins take the lead on not only creating products that are good for our skin, but also good for the world, and offer ways for customers to make a difference through their purchases.
 4. What brings you joy in life?
 Where to begin? I truly feel so fortunate for all the sources of joy in my life right now. Being a new mom, my heart somehow feels fuller every day. Getting to experience motherhood while also continuing to lead my amazing team at FEED is such a privilege. We just hit a major milestone as a company of giving over 94 million meals. It doesn't get much happier than that!