By: Nancy Esteves
One of the most anticipated cruise ships of the year, Norwegian Escape was officially christened by Mr. 305 himself, Pitbull in a grand ceremony, making it the first time ever he has served as "godfather" of a cruise ship. And this in not just any cruise ship– the Norwegian Escape is the largest and also the first in Norwegian Cruise lines' Breakaway Plus Class.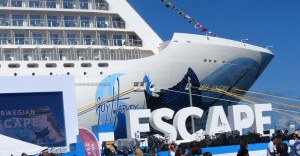 The 4,200-passenger cruise ship arrived after 17 months of construction at the Meyer Werft shipyard in Germany to her home port, Miami. The ship's astonishing hull artwork was created by Guy Harvey, who made a special guest appearance. Some of his favorite marine life is depicted in Harvey's largest canvass ever made.
In his usual "Mr. 305" style, Pitbull pumped up the crowd before our preview sailing of the Norwegian Escape, a great way to get everyone ready for two nights of non-stop partying.
Turning the PortMiami pier side into a massive party while performing his hottest hits, — "Don't Stop the Party", "Fireball" and "Give Me Everything," guests were able to enjoy his signature Voli vodka with appropriately named Mr. Worldwide and Dale cocktails, which are available across the Norwegian fleet. And for an added signature touch, all guestrooms received a sample of Pitbull's new cologne in a gift bag to take home.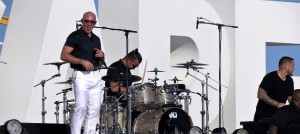 Norwegian Cruise Line Holdings chief executive officer Frank Del Rio kicked off the celebration, on an extremely hot day for November. Guests were actually provided cold drinks by waiters on Segways.
"There truly is no better place in the world to celebrate the introduction of a magnificent new ship than right here — the cruise capital of the world — the beautiful PortMiami," Frank Del Rio, president and CEO of parent company Norwegian Cruise Line Holdings, said in his opening speech.
Following an acrobatic Parkour performers, national radio personality Froggy from the "Elvis Duran Morning Show" took over as event emcee. Special VIP guest was Miami-Dade County Mayor Carlos Gimenez. Attendees got a sneak peak at the entertainment Norwegian Escape has to offer as the casts of Tony Award-winning Broadway shows "After Midnight" and "Million Dollar Quartet" performed a selection of songs from their shows.
"Norwegian Escape represents a major moment for us… this is a true evolution of our brand," said Andy Stuart, Norwegian Cruise Line's president and chief operating officer. "Not only does she offer high caliber entertainment, quality dining and luxurious accommodations that significantly raise the bar for our fleet and puts her in a class of her own, but she exemplifies our renewed commitment to offering unparalleled freedom and flexibility to our guests."
A Great Escape on Norwegian Escape Inaugural Cruise
Hola Latinos Magazine was hosted on this amazing 1,100-foot-long city at sea during a two-night inaugural cruise for hundreds of travel agents and other invited passengers.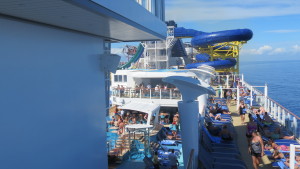 She certainly is a magnificent ship! Boasting 18 decks and more outside space than you'll find on most other cruise ships, the ship features a casino, 12 pools and hot tubs and even a grotto for their Spice H20 adult-only area, a large shopping area, 21 bars and lounges and a slew of outstanding specialty restaurants and shows. So the party never stops.
A Touch of Class
"The Haven by Norwegian," is an exclusive "ship–within-a-ship suite complex," which has oversized rooms and balconies, a private restaurant and sundeck and offers guests a personal butler and a concierge desk to make dining, entertainment, and spa reservations.
Well-Organize
Waterfront and 678 Ocean Place (located at the heart of the ship), includes an oceanfront boardwalk lined with restaurants, bars and shops, dining, bars, entertainment, gaming and more.
A Foodie's Dream Come True
Norwegian Escape's dining options offer guests a mix of 11 complimentary options, signature favorites and new premium specialty outlets: Le Bistro, Cagney's and La Cucina rival those of luxury lines. Two new specialty restaurants from James Beard Award-Winning Chef Jose Garces include Bayamo, a Latin seafood specialty restaurant, and Pincho Tapas Bar. Also onboard is the Food Republic, developed by Miami-based The Pubbelly Restaurant Group. We enjoyed some truly excellent meals at one of the main dining room, The Manhattan Room featuring live entertainment. Their Garden Café had a seafood extravaganza to die for! All the king crab, stone crabs, lobster, shrimp, oyster, mussels you can eat…just heavenly. The restaurants have exceptional service.
The Entertainment Stand-outs
Norwegian Escape features two spectacular Tony Award-winning Broadway musicals that headline the Escape Theater with the dinner and a show concept: After Midnight, the hit musical that combines the big-band songs of Duke Ellington and the best dancing from Broadway; and Million Dollar Quartet, the musical inspired by rock 'n' roll icons Elvis Presley, Johnny Cash, Jerry Lee Lewis and Carl Perkins. The Supper Club has been re-imagined for an exclusive dinner and show.
The critically acclaimed The Brat Pack™ features classic soundtracks of motion picture of the 80's in a post-modern cabaret.
The comedy club….
Feature performances by Levity Entertainment Group's roster of top-notch comedians.
Howl at the Moon
The world's greatest rock 'n' roll dueling piano show was super entertaining as they performed favorite songs from the 70s, 80s, 90s and today.
Wine Lovers – The Wine Tasting Musical – At The Supper Club for Wine Lovers, you are able to taste six sensational wines while watching a hilarious musical comedy about the joys of wine and love.
Nightlife includes several popular land-based destinations and a lot of Miami influence, including the first-ever Jimmy Buffett's Margaritaville restaurant and 5 O'Clock Somewhere Bar at sea. The District Brew House, a trendy craft beer bar is an exclusive partnership with Miami's own Wynwood Brewing Company, serving more than 24 draft beers. The Cellars, A Michael Mondavi Family Wine Bar (and my favorite), features an array of wine tasting experiences. Miami's most legendary bar, Tobacco Road is also aboard the ship.
Recreation
You'll find the largest ropes course at sea leading a wide array of activities. It boasts five Sky Rails and zip tracks. On the top of the ship, guests will find a pool deck area, a double-deck bar and two new large format LED screens.
Their Aqua Park is the largest at sea and includes a new tandem Aqua Racer slide, with a clear acrylic section to enhance the thrill of this adventure ride. For the kids: an expanded Splash Academy youth center that includes dedicated play spaces for specific age groups and there is also a separate nursery for cruisers two and under.
The Spa
Ladies, ah, the spa…. The Mandarin Spa, for pampering and refreshing — literally — there is a Snow Room. An actual flurry of powdery snow falls throughout the day to 4 inches of snow. The cold is supposed to stimulate blood circulation or cool off a sun burn. There's also a Salt Room, thermal suite and fitness center, along with massage and salon services.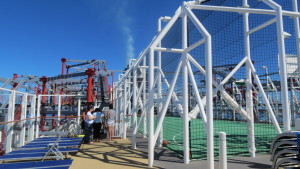 Duty Free Shopping
You'll find major jewelry and electronic stores in the first at-sea boutiques by luxury brands Carolina Herrera and LACOSTE.