Un icono indiscutible de la belleza
Con un promedio de 70 clientes por semana y 5 asistentes que son casi extensiones de sus propias manos, hoy por hoy, Gabriel Samra es uno de los más cotizados estilistas de la Florida. Su don de crear un look espectacular para cada persona que pasa por su silla, lo ha convertido en un maravilloso mago de la belleza, según las celebridades que, por supuesto, lo idolatran.
¿Y cómo no? El súper carismático Samra sabe ganarse la confianza de quienes se ponen en sus manos con una cálida personalidad, y esto, le ha dado cada vez más satisfacciones personales y profesionales. Viaja por todo el país y por Latinoamérica enseñando su técnica de color única. Sus próximos proyectos delatan la evolución de su talento. En Abril, ya abre su segunda peluquería-escuela de belleza en Santa Fe, Ciudad de México, una beauty academy con estilistas de primera clase. A corto plazo piensa en otra sede en Miami. ¿Genio no? Enfocado y disciplinado diríamos.
Al joven venezolano no siempre le resultó fácil lidiar con la distancia del hogar y la familia, ni tampoco fue esta su primera carrera. Llegó solo a este país a los 23 años y siempre recuerda su primera nochebuena lejos de casa, con la única compañía de aquel famoso programa de televisión latino, el Show de Cristina, pues no tenía amistades aquí.
Pero así como nos habla de comienzos duros, nos maravilla con la increíble pasión que motiva su oficio y esa gran intuición que, asegura, lo ha llevado a este gran éxito. Tanto así que, pudo comprar el edificio donde actualmente tiene su salón de belleza y hasta lanzar su propia línea de productos para el cabello y maquillaje. "La pasión por lo que uno hace es el secreto. Con el amor y la pasión salen varias características como el enfoque, la constancia, la dedicación, el respeto que le das a lo que estás haciendo", nos dice Samra.
Después de un secuestro en su natal país Venezuela, Samra vino a buscar una mejor calidad de vida en los Estados Unidos. Hace 18 años, cuando llegó a la Florida, fue productor de televisión por casi 8 años de la cadena Telemundo. Samra, de padres libaneses, nos cuenta que la carrera de estilista no estaba precisamente en sus planes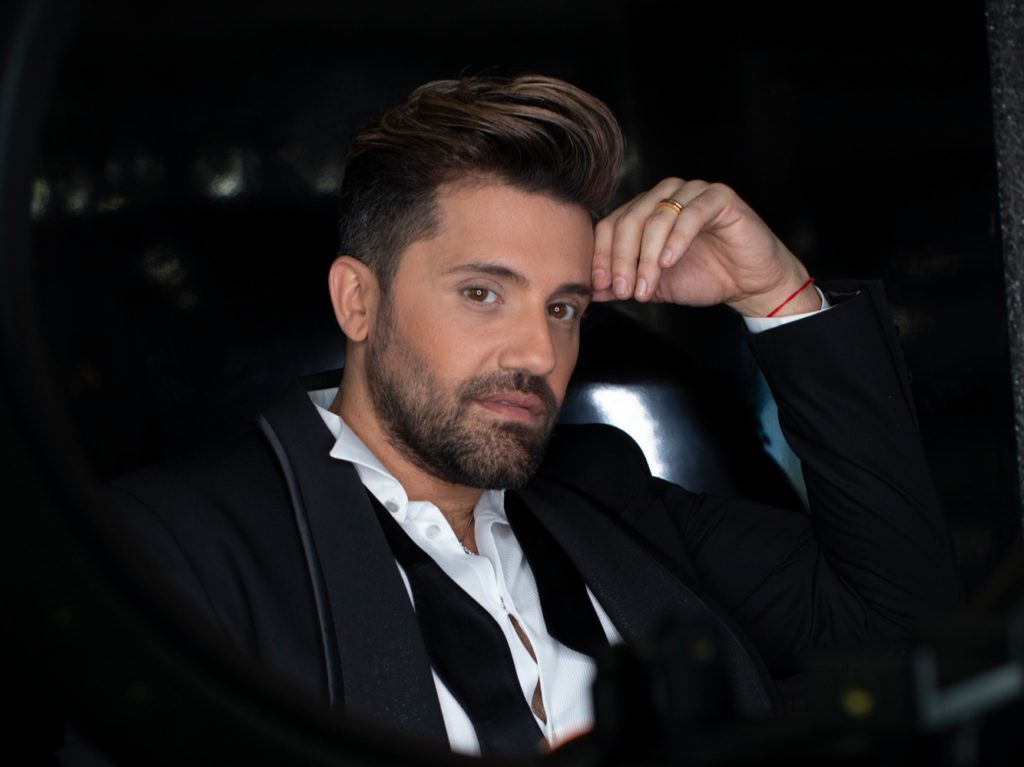 ¿Por qué te llamó la atención el mundo de la belleza?
Como trabajé de productor en Telemundo, tuve la oportunidad de conocer a muchísimos artistas de la talla de Ricky Martin, Thalía, Jenny Rivera, de la güera consentida, de Ninel Conde, de Paulina Rubio, ¡a todos los entrevistaba! Lo que a mí siempre me llamó la atención es que yo veía cómo llegaban estas grandes artistas que yo siempre admiraba, sin hablar, sin maquillaje, sin pelo hecho. Y cuando salían del cuarto de maquillaje, eran unas divas. Y yo pensaba ¡qué impresionante lo que el pelo y el maquillaje pueden lograr en una mujer!
"Si yo puedo tener el poder en mis manos de lograr eso en cada mujer que se acerque a mí, ese va a ser mi regalo de la vida".
Un día dije, ¡tengo que hacer esto! Voy a la escuela de belleza, me inscribo y después vemos qué pasa.
La primera vez, cuando le corté el pelo a un maniquí, era algo dentro de mí, que yo sentí, que esto tenía que ser para mí.
Saqué la licencia como estilista y comencé a trabajar de casa en casa. Trabajaba de 9 a 5 como productor y de 6 a 11 de la noche iba a las casas de las personas. Mis horarios de trabajo diarios, eran de 18 horas, pero tenía una pasión por dentro, que me estaba llamando.
Después de casi un año, tenía demasiada clientela y mucho trabajo como productor, tuve que tomar la decisión de renunciar a Telemundo. Ganaba muchísimo dinero, viajaba por todo el país… pero yo dije, tengo que seguir mi pasión, que era lo que me estaba llamando.
Un año después, tenia tanta clientela que tuve que abrir una peluquería. Además me salieron muchas oportunidades con las artistas. Por dos años salí en Al Rojo Vivo, Despierta América casi un año, Un Nuevo Día… Trabajé los 7 días de la semana, los 365 días del año. Los domingos cuando ninguna peluquería abría, yo estaba abierto. Los lunes igual. Esos días entraba una cantidad de clientela. La gente aprovechaba y ahí yo hice mi base económica, mi clientela.
A los cuatro años, tenía tanta clientela que no podía seguir donde estaba. Compré el edificio donde estoy ahora. Demolí todo lo que estaba adentro, e hice todo perfectamente nuevo.
¿Cuéntanos de tus productos? Yo visualicé y yo mismo diseñé mi marca y mi nombre para que se pudiera usar mundialmente. Cada letra, cada color, cada forma, que ubiqué la G con la S como mi nombre y cuando yo vi este edificio, dije, ahora voy a empezar a buscar cómo diseñar mis propios productos, sobre la necesidad que yo tengo para mis clientes. Y ahora, todos mis productos son en función de estas necesidades. El maquillaje es estructurado en los Estados Unidos pero hecho en Alemania, y los del cabello vienen todos de Brasil, que son los mejores productos.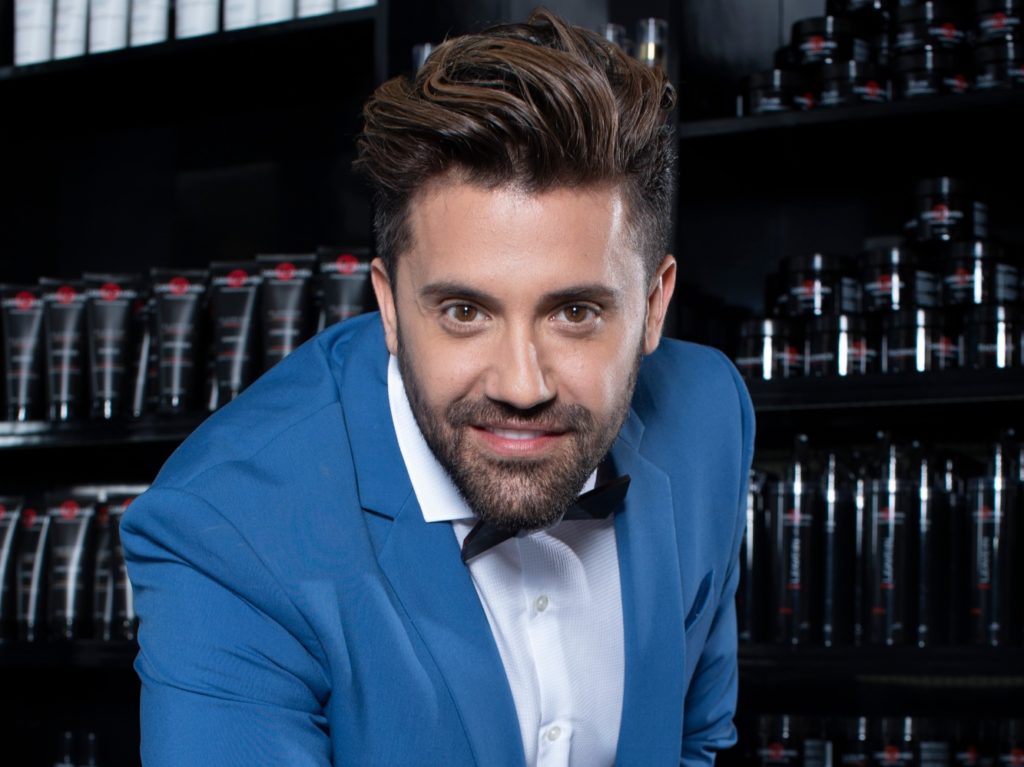 ¿Eres muy activo en las redes verdad?
Las redes sociales han sido una bendición para mí carrera, Instagram es prácticamente un álbum de fotos y lo que yo vendo es visual. Yo me aproveché muchísimo de las redes sociales y de la cantidad de artistas que yo peino y arreglo, para hacer un cross promotion y poder crecer. Mujeres que me siguen en las redes sociales llegan a diario.
Bueno ¡hablemos de tu magia! Los famosos confían plenamente en tus manos y tus propuestas de belleza, ¿qué es lo que tiene Gabriel Samra que encanta? Yo soy el hombre orquesta, yo hago color, yo corto, yo estilizo el cabello, yo maquillo, y lo más importante es que yo visualizo el look para ti, yo te hago el diseño exclusivo para ti, que va con tu personalidad. Yo escucho a la persona. Leo su voz, sus tonos de voces, es una persona atrevida, clásica, seria, es madre, es empresaria, es ama de casa, es alegre. ¿Quiere un gran cambio, quiere algo suave? ¿Sabes cuál es mi frase favorita al final? "Era exactamente lo que quería". Entonces cuando me lo dicen, pienso, ¡guao, trabajo hecho! Y todas me lo dicen. No es difícil. Es entender lo que quiere la persona. Bueno y también tener mis propias técnicas.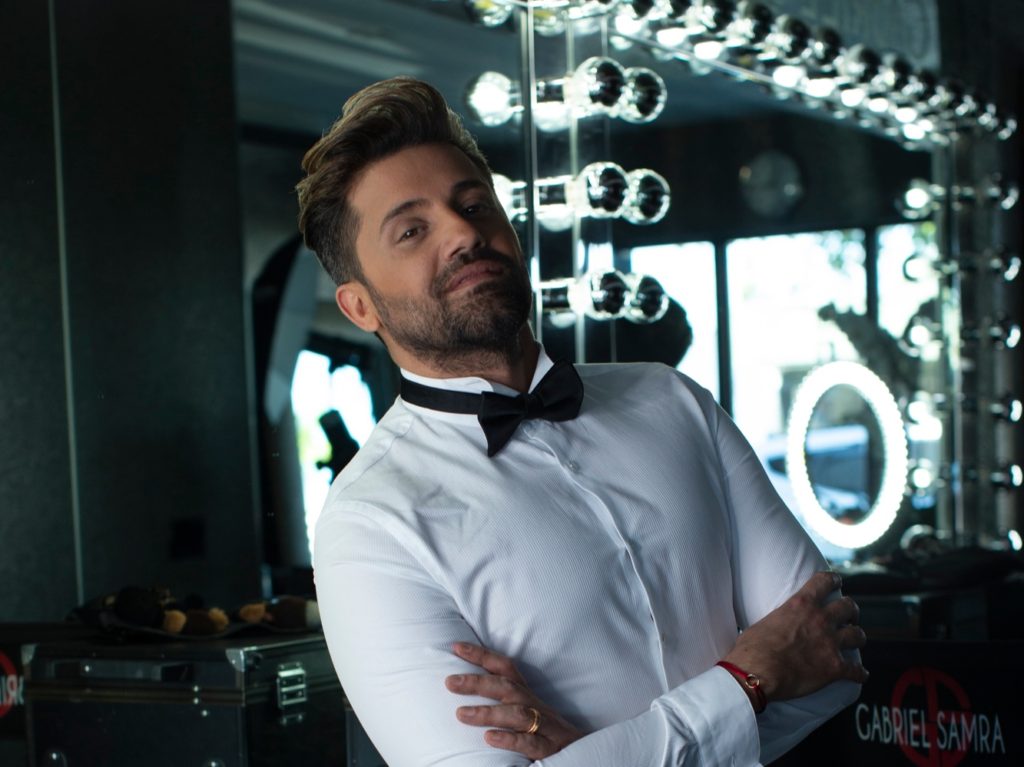 GABRIEL SAMRA
The charming stylist who conquered the stars
With an average of 70 clients per week and 5 attendees who are almost extensions of their own hands, today, Gabriel Samra is one of the most sought-after stylists in Florida. His gift of creating a spectacular look for each person who passes by his chair, has turned him into a wonderful magician of beauty, according to the celebrities who, of course, idolize him.
And as? The super charismatic Samra knows how to gain the trust of those who place themselves in his hands with a warm personality, and this, has given him more and more personal and professional satisfactions. He travels all over the country and through Latin America teaching his unique color technique. His upcoming projects betray the evolution of his talent. In April, she is already opening her second beauty salon-school in Santa Fe, Mexico City, a beauty academy with first-class stylists. In the short term, he'll do the same in another location in Miami. Genius, uh? Focused and disciplined we would say.
The Venezuelan youth did not always find it easy to deal with the distance of home and family, nor was this his first career. He arrived alone in this country at the age of 23 and always remembers his first Christmas Eve away from home, with the only company of that famous Latin television show, El Show de Cristina, because he had no friends here.
But as he speaks of hard beginnings, we marvel at the incredible passion that motivates his trade and that great intuition that, he says, has led to this great success. So much, that he was able to buy the building where he currently has his beauty salon and even launch his own line of hair and makeup products. "The passion for what one does is the secret. With love and passion come several characteristics such as focus, perseverance, dedication, the respect you give to what you are doing, "says Samra.
After a kidnapping episode in his native country Venezuela, Samra came to seek a better quality of life in the United States. 18 years ago, when he arrived in Florida, he was a television producer for almost 8 years of the Telemundo network. Samra, of Lebanese parents, tells us that the career of stylist was not exactly in his plans.
"I never expected what I am living in this moment, I never imagined being a beauty stylist".
In Exclusive with Gabriel Samra:
Why did the world of beauty catch your attention?
As I worked as a producer on Telemundo, I had the opportunity to meet many artists of the stature of Ricky Martin, Thalia, Jenny Rivera, Ninel Conde, Paulina Rubio, all interviewed by me! What always struck me is that I saw how these great artists that I always admired, arrived to the station, without speaking, without makeup, without hair done. And when they left the makeup room, they were divas. And I thought how awesome! What hair and makeup can achieve in a woman!
"If I can have the power in my hands to achieve just that in every woman who approaches me, it will be my gift of life."
One day I said, I have to do this! I went to the beauty school, I sign up and then tell myself: we'll see what happens.
The first time, when I cut a mannequin's hair, it was something inside me, something that I felt, that this had to be for me.
I took out the license as a stylist and started working from house to house. I worked from 9 to 5 as a producer and from 6 to 11 at night I went to the houses of the people. My daily work schedule was 18 hours, but I had a passion inside, that was calling me.
After almost a year, I had too many clients and a lot of work as a producer, I had to make the decision to renounce Telemundo. I made a lot of money, I traveled all over the country … but I said, I have to follow my passion, which was what was calling me.
A year later, I had so many clients that I had to open a hairdressing salon. I also got many opportunities with the artists. For two years I went to Al Rojo Vivo, Despierta America for almost a year, Nuevo Día … I worked 7 days a week, 365 days a year. On Sundays when no hairdresser opened, I was open. Mondays same. Those days a lot of customers came in. People took advantage and there, I made my economic base, my clientele.
After four years, I had so many customers that I could not continue where I was. I bought the building where I am now. I demolished everything that was inside, and I made everything perfectly new.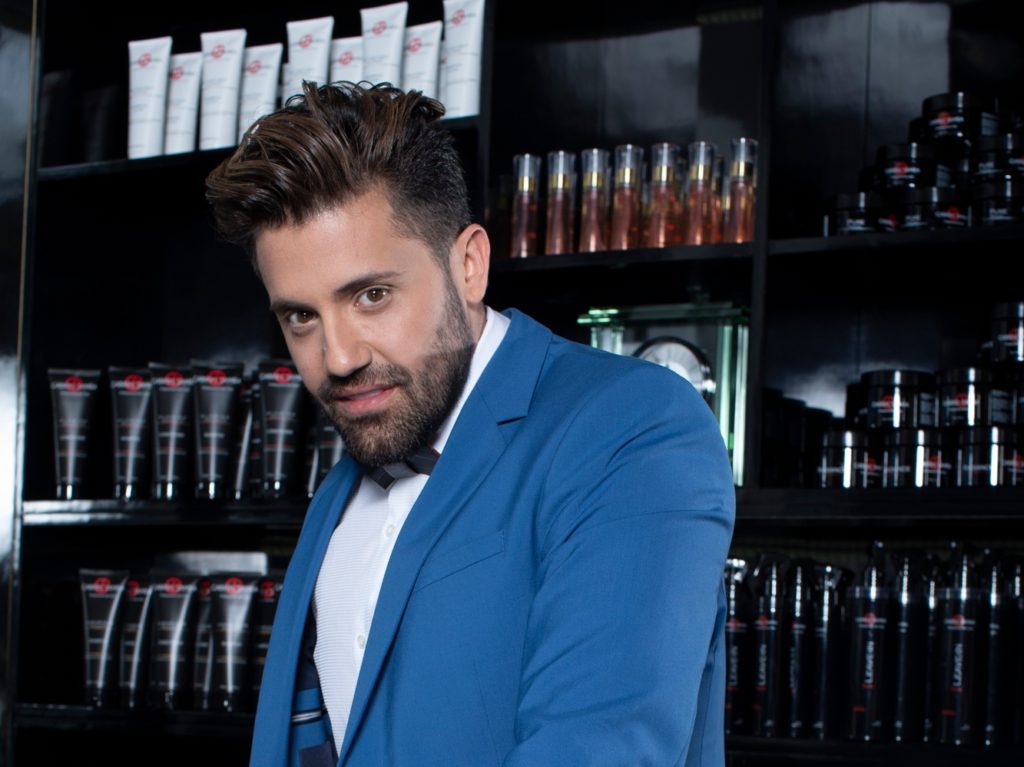 Tell us about your products?
I visualized and I designed my brand and my name so that it could be used worldwide. Each letter, each color, each shape, I placed the G with the S as my name and when I saw this building, I said, now I'm going to start looking for how to design my own products, around the needs that I have for my clients. And now, all my products are based on these needs. The makeup is structured in the United States but made in Germany, and the hair come all from Brazil, which are the best products.
You are very active in the social media, right?
Social media have been a blessing for my career, Instagram is practically a photo album and what I sell is visual. I took advantage of social media and the amount of artists that I comb and fix, to make a cross promotion and to be able to grow. Women who follow me on social media arrive daily.
Well, let's talk about your magic! The celebrities trust fully in your hands and your proposals of beauty, what is it that Gabriel Samra loves?
I am the orchestra man, I make color, I cut, I stylize the hair, I make up, and the most important thing is that I visualize the look for you, I make you the exclusive design for you, that goes with your personality. I listen to the person. I read her voice, her voices, she is a daring, classic, serious person, she is a mother, she is a businesswoman, she is a housewife, she is cheerful… Do you want a big change, want something soft? Do you know what my favorite phrase is at the end? "It was exactly what I wanted." Then when they tell me that, I think, wow, work done! And they all tell me. Is not difficult. It is to understand what the person wants. And of course, also have my own techniques.
New trends?
Balayage comes to stay for 5 or 6 more years. What changes are the colors. The contrast that is being made. The trend in colors is warm. A lot of gold, copper, come strong and beige but towards the golden. The cold colors or ash will not be what you will see on the street. We are seeing it very much in artists like JLO, Kyle Jenner that blew from root to tip in golden blonde.
In makeup, come strong contours and shades, purple, pink and green. The smokey in greens, with yellow tones, come super strong. Thick lips. Short hair with texture, a lot on the tips and long hair with volume. Nothing straight but very bright. The hair is in demand bright hair. That's why there is so much demand for products like stem cells, botox, women are asking glassy looks that look like glass.
What else would you have liked to do?
Artist! Actor! I love acting. I love playing roles. I believe that all this is a movie and I am the leading men. I speak to you from the age of 18 that I began to discover my sexuality and had reason to use what I wanted in my life. And I always saw myself as in a movie. And in the performance, I think it would have been a super actor!
GABRIEL SAMRA