International Celebrity, Cover Model and Businesswoman Charlotte Withrow, who recently graced the cover of the internationally-renowned magazine Maxim, flew into Miami for an exclusive photo shoot and interview for Hola Latinos Magazine that was shot on location at the prestigious URBANICA Hotel The Meridian South Beach.
Charlotte, who has a sparkling personality and a great sense of humor gives us a glimpse on her personal life and why she loves the Miami lifestyle. "It is an honor and great emotion to have been invited by Press Latin Pop and Hola Latinos Magazine to be part of this beautiful special edition," says Withrow.
Charlotte, you are very fortunate to travel all over the world to many beautiful destinations. Why do you like Miami so much?
Miami is one of my favorite cities in the world that has everything: Beach, art, shopping, night life, great food, and cultural fusion. It's an exciting fun city and the people are always very welcoming!
What's a day in the life of Charlotte like?
My day starts with getting my kids off to school and later I train with a professional who balances my routines to help me achieve better performance every day. A good early workout really gets me going for the day. I work most days planning my next photo shoots around the world and catching up with my business. I go to work in town and then head home to have dinner.
How do you maintain that spectacular look?
Thank you so much! I believe in hydration and drinking plenty of water. I exercise regularly, wear sunscreen, and use moisturizer. I never wear makeup to bed. A good attitude and a young spirit is my best secret.
What dream have you fulfilled and what do you still want to achieve in your life?
The one that I already achieved is to have my own business. The one that still keeps me up at nights and the one I'm working on now is to become a private pilot.
What would you like to change in the world and why?
I would like to change how judgmental society has become. People are judged on looks, monetary status, race, religion… and for many other reasons. We are all created equal and people should be more tolerant and see the good in people.
What's the meaning of family in your life?
Family to me doesn't have to be a blood relative. Family is a person who is there for you and is supportive. Sometimes family isn't there for you and others are. It's about love, care and support.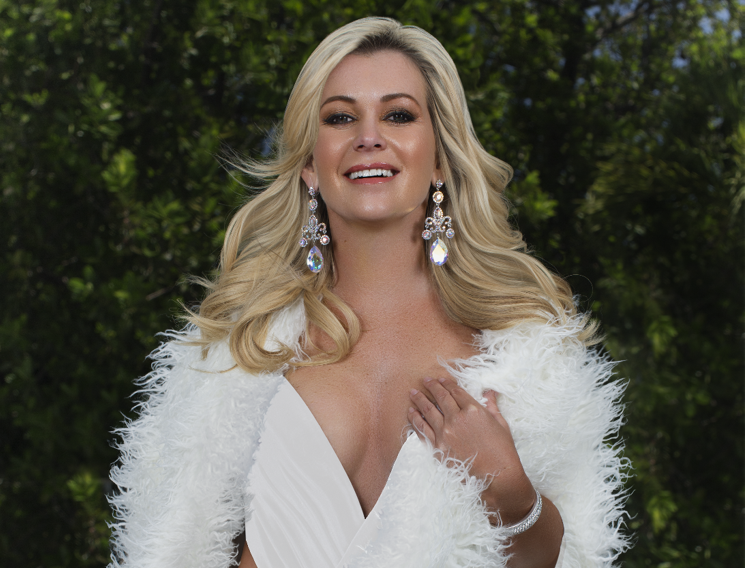 CHARLOTTE WITHROW CAUSA SENSACIÓN EN SOUTH BEACH
La Celebridad Internacional, Cover Model y Empresaria Charlotte Withrow quien recién engalanó las portadas de renombradas revistas internacionales como Maxim, voló especialmente a Miami para su sesión de fotos y entrevista exclusiva con Hola Latinos la cual tuvo lugar en el prestigioso hotel URBANICA The Meridian South Beach. Charlotte, quien tiene una fresca personalidad y ligero humor nos contó por qué ama el estilo de vida y la gente de Miami.
Charlotte, quien tiene una divertida personalidad y ligero humor nos cuenta en exclusiva de sus proyectos y también porque ama el estilo de vida y la gente de Miami.
"Es un honor y gran emoción haber sido invitada por Press Latin Pop y Hola Latinos a ser parte de esta hermosa edición especial", dice Withrow.
¿Charlotte, te la pasas viajando alrededor del mundo, por qué te gusta tanto Miami?
¡Miami es una de mis ciudades favoritas en el mundo, que tiene todo! Playa, arte, entretenimiento, compras, vida nocturna, excelente comida con tanta fusión y movimiento cultural … ¡es una ciudad divertida y emocionante! ¡Y la gente siempre es muy cálida y receptiva!
¿Cómo es un día en la vida de Charlotte?
Mi día empieza llevando a mis hijos al colegio y luego más tarde entreno con un profesional que arma mis rutinas para llevarme a un mejor rendimiento cada día. Una buena sesión de ejercicios temprano realmente me activa para el resto del día. Trabajo la mayoría de los días poniéndome al tanto con mis negocios también planeando las próximas sesiones de fotos alrededor del mundo y muy contenta que estoy estudiando Aviación, mi día termina regresando a casa para cenar en familia y algunas veces viendo una buena película.
¿Cómo haces para mantenerte espectacular? ¿Qué nos recomiendas?
Creo firmemente en la hidratación, tomar suficiente cantidad de agua. Me ejercito regularmente, uso protector solar y un buen sistema hidratante facial. Tampoco me acuesto a dormir con maquillaje. De cualquier forma, una buena actitud y un espíritu joven son mis mejores secretos.
¿Qué sueños has podido alcanzar y cuál todavía estás persiguiendo?
El que ya logré es tener mi propio negocio. El que todavía me quita el sueño y en el que estoy trabajando ahora es en convertirme en un piloto aviador privado.
¿Qué te gustaría cambiar del mundo y por qué?
Me gustaría cambiar cuan crítica se ha vuelto la sociedad. La gente juzga por las apariencias, el estatus monetario, la raza, religión… y por tantas otras razones. Todos fuimos creados iguales y la gente debería ser más tolerante y ver el lado bueno de las personas.
¿Cuál es el significado de la familia en tu vida?
Familia para mí no necesariamente tiene que ver con el nexo sanguíneo. Familia es una persona que está ahí para ti y te respalda siempre A veces, la familia no está presente y otros sí. Ser familia se trata del amor, cuidado y respaldo.