Hola a todos! Este mes es un mes brillante en Miami. La apertura de grandes edificios por ser entregados como el Jade Signature, obra maestra de Edgardo Defortuna. Muchos latinos se encuentran hoy en Miami dado que es el receso escolar en todo Latinoamérica. Es un momento maravilloso para recorrer Miami y sus más bellas propiedades. Asistí al cumpleaños de mi entrañable amigo, embajador Andrés Asion, especialista de Real Estate, a quien entrevisté en esta sección. También conversé con Edgardo DeFortuna para la Cover de Hola Latinos y participé en el Natpe 2018 y en la Fundación TJ Martell en donde tuve el placer de estar junto a tres grandes de la música hispana, David Bisbal, Sebastián Yatra y Juanes. Esto y muchísimo más para mostrarles a todos ustedes, leales lectores.
Quiero presentarles a Andrés Asion…
Andrés, has vivido toda tu vida en Miami, has vendido bienes raíces a tanta gente y eres un gran Embajador de tu ciudad, ¿Qué les puedes sugerir a las personas que vienen a Miami por primera vez? Todos tienen diferentes objetivos para sus visitas a Miami. Miami ha pasado de ser una ciudad de temporada a un destino de 365 días del año. Está lleno de actividades culturales, deportes, entretenimiento, playas y una ciudad donde todos quieren venir a vivir, ir de vacaciones, trabajar, comprar y divertirse.
Una de las cosas importantes para comprender a Miami geográficamente es como están divididas las distintas áreas de la ciudad. Para la mayoría de las personas que no están familiarizadas con la zona, consideran que Miami es todo el sur de la Florida. El sur de Florida está formado por los condados de Miami-Dade, Broward y Palm Beach, que son los primero, segundo y tercer condados más poblados de Florida, y Miami-Dade, y cuenta con casi 3 millones de habitantes, es el séptimo condado más poblado de la Florida.
La Ciudad de Miami es la principal ciudad de 34 ciudades en el condado de Miami-Dade con una población de 450,000 habitantes. Algunas de las otras ciudades en el condado de Miami-Dade son Miami Beach, Doral, Coral Gables, Key Biscayne, Aventura, Bal Harbour, Sunny Isles Beach, Hialeah, por nombrar algunas.
La ciudad de Miami tiene 25 barrios diferentes. Algunos de los barrios más populares son Design District, Midtown, Wynwood, Edgewater, Downtown, Brickell, Coconut Grove, por nombrar algunos. Cada una de estas áreas tiene su propia personalidad.
¿South Beach es una ciudad? No. South Beach es el extremo sur de la ciudad de Miami Beach. Miami Beach es una isla delgada unida a la ciudad de Miami por 4 puentes, aproximadamente 90 cuadras de largo con una población de 92,000 habitantes. La punta más al sur, los bloques de 0 a 30, es lo que la gente llama South Beach, los bloques de 30-60 Mid-Beach y los bloques de 60 a 90 North Beach.
¿Cuáles son algunos tus lugares favoritos para llevar amigos cuando visitan Miami Beach? Dos lugares excelentes para caminar son el histórico Ocean Drive y Lincoln Road, ambos tienen aproximadamente 1 milla de largo y están llenos de gente maravillosa, restaurantes y tiendas. Miami Beach tiene algunos fantásticos hoteles para disfrutar incluso si no se aloja en los hoteles. Estos son 12 de mis hoteles favoritos en la arena que van del sur al norte. Delano (15th street) SLS (15th street) Setai (20th street) W Hotel (22nd street) 1 Hotel (23rd street) Miami Beach Edition (29th street) Faena (32nd street) Soho Beach House (43rd street) Fontainebleau (44th street) Nobu (45th street) Carillon Miami Wellness Resort – Formally a Canyon Ranch (68th street) Four Season (91st street) ¿Qué restaurantes recomiendas en Miami Beach sobre el mar? Smith and Wollensky (South of 5th) The Lido Bayside Grill at The Standard hotel (on Venetian Causeway) Otros: Joe's Stone Crab (South of 5th) Prime 112 (South of 5th) Prime Italian (South of 5th) Milo's (South of 5th) Juvia in Lincoln Road Los Fuegos at Faena Hotel Cecconi's at Soho House Hotel Nobu at Nobu Hotel Espero hayan disfrutado de esta importante información y si desean contactarme pueden hacerlo por email a pina.armentano@yahoo.com y los invito a todos a visitar mis redes sociales y mi canal oficial de You Tube. www.youtube.com/miamiconpina whatsapp 305-9659853 ¡Hasta la próxima! Pina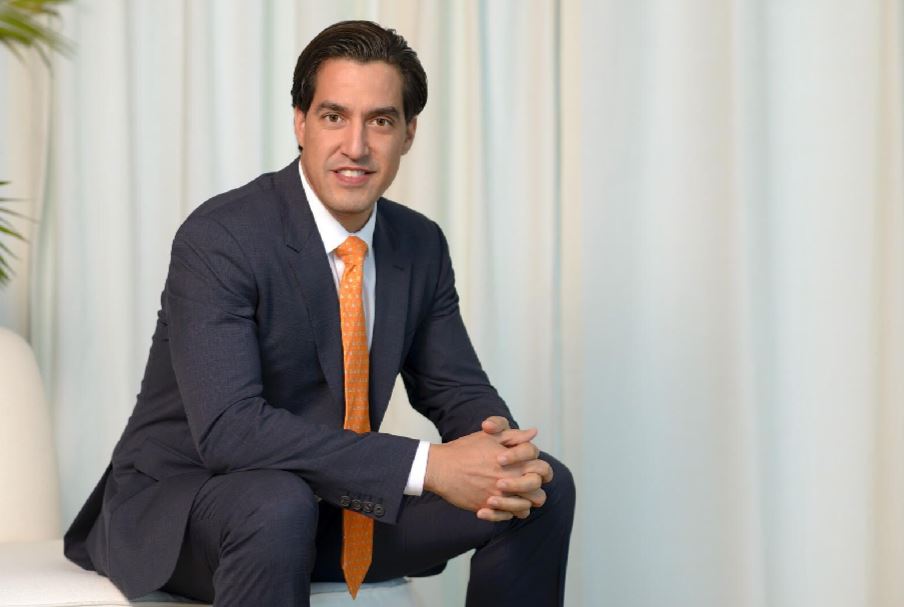 VIVA FLORIDA REAL ESTATE
Hello everyone! This month is a brilliant month for Miami. It's the grand opening of the Jade Signature in Sunny Isles Beach, a master tower by developer and Mogul Edgardo Defortuna, whom I interviewed for this issue's cover. I also interviewed Andres Asion, a renowned Real Estate Specialist.
I also participated in the Natpe 2018 and the TJ Martell Foundation where I had the pleasure of interviewing three greats of giants in the Hispanic music industry, David Bisbal, Sebastian Yatra and Juanes and you can read in the Socialité section.
Andres you have lived in Miami your whole life and have sold real estate to so many people. You are a great ambassador for your city, how can you try to explain Miami to people visiting for the first time? Everyone has different goals for their Miami visits. And Miami has gone from a seasonal city to a year around destination with so much to see and do. It 's full of cultural activities, sports, entertainment, beaches, and a City where everyone wants to come to live, vacation, work, shop and play.
One of the important things to understand is Miami geographically and it's different cities and areas. For most people not familiar with the area they consider Miami the name for all of South Florida.
South Florida is made up of Miami-Dade, Broward, and Palm Beach counties which are the first, second, and third most populous counties in Florida, and Miami-Dade, with almost 3 million people, is the seventh most populous county in the United States. The City of Miami is the principal city out of 34 cities in Miami-Dade County with a population of 450,000. Some of the other cities in Miami-Dade county are Miami Beach, Doral, Coral Gables, Key Biscayne, Aventura, Bal Harbour, Sunny Isles Beach, Hialeah, to name some.
The city of Miami itself has 25 different neighborhoods. Some of the most popular Miami neighborhoods are the Design District, Midtown, Wynwood, Edgewater, Downtown, Brickell, Coconut Grove to name some. Each one of these areas has their own personality.
Is South Beach a city? No. South Beach is the southern tip of the City of Miami Beach. Miami Beach is a thin Island attached to the City of Miami by 4 bridges, approximately 90 blocks long with a population of 92,000.
The southernmost tip, blocks 0 – 30 is what people call South Beach, blocks 30-60 mid-beach and blocks 60 to 90 North Beach.
What are some of your favorite places to take friends when visiting Miami Beach? Two great spots to walk are the historic Ocean Drive and Lincoln Road, both are about 1 mile long filled with great people watching, restaurants and
shops. Miami Beach has some fantastic hotels to enjoy even if you are not staying in the hotels. These are 12 of my favorite hotels on the sand going South to North.
Delano (15th street) SLS (15th street) Setai (20th street) W Hotel (22nd street) 1 Hotel (23rd street) Miami Beach Edition (29th street) Faena (32nd street) Soho Beach House (43rd street) Fontainebleau (44th street) Nobu (45th street) Carillon Miami Wellness Resort – Formally a Canyon Ranch (68th street) Four Season (91st street) ¿Qué restaurantes recomiendas en Miami Beach sobre el mar? Smith and Wollensky (South of 5th) The Lido Bayside Grill at The Standard hotel (on Venetian Causeway) Others Joe's Stone Crab (South of 5th) Prime 112 (South of 5th) Prime Italian (South of 5th) Milo's (South of 5th) Juvia in Lincoln Road Los Fuegos at Faena Hotel Cecconi's at Soho House Hotel Nobu at Nobu Hotel
I hope you have enjoyed this important information and if you'd like to contact me you can do it via email to pina.armentano@yahoo.com I invite you all to visit my social networks and my official You Tube channel www. youtube.com/miamiconpina whatsapp 305-9659853. Until next time.