PAOLA CAÑAS
LA MODELO FITNESS FAVORITA EN MIAMI
cheap accutane 40 mg Nuestra hermosa invitada es colombiana, diseñadora de modas y modelo. Ha participado en importantes eventos de moda en Paris, Las Vegas, Miami y México. Imagen de grandes marcas en Colombia, Estados Unidos y Dubái. Sus fotos han engalanado las más prestigiosas revistas de su país, TV host para Fashion Tour de Telemundo y modelo del programa de concurso La fila.
PIERNAS TONIFICADAS Y MARCADAS
Paola tiene una rutina estricta para mantener su figura, esta incluye una dieta balanceada y un entrenamiento físico constante con ejercicios de cardio diariamente y pesas y máquinas 3 veces por semana.
LA RUTINA QUE RECOMIENDA NUESTRA INVITADA ES:
Existen una serie de ejercicios que por sus características ofrecen un entrenamiento intenso para piernas y glúteos al mismo tiempo y pueden ser utilizados tanto para aumentar, tonificar o endurecer ambas regiones del cuerpo, dependiendo el peso utilizado y el número de series y repeticiones. Inicialmente debemos comenzar haciendo un calentamiento para preparar nuestros músculos
1-TIJERA EN ELEVACIÓN. • Sostenga una mancuerna con su mano derecha, apoyando su pie derecho sobre un banco ubicado en la parte de atrás. Su pierna izquierda sobre el suelo. • Flexione la pierna izquierda descendiendo lo máximo posible. • Luego extienda la pierna izquierda para elevar su cuerpo, manteniendo la espalda derecha.
2- PESO MUERTO • De pie, sostenga una barra con pesas con el agarre hacia adentro y con los pies separados a la anchura de sus hombros. • Inclínese hacia adelante sin doblar las rodillas, llevando las caderas hacia atrás y sintiendo la presión en los talones • Regrese a la posición inicial manteniendo las piernas en extensión
3-PANTORRILLA. • De pie, sostenga una barra con pesas sobre sus hombros. • Coloque el tercio anterior de sus pies sobre un soporte a una altura de unos 10 cms. • Descienda ambos talones lo máximo posible. • Eleve su cuerpo utilizando únicamente sus pies. No doble sus rodillas durante todo el ejercicio.
Rutina: 3 series de 20 repeticiones.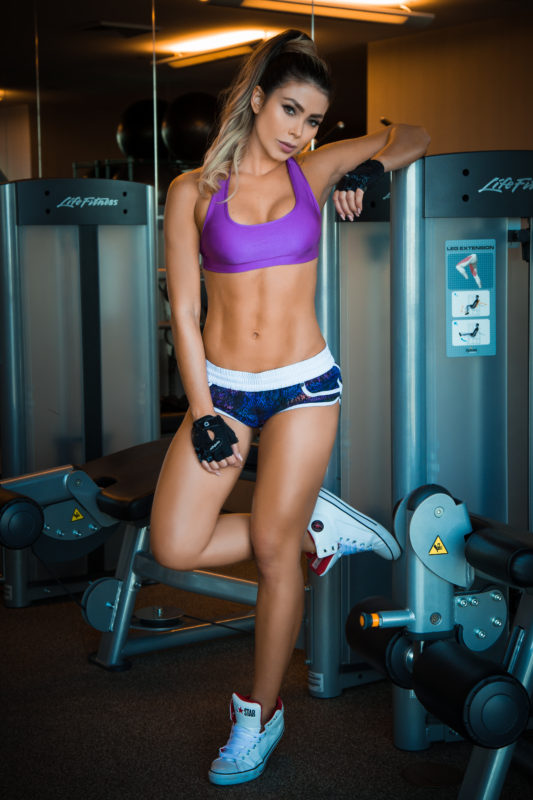 HOW TO GET TONED AND DEFINED LEGS
1-Elevation Scissor Lifts • Hold a dumbbell with your right hand, resting your right foot on a bench in the back. Your left leg on the ground. • Flex the left leg down as much as possible. • Then extend the left leg to raise your body, keeping your back straight.
2-Deadweight • Standing, hold a barbell with the weights inward and with your feet shoulder-width apart. • Lean forward without bending your knees, bringing your hips back and feeling the pressure in your heels • Return to the initial position keeping the legs in extension
3-Calfs • Stand, hold a barbell with weights on your shoulders. • Place the front third of your feet on a stand at a height of about 10 cm. • Lower both heels as much as possible. • Elevate your body using only your feet. Do not bend your knees throughout the exercise. Routine: 3 sets of 20 repetitions.