Traditional Roast turkey with a Latin flair
When planning your holiday meal, why not give it a Latin twist this year. This delectable Latin-inspired turkey recipe will be a perfect way to bring great flavors and guests together for one spectacular bicultural celebration. Keep in mind lots of fresh garlic is the key to success for this flavorful recipe.
Important: – To determine the size of the turkey calculate from 1/4 to 1 pound of meat per person. – To thaw place in the warmest part of the refrigerator. When you are in a hurry, soak in cold water, without removing the wrapper. -A little white wine and some orange juice or sour orange, will give a different flavor to any recipe you've ever tried.
Ingredients:
1 gallon of cold water
1 1/2 cups of sea salt without iodine
2/3 cup brown sugar
1 turkey 12 to 14 pounds
6 heads of garlic, crushed
2-3 tablespoons extra virgin olive oil
2 tablespoons dried oregano
1 teaspoon freshly ground black pepper
1 tablespoon salt (no iodine)
1/2 cup white wine
1/2 cup orange juice or sour orange
Preparation
1. Mix salt and sugar with a gallon of water in a plastic container which will fit the turkey, submerged in the liquid. (Avoid using metal container.)
2. After washing the turkey, soak it in the mixture and store in the refrigerator for 8 hours making sure it is completely submerged in the liquid.
3. Remove turkey mixture and rinse well with cool water and pat dry.
4. Mix garlic, oil, oregano, black pepper and salt in a bowl and cover the turkey with this mixture. Cap tightly and leave in the refrigerator until the next day.
5. Preheat oven to 350 F. Put the turkey in a roasting container with breast side up and pour the wine and orange juice or sour orange on top.
6. Cook three to three and a half hours until the meat in the thickest area of the thigh reaches 175 degrees F.
Pair traditional American sides like sweet potatoes, yams, cranberry with some Latino favorites like white rice and black beans, green salad with cilantro, yucca(you can by frozen) with mojo (lots of fresh garlic sauce) and pour lots of the sauce over that turkey. Don't forget the Chorizo Cornbread stuffing as it will add the perfect touch for a flavorful Latin twist to this year's Thanksgiving Day celebration!
---
Cuban Mojo (garlic sauce) recipe:
INGREDIENTS/ SERVINGS 6
-1⁄2 cup olive oil
-6 garlic cloves (minced)
-1 cup large onion (sliced thin)
-2⁄3 cup sour orange juice or 2⁄3 cup lime juice
-1⁄2 teaspoon oregano
-1⁄2 teaspoon salt
-1⁄2 teaspoon black pepper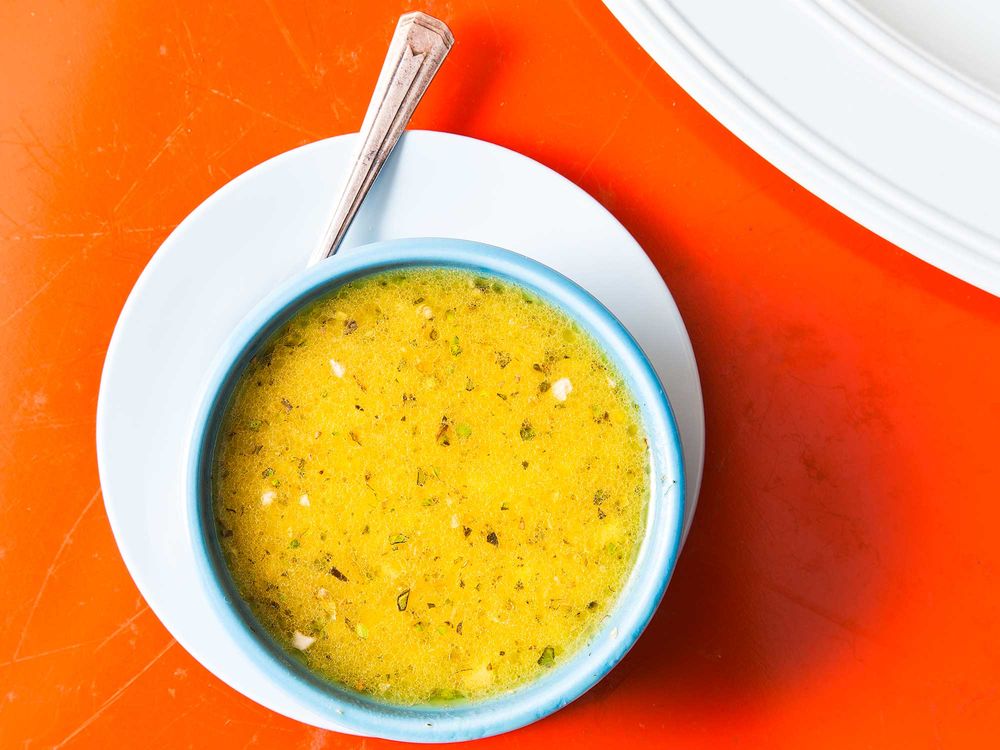 ---
---
Pavo a lo latino
Al planear una comida festiva, esta receta es una fusión de sabores del pavo tradicional del día de acción de gracia con la sazón latina y será la manera perfecta de unir deliciosos sabores e invitados para una celebración maravillosa. Tenga en mente que mucho ajo fresco es la clave del éxito de esta receta sabrosa.
Importante: – Para determinar el tamaño del pavo, debe calcular las porciones por personas a partir de 1/4 a 1 libra de carne. – Para descongelarlo póngalo en la parte menos fría de la nevara. Si usted tiene apuro, remójelo en agua fría, sin quitar la envoltura. -Un poco de vino blanco y un poco de jugo de naranja o naranja agria, le dará un sabor diferente a cualquier receta.
Ingredientes:
1 galón de agua fría
1 1/2 tazas de sal de mar sin yodo
2/3 taza de azúcar morena
1 pavo de 12 a 14 libras
6 cabezas de ajo, machacado
2-3 cucharadas de aceite de oliva virgen extra
2 cucharadas de orégano seco
1 cucharadita de pimienta recién molida negro
1 cucharada de sal (sin yodo)
1/2 taza de vino blanco
1/2 taza de jugo naranja o naranja agria
Preparación
1. Mezcle la sal y el azúcar en un galón de agua en un recipiente de plástico donde quepa el pavo sumergido en el líquido. (Evitar el uso de envases de metal)
2. Después de lavar el pavo, mézclalo en el líquido preparado y colócalo en la nevera durante 8 horas.
3. Retire la mezcla del pavo y enjuague bien con agua fría y sécalo.
4. Combine el ajo, el aceite, el orégano, la pimienta negra y sal en una olla y cubra el pavo con esta mezcla. Tápalo bien y déjalo reposar en la nevera hasta el día siguiente.
5. Precaliente el horno a 350 F. Ponga el pavo en un recipiente de asar con la pechuga hacia arriba y echa el vino y el jugo de naranja o naranja agria en la parte superior.
6. Cocínelo entre tres a tres horas y media hasta que la carne en la parte más gruesa del muslo alcance 175 grados F.
Combine los acompañantes tradicionales como las batatas, ñames, arándano y un relleno (stuffing) criollo será el toque perfecto. Acompañe con platos latinos favoritos como arroz blanco y frijoles negros o moros, ensalada verde con cilantro, y yuca con mojo con bastante ajo natural y échale al pavo encima también. ¡Y prepárese para celebrar un almuerzo o cena del Día de Acción de Gracias verdaderamente espectacular!
---
Relleno de Chorizo y pan de maíz
Ingredientes
1 libra de chorizo Español
1 cebolla blanca mediana, finamente picada
1 zanahoria mediana, finamente picada
1 tallo de apio, cortado en trozos pequeños
3 dientes de ajo, finamente picado
2 tazas de maíz desmenuzado en trozos grandes
1/4 taza de cilantro fresco picado, un poco más para decorar (opcional)
1/2 taza de bajo contenido de sodio de caldo de pollo
1 cucharada de mantequilla sin sal
Preparación
Precalentar el horno a 350 grados F. Calentar una sartén grande a fuego medio y cocinar el chorizo, rompiéndolo con una cuchara y revolviendo ocasionalmente mientras se cocina, hasta que se empiece a dorar, unos 5 minutos. Añadir la cebolla, la zanahoria, el apio y el ajo para el chorizo y cocine, revolviendo ocasionalmente, hasta que las verduras se doren, unos 10 minutos. Añadir el pan de maíz desmenuzado y el cilantro y verter poco a poco echando el caldo de pollo poco a poco para que el relleno no esté ni demasiado seco, ni demasiado húmedo. Remover suavemente y bien mezclado. Ponga mantequilla una pequeña cazuela. Difundir el relleno en una capa uniforme. Hornear hasta que esté completamente caliente y ligeramente dorado en la parte superior, unos 20 minutos. Servir de inmediato, adornado con el cilantro.