If you love incredible food, sipping Margaritas and soaking up the sun on idyllic turquoise beaches, Cancun's the place. It's a short flight from Miami/Fort Lauderdale. Lined with hotels, there are numerous options for every budget within Cancun's Hotel Zone. 
I was recently invited to a "food influencers" press tour at the newly renovated Marriott Cancun Resort and its sister property, JW Marriott Cancun where they have nine authentic and international restaurants ranging from Thai to Argentine to Japanese to poolside Mexican fare.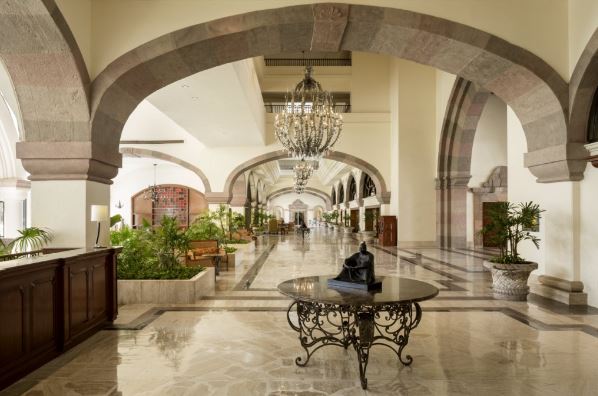 The property is situated on an exclusive stretch of Mexican-Caribbean beach and what's great is that there are so many options available; you really don't have to leave the property.  The rooms and suites offer upscale accommodations and have their own private balcony with stunning views of the stunning beach. There's also an award-winning Mayan-inspired 30,000-foot luxury spa with Olympic-style pool. 
The Food 
From the heart of Italy, Gustino Italian Grill features delicious flavors from the Italian Kitchens.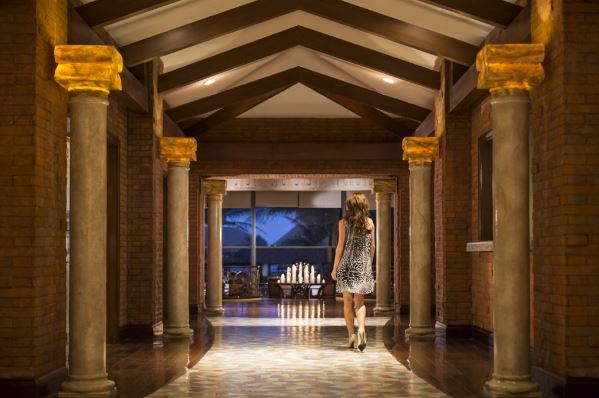 Gustino's specialties include pasta, seafood, and meat. Combined with live saxophone music and luxury arrangements it has a nice elegant ambiance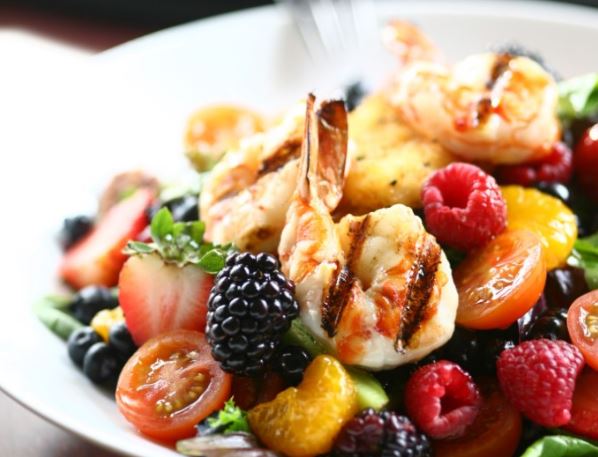 Sedona Grill is located at the JW Marriott Cancun Resort & SPA and features a delicious breakfast buffet, fresh and light lunch, and luxury dinners. Mexican Theme Dinner Experience includes authentic Mexican cuisine complete with a live Mariachi band.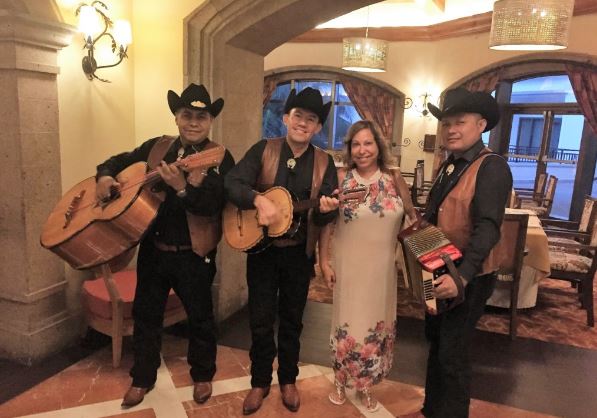 Mikado offers the unique experience of Japanese cuisine, including Sushi selections. Additionally, Mikado features the Teppanyaki Tables, where chefs cook right in front.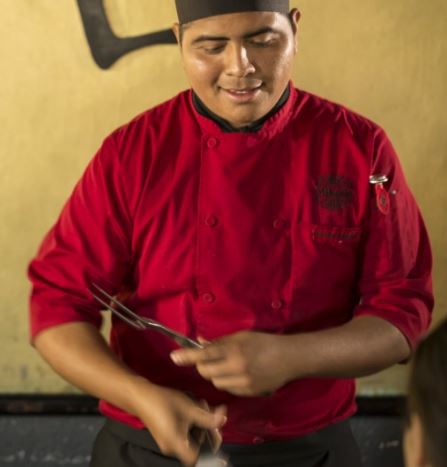 Sasi Thai has an amazing green, red and yellow curry dishes and Gai satay, Tom Kha Gai Soup, made with chicken and coconut milk Tom yum Goong sweet and sour with shrimp and Tum Tang, Cucumber Carpaccio,  and my favorite LYCHEE MARTINI you can dine under thatched roof tikis overlooking the Nichupte Lagoon.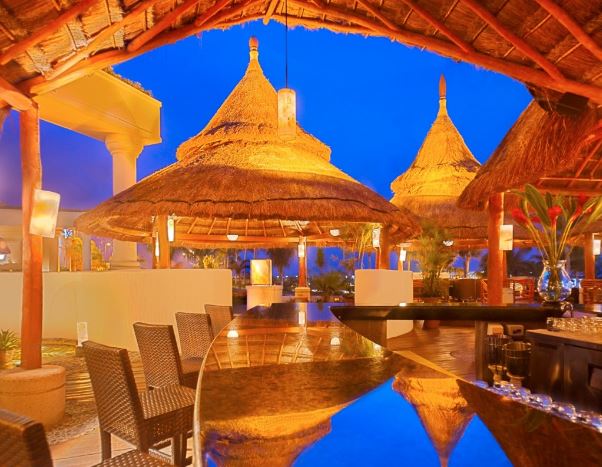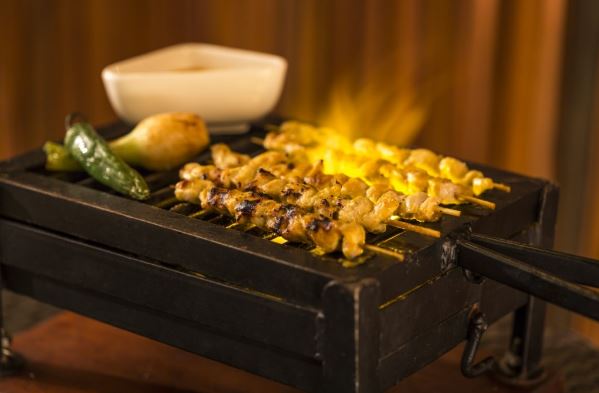 At Champions you can also enjoy the pool table, our karaoke night and a live DJ playing all of your favorite music. And yes, I did sing…"Dress you up in my Love," Madonna.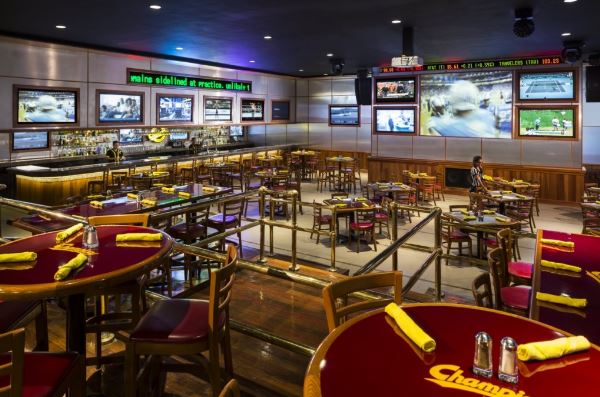 La Capilla Argentina Steakhouse features top Argentinean cuts, with an exclusive international wine cellar.  They feature a spectacular Tuna Tartar. This restaurant presents a variation on the Mediterranean diet, combining Argentine cuisine with a heavy influence of Italian, Spanish, French and other European cuisines and even Tango dancing in a beautiful setting.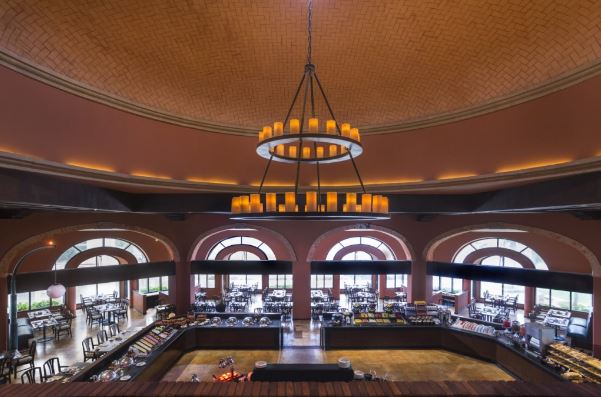 Kasai offers the unique experience of Japanese cuisine in a small side dish, including Sushi selections, Sashimi, etc. 
At the Marriott Cancun lobby, you can experience and taste Guacamole and enjoy Margarita tastings or even ceviche tastings.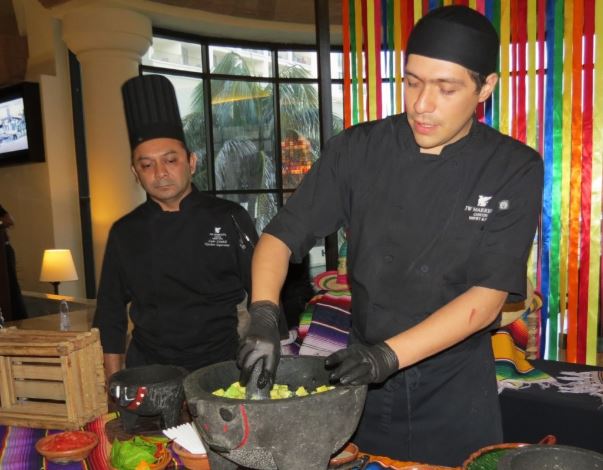 You can also enjoy a specially prepared brunch al fresco under the palapas.  The JW Beach Basket perfectly packages all the fixings for a gourmet picnic spread.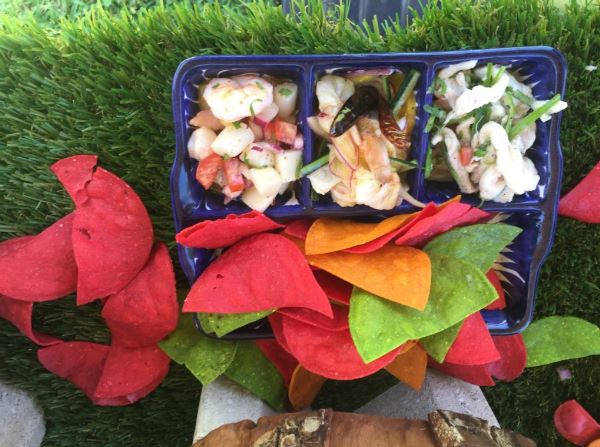 Or enjoy at beach R & R leisure with beachfront Private Bali daybeds, an infinity pool, and the bright blue beach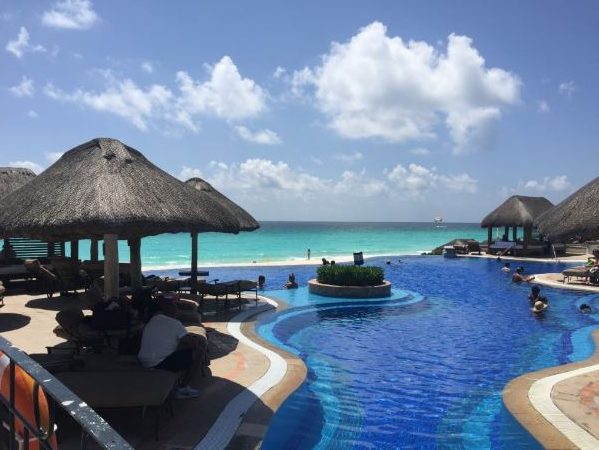 But all this delightful food would not taste as great without excellent service. One thing about Mexican hospitality, it's truly impeccable. They really go that extra mile to make you feel pampered, and in Cancun, most everyone speaks English too, which is quite impressive. 
Day Trip to Isla Mujeres
Just a quick ferry ride from Cancun, Isla Mujeres is a charming, colorful and cultural gem with some of the brightest blue waters you've ever seen. 
The Isla Mujeres or the Island of Women is a small island just 8 miles across the Bahia de Mujeres via a short ferry ride from Cancun. It is only 5 miles long and a half a mile wide. It has beaches on all sides and the downtown area is only around 6 blocks but has some quaint shopping and authentic restaurants. It reminded me a little of Playa del Carmen, before it became so crowded. At Playa Lancheros beach you can swim with the catsharks and enjoy tasting local seafood such as ceviche and tikin-xic fish.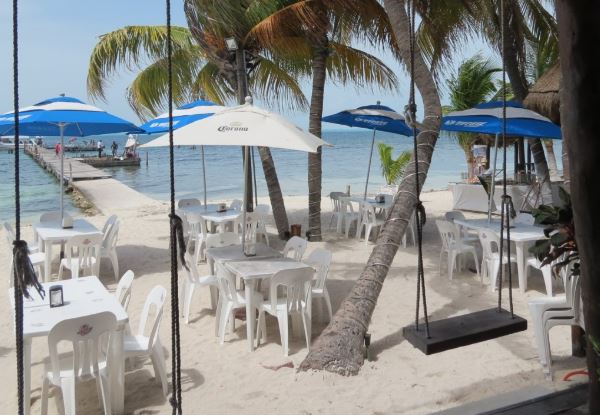 Yucatecan fare differs from other Mexican food. It is a cuisine rooted in the cooking of the native Maya people. The ingredients there are distinctive; among them is achiote, also called annatto, a hard seed that imparts a delicious musky flavor and bright color to many marinades. 
Achiote is at its best in the company of garlic and hot chiles, along with an assortment of pungent spices, ground to a paste. The thick red sauce is diluted with the juice of sour oranges and tiny limes. The Yucatecan custom is to coat fish, tikin xic, with the spice mixture and wrap it in banana leaves with pickled onions before cooking. Fish prepared this way is always wonderfully moist, and the banana leaves, aside from making the ideal parcel for grilling or pit roasting, add a subtle aroma taste.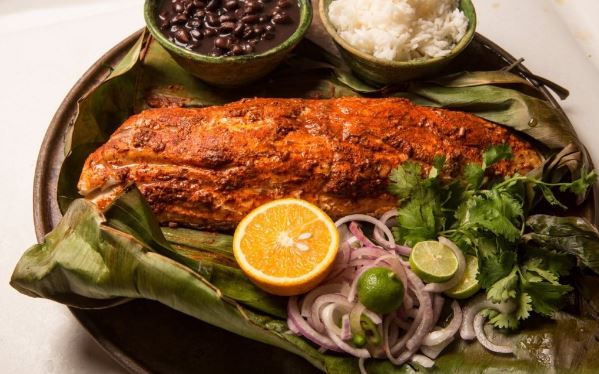 Just a quick ride away, Playa Norte, was rate one of the 10 best beaches in the world (according to TripAdvisor.) It may not be a big beach, but the sand at Playa Norte is much softer and the waves are much gentler than the other beaches. Just stunning!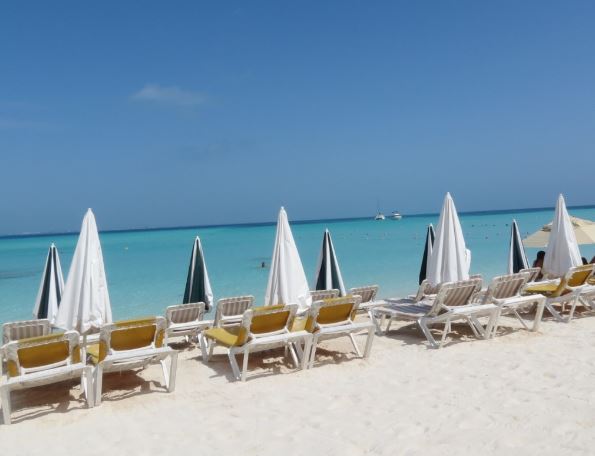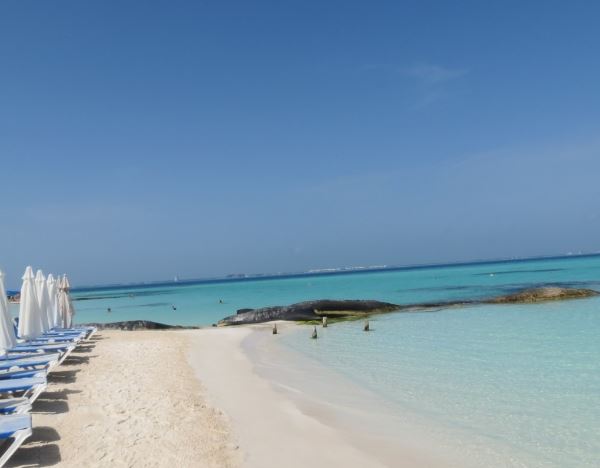 ---
Experiencia culinaria en Cancún
Si te encanta la gastronomía, unas buenas Margaritas y tomar sol en las idílicas playas color turquesa, Cancún es el sitio perfecto. Es un vuelo corto desde Miami / Fort Lauderdale. En la zona hotelera podrás escoger tu hotel preferido ya que hay una vasta selección de hoteles que alinean las playas ofreciendo numerosas opciones para cada presupuesto.
Recientemente me invitaron a una gira gastronómica para la prensa en el renovado Marriott Cancún Resort y su propiedad hermana, JW Marriott Cancún, donde tienen nueve restaurantes auténticos e internacionales y ofrecen desde comidas tailandesa, argentina, japonesa y la típica mexicana.Las propiedades están ubicadas en el Caribe Mejicano y ofrecen tanto que realmente no tienes que salir de la propiedad. Las habitaciones y suites cuentan con alojamiento de lujo y tienen su propio balcón privado con impresionantes vistas de la maravillosa playa. También hay un galardonado spa de lujo de 30,000 pies de inspiración maya con piscina olímpica.
El Marriott Cancun tiene restaurantes de primera clase gourmet para todos los gustos entre los dos hoteles y cuenta con música en vivo y hasta Mariachis. Pero toda esta deliciosa comida no sabría tan rica sin un servicio excelente y la verdad que la hospitalidad mexicana es realmente impecable. Estando en Cancún nos llevaron a una excursión durante el día a Isla Mujeres, tomamos un ferry desde Cancún y llegamos a esta isla encantadora, colorida y cultural con sus aguas azules turquesa espectaculares. Las dimensiones de esta pequeña isla son: 5 millas de largo x ½ milla de ancho. Me recordó un poco a Playa del Carmen antes que fuera tan popular y turística. En Playa Lanchera se puede nadar con los tiburones y disfrutar de sus especialidades de mariscos locales, ceviches y de su famoso pescado tikin- xic.
Luego, en un paseo rápido nos llevaron a Playa Norte, que según Trip Advisor es una de las 10 mejores playas del mundo y ¡la verdad que es espectacular!
---