Colombia, un país rico en biodiversidad, privilegiado por su variedad de climas y paisajes imponentes, posee entre sus parajes exóticos un lugar mágico donde colores de ensueño se funden con la majestuosidad de la naturaleza. Caño cristales, un río de diáfanas aguas en medio de paisajes selváticos e inmensas sabanas, es quizá uno de los destinos más codiciados por nacionales y extranjeros. Y no es para menos, en épocas posteriores a la lluvia cuando su cauce se inunda, sucede un fenómeno asombroso que deja boqui abierto a quien tiene el privilegio de presenciarlo. Florece la Macarena clavigera, un alga de agua dulce de diversos colores que produce la sensación de encontrar, el lugar en donde nació el arco iris.
Se ubica en el municipio de La Macarena – Meta, en el centro-oriente del país, a una hora de vuelo desde Bogotá. Nace en la serranía de La Macarena y desemboca en el Rio Guayabero. Un lugar seguro y amable, con capacidad de atender las necesidades básicas de cualquier turista. Cuenta con alojamientos cómodos, una exquisita gastronomía y guías expertos nativos de la zona que ofrecen el acompañamiento ideal para disfrutar el viaje. Son expertos conocedores de la fauna y flora de la región, esta tiene el privilegio de contar con especies exuberantes y únicas en el planeta, como la hermosa flor de la velluosea.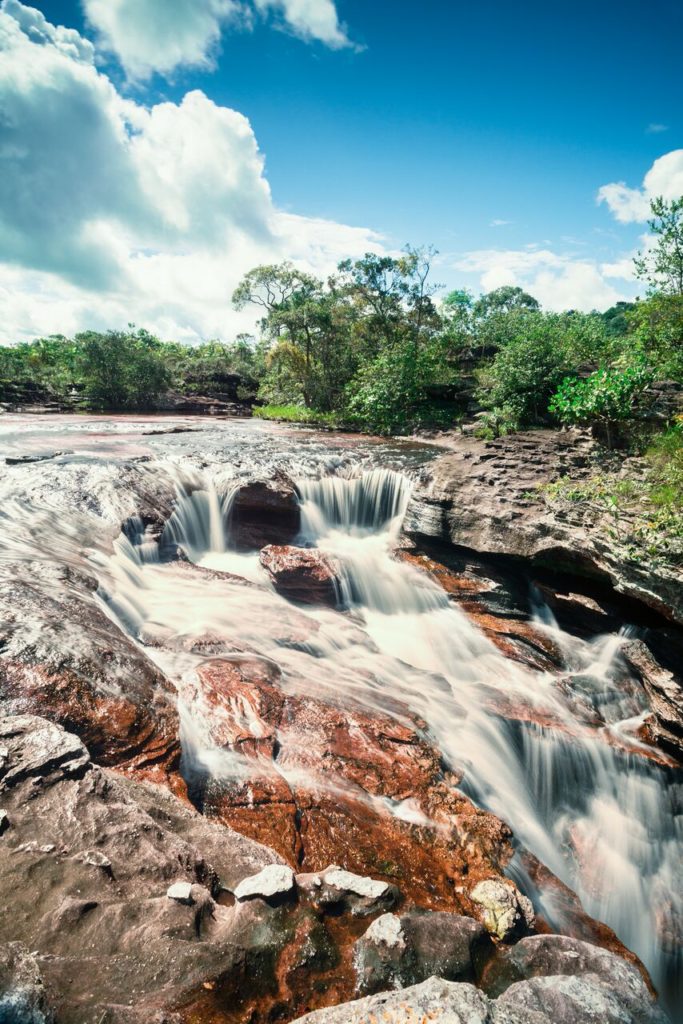 Partiendo desde La Macarena, son 25 minutos en un agradable viaje por el imponente río Guayabero, donde no se hace difícil encontrar delfines que dan la bienvenida a sus visitantes nadando junto a las embarcaciones. Luego hay un trayecto de 20 minutos en carro hasta el lugar donde se inicia una corta caminata entre caminos silvestres y especies de flora nativa. Al final del camino la temperatura desciende y el sonido del río mezclado con el de las aves, abre paso a una experiencia inolvidable. Toma varios minutos recomponerse del estado hipnótico que genera la primera vista al río.
El espectáculo colorido que ofrece Caño Cristales, se debe a su lecho rocoso y sus aguas absolutamente cristalinas que traslucen el color de las algas. Estas brotan entre las rocas que caprichosas, tienen fascinantes formas de pocetas y cuevas que se conectan bajo el agua. Cascadas, piscinas naturales y pequeños raudales complementan el maravilloso paisaje. Está permitido nadar en algunas partes del rio, donde sus profundas y cristalinas aguas seducen a sumergirse.
La zona hace parte del Parque Natural Sierra de la Macarena, posicionado como el patrimonio natural más representativo de la biodiversidad colombiana. Por esto las autoridades ambientales, hacen un sigiloso seguimiento a las actividades que se realizan, esto garantiza una gran organización y se refleja en la comodidad y tranquilidad de sus visitantes.
Pero la zona no sólo ofrece la visita al rio, también caminatas ecológicas, montañismo, deportes náuticos y visitas a cascadas asombrosas. Un fascinante tour de magia salvaje, el sitio ideal para reencontrarse con la naturaleza, el aire puro y la esencia de la vida.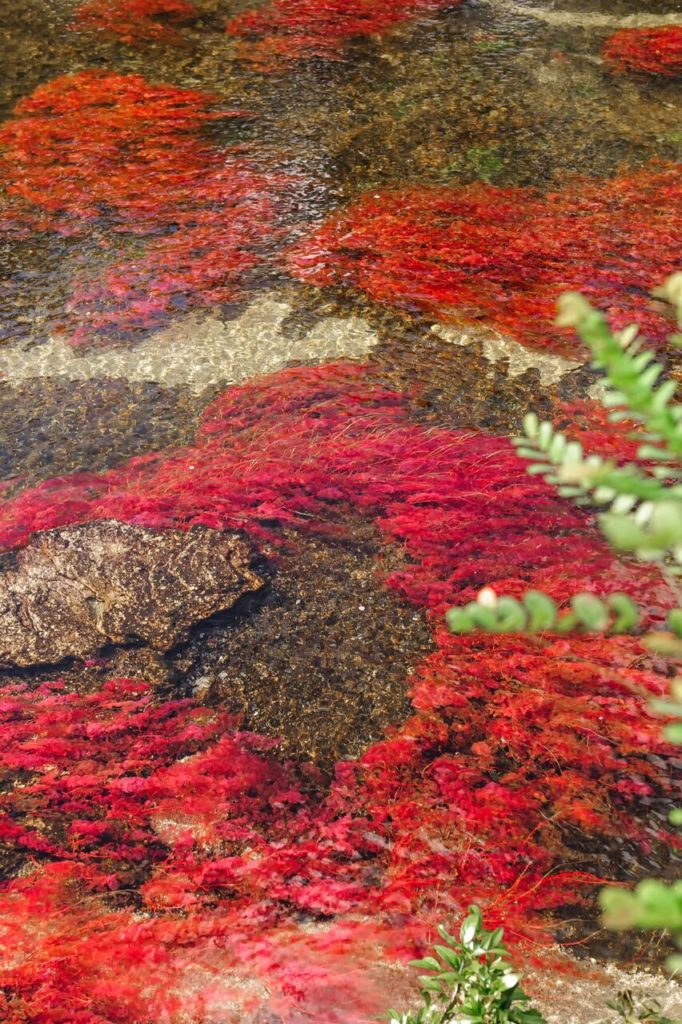 A Caño cristales se puede llegar tomando un vuelo directo desde Bogotá. También puedes viajar dos horas por tierra desde Bogotá a Villavicencio – Meta y ahí tomar un vuelo, ya sea en un avión pequeño para disfrutar el paisaje, o aprovechar y volar en uno de los hermosos y legendarios aviones DC-3´s.
[divider height="30″ style="default" line="default" themecolor="1″]
THE WORLD'S MOST BEAUTIFUL RIVER CAÑO CRISTALES The colors of paradise
Colombia, a country rich in biodiversity, privileged for its variety of climates and striking landscapes, has among its exotic places a magical place where dreamlike colors merge with the majesty of nature. Caño Crystals, a river of diaphanous waters amidst jungle landscapes and immense savannas, is perhaps one of the most coveted destinations by nationals and foreigners. And it's absolutely stunning in times subsequent to the rain when its channel floods and an amazing phenomenon takes place. Macarena Clavigera flourishes, a freshwater kelp of various colors that produces a sensational display of colors.
It's located in the municipality of La Macarena – Meta, in the east central part of the country, a one hour flight from Bogota. It is born in the mountain range of La Macarena and ends at the Guayabero River. It's a safe and friendly place and has comfortable accommodations, exquisite cuisine and expert guides native to the area that offer the ideal accompaniment to enjoy the trip. This area has the privilege of having exuberant and unique species on the planet, such as the beautiful flower of the velluosea.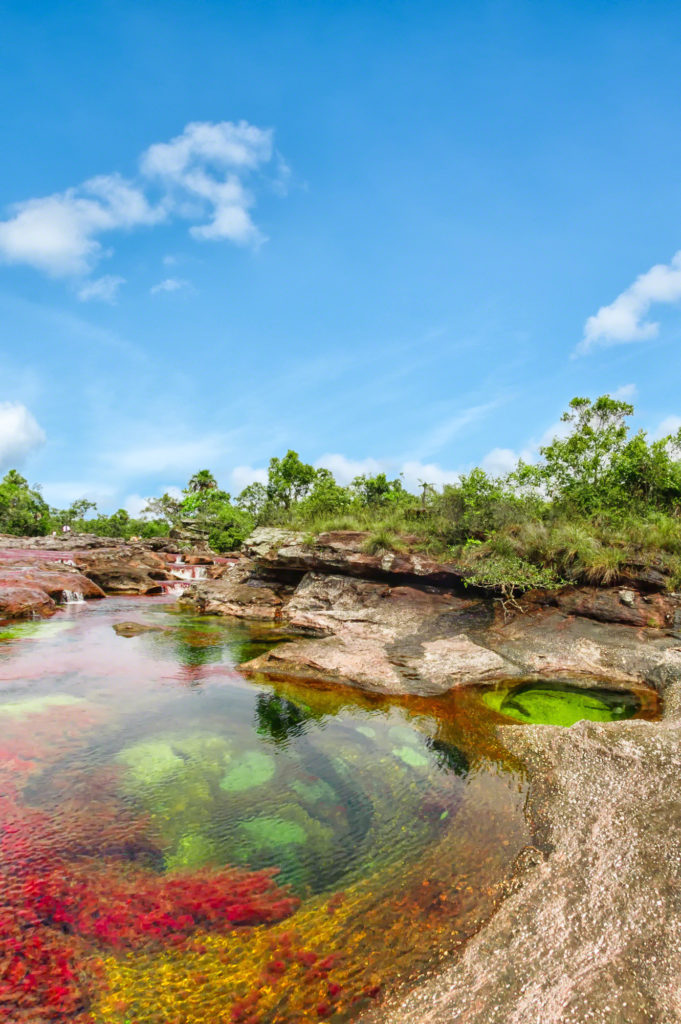 Departing from La Macarena, it's 25 minutes on a pleasant trip to the stunning Guayabero River, where it is common to find dolphins that welcome visitors to swim alongside the boats. Then there is a 20-minute drive by car to the place where a short hike begins between wild roads and species of native flora. At the end of the road, the temperature descends and the sound of the river mixed with that of the birds opens the way to an unforgettable experience. It takes several minutes to recover from the hypnotic state that occurs after the first view of the river.
The colorful spectacle that Caño Cristales offers is due to its rocky bed and it's absolutely crystalline waters that surmise the color of the algae. These sprout among the rocks have fascinating forms and caves that are connected under the water. Waterfalls, natural pools, and small streams complement the wonderful landscape. Swimming is allowed in some parts of the river.
The area is part of the Sierra de la Macarena Natural Park and is the most representative natural heritage of Colombian biodiversity. But the area not only offers the visits to the river, also ecological walks, mountaineering, water sports and visits to amazing waterfalls. This is a fascinating tour and the ideal place to be reconnected with nature, pure air and the essence of life.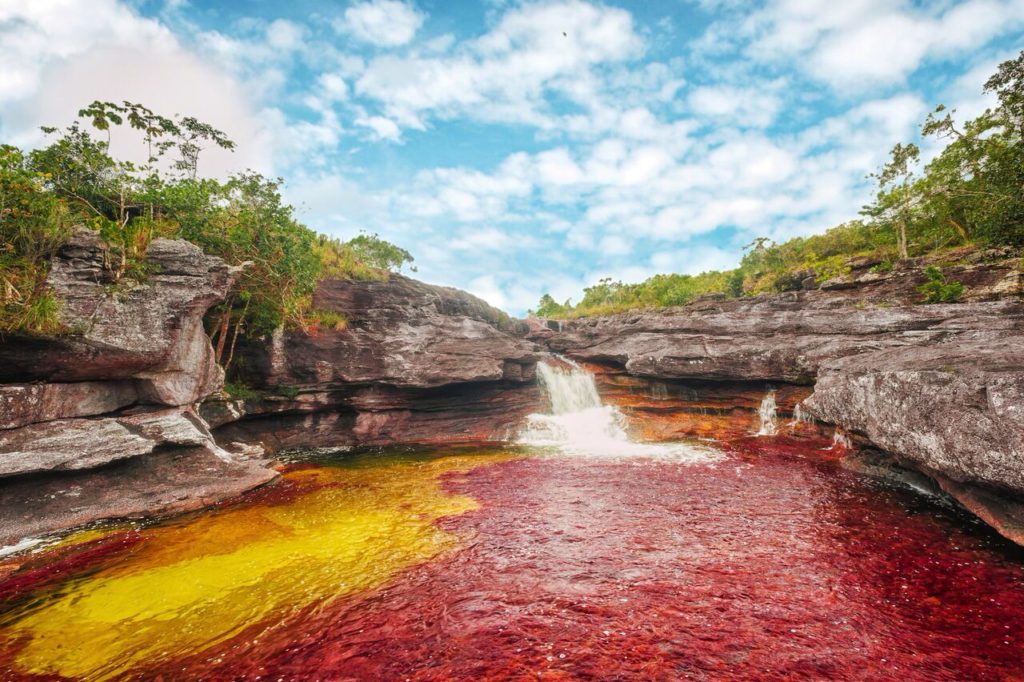 A Caño Crystals can be reached by taking a direct flight from Bogota. You can also travel two hours by land from Bogota to Villavicencio – Meta and then take a flight, either in a small plane to enjoy the scenery, or take advantage of and fly in one of the beautiful and legendary DC-3s.