Inauguración de unidad de lujo en 1 Hotels and Homes
Se llevó a cabo la inauguración de la espectacular unidad 1612 del proyecto Inmobiliario de exclusivas residencias 1 Hotel and Homes. Fue una tarde brasileña acompañada con caipiriñas y música al estilo Bossa Nova en vivo, en la gran celebración en honor a Artefacto, famosa marca en Estados Unidos. La unidad 1612 fue ambientada por esta reconocida marca de muebles con el liderazgo de la célebre diseñadora brasileña, Deborah Aguiar. Paulo Bacchi , dueño de Artefacto y su esposa Lais Bacchi creadora de su exitosa marca de joyas – LB, fueron algunos de socialites presentes en esta gran velada entre otros más.
1 Hotel & Homes en South Beach ofrece un estilo de vida de lujo con propósito. El estilo de vida disponible para los propietarios es producto de un diseño inspirado en la naturaleza, creado por la aclamada diseñadora de interiores brasilera Debora Aguiar, acompañado de servicios de lujo y comodidades, en una ubicación vibrante. Los propietarios están invitados a una comunión con la naturaleza, desde que ponen un pie en la entrada del lobby de las residencias privadas, los sentidos se activan, con el aroma de pino, los sonidos del océano y los llamativos interiores que presentan una abundancia de materiales naturales. En cada detalle se encuentra la visión de Aguiar con el uso de materiales naturales, orgánicos, y piezas de Artefacto que han creado majestuosamente espacios cómodos y cálidos para un hogar.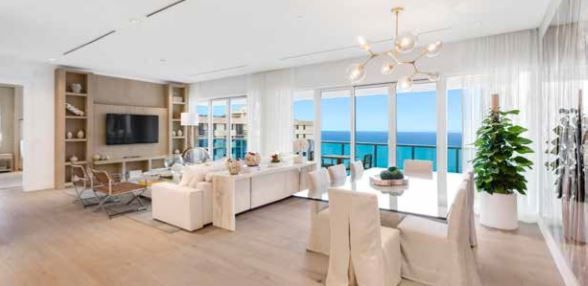 DESIGN INSPIRED BY NATURE
Inauguration of luxe unit in 1 Hotels and Homes
The inauguration of unit 1612 in the exclusive residences of 1 Hotel and homes was held with a Brazilian flair with caipiriñas and Bossa Nova, in the grand celebration in honor of the famous brand Artefacto. The unit was decorated by acclaimed Brazil interior designer Deborah Aguiar. Some of the socialites present were Paulo Bacchi, owner of Artefacto and his lovely wife Lais Bacchi. The lifestyle available to homeowners is the product of a nature-inspired design created by Aguiar, accompanied by luxury services and amenities in a vibrant location. In every detail you will find Aguiar's vision with the use of natural, organic materials and Artefacto pieces that have created majestically comfortable and warm spaces for a home.