Acclaimed box office star, producer, and humanitarian Richard Gere will open the 34th edition of Miami Dade College's (MDC) renowned Miami Film Festival on March 3, followed by an Opening Night Gala screening of his new film, Norman: The Moderate Rise and Tragic Fall of a New York Fixer, directed by 2-time Oscar-nominated Israeli filmmaker Joseph Cedar, with the CHAMPAGNE & STARS Opening Night Party, presented by Korbel, to follow at Miami's Historic Alfred I. Dupont Building.
"Richard Gere began his career with brave choices that catapulted him into stardom, and after nearly 40 years of acclaimed performances, his most recent acting has demonstrated a new force – deeper, more personal and even more profound," said Festival director Jaie Laplante. "With Joseph Cedar's brilliant take on power and responsibility in today's political arena, Gere creates one of his most indelible characters with Norman Oppenheimer. It is an honor to have both Richard Gere and Joseph Cedar present Norman, which will be one of 2017's most talked-about films, to open the 34th Miami Film Festival."
In all, the Festival will present 131 feature narratives, feature documentaries, and short films from 40 countries, including 22 world and international premieres, in the 34th annual edition of the internationally acclaimed event, which runs until March 12, 2017. Thirty-six of the films are directed or co-directed by women filmmakers. The Festival will close with an Awards Night Gala screening of the International premiere of For Your Own Good from Spain, starring José Coronado, Javier Cámara and Roberto Alamo followed by the EL COTO RIOJA Awards Night Party at Miami's Centro Cultural Español.
Among the Festival's many highlights: An evening with Spanish actress and fashion icon Rossy de Palma as part of the CINEDWNTWN Gala events at Miami's historic Olympia Theater, presented by Miami Downtown Development Authority. Artist Jessica Mitrani will lead an on-stage conversation with de Palma about her film work, including her collaborations with Pedro Almodóvar on films such as the current hit Julieta, and Mitrani's own collaboration with de Palma on the short film "Travelling Lady", which will also screen at the Gala. The evening is presented in collaboration with Faena Arts and The Screening Room.
Notable world premieres include the Emilio Estefan produced A Change of Heart, filmed in Miami and starring Gloria Estefan, Aimee Teegarden, Virginia Madsen, Jim Belushi and William Levy, directed by High School Musical's Kenny Ortega. Miami natives Yara Travieso and Jonathan David Kane will present the Florida premiere of their "live film" project, La Medea.
Alfred Spellman and Billy Corben of Rakontur will preview clips of their upcoming works — A Sunny Place for Shady People and the new Cocaine Cowboys miniseries.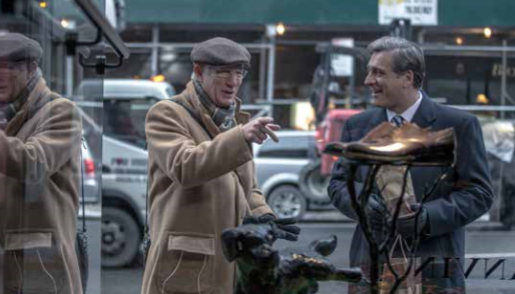 Above Ground Level, and Miami born and raised documentarian David Borenstein presents the North American premiere of Dream Empire, based on his personal experience of being a "white monkey" in the center of the Chongqing, China real estate boom. Former Miami Herald writer Jill Bauer and former staff photographer Ronna Gradus will return to the Festival with a new Netflix series (based on their 2015 feature documentary), Hot Girls Wanted: Turned On. Hot Girls Wanted: Turned On launches this Spring on Netflix.
Also visiting this year's Festival is legendary actor and producer Edward James Olmos, who will be presenting (along with director Marty Sader) his new co-production, in which he also stars, Monday Nights at Seven.
Cannes Film Festival alumnus, Uruguayan-Argentine director Adrián Caetano, who competed in Cannes in 2006 with Chronicle of an Escape, will debut his new film The Lost Brother (El otro hermano), starring Leonardo Sbaraglia and Daniel Hendler.
International premier of EL INCA: Directed by Venezuelan filmmaker Ignacio Castillo Cottin, based on the story of undefeated two-time World Boxing Champion Edwin Valero, El Inca is a powerhouse biographical drama about talent and charisma, love and ambition, excess and self-destruction. Valero, aka "El Inca," rose from humble Andean roots to international celebrity by defeating one rival after anotherhe set a world record by winning his first 18 fights with a first-round knockout. But as Valero's professional life bloomed his personal life began to stagger, with insecurities leading to marital infidelities and perilous addiction, aspects of Valero's life that still spark controversy: following a brief, successful theatrical run, the Venezuelan Government removed the film from theaters. El Inca tells of an exhilarating rise, a tragic fall, and the riveting displays of athletic mastery in between.
Two revered directors will receive spotlight MARQUEE EVENINGS. Romanian-French director Radu Mihaileanu, winner of Miami Film Festival's Audience Award in 1999 for Train of Life, will present the North American premiere of The History of Love, a sweeping adaptation of the bestselling novel by Nicole Krauss about Polish-Jewish sweethearts separated during WW2, starring Derek Jacobi, Elliott Gould, and Gemma Arterton. Danish filmmaker Lone Scherfig, whose outstanding credits include Oscarnominated An Education, Italian for Beginners, One Day and The Riot Club, will present her touching and hilarious new United Kingdom production, Their Finest, also starring Arterton, in addition to Jeremy Irons, Richard E. Grant and Jack Huston.
Cuba and the Caribbean are also prominently featured in the Festival program: Austin Peters' Give Me Future: Major Lazer in Cuba which explores electronic dancehall superband Major Lazer's groundbreaking 2015 Havana concert, will unspool in Miami Knight Documentary Achievement Award Competition.
Major Lazer is a major force in the world of electronic dancehall. In 2015, riding the wave of their hit "Lean On," the EDM supergroup undertook a world tour with a stop in Havana, a destination few international acts have had permission or, given its infrastructural issues, inclination to perform. The show was a gamble-but 500,000 habaneros turned up for what turned out to be a history-making event. Fun, fascinating and inspirational, Give Me Future exudes Major Lazer's motto: "Making the world smaller by making the party bigger." Director Austin Peters captures the concert while seizing glimpses of a great city in a moment of dizzying transition. Veteran director Fernando Perez's latest work, Last Days in Havana (Últimos días en la Habana), will receive its North American premiere in the Festival's signature Knight Competition, as will Carlos Lechuga's Santa & Andres (Santa y Andrés), which has yet to be screened in Cuba due to controversy.
Symphony in D: This soaring documentary from Dennis Scholl and Miami native Marlon Johnson-whose Deep City: The Birth of the Miami Sound world premiered at the Festival in 2014-tracks the highly unusual and inspired collaboration between Pulitzer Prize-nominated musician Tod Machover and the people of Detroit.
Ultra Music Festival's headliner Dubfire will attend a world premiere documentary about his own meteoric rise in the EDM world in Dubfire: Iranian-American Ali Shirazinia, aka Dubfire, is one half of the Grammy Award-winning duo known as Deep Dish and one of the most influential and innovative producer-DJs of our time. This documentary profile from Berlin-based directors Michael Koczynski and Mino Kodama traces Shirazinia's wild journey from his Iranian childhood, which was thrown into turmoil by the 1979 Revolution and the Iran-Iraq War, to his emergence in the world of electronic dance music via the nightclubs of Washington, DC.
In addition: The Opening and Awards Night Galas and An Evening With Rossy de Palma, the Festival's CINEDWNTWN Red Carpet Galas, sponsored by Miami Downtown Development Authority, will include a screening of the North American premiere of I'm Gilda(Gilda, no me arrepiento de este amor) from Argentina, based on the tragic life story of that country's most famous cumbia singer, starring Natalia Oreiro and directed by Lorena Muñoz. In recognition of Canada's 150th Anniversary of Confederation in 2017, the Festival will highlight Canada's internationally influential film culture. Among the films to be screened are the world premiere of Quebecois filmmaker Denis Langlois'A Paradise Too Far and Cannes-winning, Oscar-shortlisted Xavier Dolan'sIt's Only The End of the World (Juste La Fin Du Monde).
The Festival's signature Knight Competition, presented by The John S. & James L. Knight Foundation, will feature a mesmerizing variety of powerful works from around the world, directed by filmmakers who have directed at least one Official Selection (feature) in a prior edition of the Festival. Films are eligible for Achievement awards totaling $40,000 in cash.
The RENE RODRIGUEZ CRITICS AWARD will be bestowed on the film in the Festival selected by all accredited critics covering this year's edition. Named for Rene Rodriguez, the Miami Herald's nationally influential film critic since 1995, the Award winner will be announced at the end of the Festival.
Lee Brian Schrager, founder of South Beach Wine & Food Festival, will host a Big Easy Brunch at River Yacht Club on Saturday, March 10th, coupled with a post-brunch screening of Ella Brennan: Commanding The Table at MDC's Tower Theater. Ascreening of the Argentina-Spain co production The Distinguished Citizen (El ciudadano ilustre), starring Oscar Martinez (Wild Tales, Inseparables) in the role that won him Best Actor at the 2016 Venice Film Festival, will also be showcased at the festival.
Notable short films being screened out-of-competition include "A Beautiful Day" (USA) by Oscar-nominated cinematographer Phedon Papamichael, starring James Brolin; and Jamaican filmmaker Michelle Serieux's "Sugar".
The Festival's MIFFecito program featuring films that the whole family can enjoy will feature 4 new films: Dreamworks' animated The Boss Baby (USA), featuring the vocal talents of Alec Baldwin, Tobey Maguire, Lisa Kudrow, Jimmy Kimmel and Steve Buscemi; as well as Hero Steps (Colombia), Tesoros (Mexico) and Zip & Zap And The Captain's Island (Spain).
[divider height="30″ style="default" line="default" themecolor="1″]
Festival del Cine de Miami estrena con Richard Gere
Del 3 al 12 de marzo de 2017, cineastas de 40 países exhiben con orgullo 131 largometrajes, documentales y cortometrajes
Celebrando su 34º aniversario del 3 al 12 de marzo del 2017, el Festival de Cine de Miami es considerado el festival predominante para exhibir cinema iberoamericano en Estados Unidos y una importante plataforma de lanzamiento para todo el cine internacional y documental.
El festival anual producido y presentado por el Miami Dade College atrae a más de 60,000 espectadores y a más de 400 cineastas, productores, talento y profesionales de la industria. Es el único festival de cine mundial residente en una universidad.
En los últimos cinco años el festival ha exhibido películas de más de 60 países, incluyendo 300 estrenos a nivel mundial, en América del Norte, en Estados Unidos, y en la costa del este. Richard Gere estará para la apertura del Festival, durante la presentación de su nueva película Norman: The Moderate Rise and Tragic Fall of a New York Fixer y la fiesta de esa noche "Champagne & Stars".