buy Pregabalin online usa Las bodas en San Valentín son súper románticas y que mejor que con un vestido diseñado por un diseñador de las misses.
El diseñador venezolano Gionni Straccia (www.gstraccia.com), una figura bien conocida en el mundo de la moda de alta costura, se ha caracterizado por vestir a ganadoras de concursos de belleza, tanto así que algunas lo consideran como un talismán – Straccia tiene la distinción de ser el único diseñador en el mundo que ha vestido a dos ganadoras consecutivas de Miss Universo en el momento de la coronación. Pero sus diseños van más allá de las celebridades y las reinas de belleza. A la hora de escoger el vestido para ese "gran día" muchas depositan su confianza en la creatividad y el valor artístico de Gionni Straccia en busca de una propuesta diferente para el vestido de sus sueños.
Desde su atelier en Miami, el diseñador ítalovenezolano confecciona trajes de novia y otros vestidos de Alta Costura para clientes que viajan desde diferentes partes del país y de América Latina, acaparadas por este "creador de sueños", como es conocido, por la elegancia de sus trajes inimitables y hechos a la medida.
Recientemente, Straccia viajó a Dallas para vestir en el dia de su boda a Yliana Guerra, Miss Texas 2015, que también lució un Gionni Straccia cuando ganó la corona.
buy diflucan cvs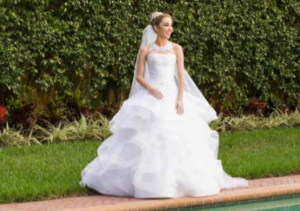 Haute Couture Wedding Fashion by Gionni Straccia
Valentine's weddings are super romantic and what better than in a dress designed by a renowned fashion designer.
Venezuelan designer Gionni Straccia (www.gstraccia.com), a well known figure in the world of haute couture fashion, has been characterized by beauty contest winners. He has the distinction of being the only designer in the world who has dressed two consecutive Miss Universe winners at the time of their coronation. From his atelier in Miami, the ItalianVenezuelan designer makes wedding dresses and other Haute Couture dresses for clients who travel from different parts of the country and Latin America.
Recently, Straccia traveled to Dallas to dress Yliana Guerra, Miss Texas 2015, who also wore a Gionni Straccia when she won the crown.