http://millbrookyoga.com/2016/05/memorial-weekend/ Ready to say goodbye 2016!
New Year's Eve is a holiday that's all about glitter – from dresses to shoes, to clutches. So why not your makeup too? This month is party season so what better time to shine? Check out these beauty tricks to shine on the holidays!
http://coleadblog.com/formations/leadership-et-transformation-creatrice/ Lista para decir adios al 2016
La víspera de año nuevo es una de las fiestas en la que todo tiene que ver con brillo- desde los vestidos, los zapatos, hasta las carteras. ¿Por qué no el maquillaje también? Es la temporada de fiestas después de todo, así que, ¿Qué mejor tiempo para brillar? ¡Checa estos trucos para brillar en las fiestas!

cheap lasik eye surgery chicago Beyond Brows
Drawing and shaping your brows is the most important step in any beauty routine. It frames your face. Take a pencil or brow pen and draw in the missing little hairs. Mimic hair where you need it. Then apply powder over it, but not darker than your hair. If you want amazing sparkling eyes, use silver glitter to adorn your brows and eyelids. Offset with fresh skin and sweptback hair.
Cejas en bloque y de subversivas líneas plateadas
Dibujar y dar forma a tus cejas es el paso más importante en cualquier rutina de belleza. Enmarca tu cara. Toma un lápiz o delineador y dibuja los pequeños vellos faltantes. Imítalos donde lo necesites, luego aplica polvo encima, no más oscuro que tu propio color. Si quieres ojos destellantes coloca trazos de brillos plata para adornar las cejas, deja los párpados desnudos y usa el cabello hacia atrás.
Inspiración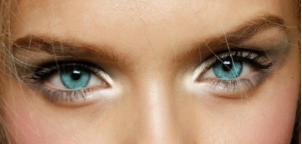 Highlighter Overload
The philosophy behind highlight is to catch light to add a soft radiance to your complexion. But, avoid putting highlighter on the tip of your nose!
Iluminadores a la carga 
La filosofía detrás del iluminador es capturar luz para agregar un brillo suave a tu complexión. Pero, ¡evita poner iluminador en la punta de la nariz!
Highlight the Inner Corners of Your Eyes
Subtly draw attention to your gaze by applying a hint of glimmer to the inner corners of your eyes. The key is to use a metallic shade that's close to your complexion.
Ilumina la esquina interna de tus ojos
Atrae la atención sutilmente a tu mirada al aplicar un toque de brillo en las esquinas internas de tus ojos. La clave es usar sombras metálicas que sean las más cercanas a tu tipo de piel.
Party Inspired
Use a smattering of iridescent glitter at the center of the lids and across the cheekbones. A few coats of mascara complete the look. The hair? Play it with curls, straights, waves or anything else, really focusing on the texture. Don't leave ballerina buns behind. A perfect bun higher up in the back of the head will look great with any outfit. A low ponytail will look smashing too. Simple black hair tie completes the look, ensuring elegance and youthfulness.
Inspiración en la fiesta de la belleza
Usa una mezcla de brillo iridiscente en el centro de los párpados y a lo largo de los pómulos. Unas pocas capas de rímel completarán el look. ¿El cabello? Juega con estilos rulos, alisados, ondas o cualquier cosa, realmente centrándote en la textura. No dejes a un lado los moños estilo bailarina. Un perfecto moño alto lucirá genial con cualquier traje. La cola de caballo baja lo hará también. Una simple liguilla negra puede lograr el look, asegurando elegancia y juventud.