This year there will be 269 exhibitors from 29 countries, artworks by 4,000 artists and over 70,000 visitors during the Art Basel's 15th edition. If you're an art aficionado or not, Art Basel Miami Beach is always a yearly event not to be missed. The artsy will be mesmerized by the great selection of illustrious exhibits from some of the best galleries in the world. For the not-so-artsy, it's a great to mingle, spot celebrities and those head-turning outfits. It's virtually impossible to visit all the fairs during Miami Art Week. You should allow yourself at least four days. Make sure you wear comfortable shoes as I've made the mistake in my past Art Baseling days!
ART BASEL HIGHLIGHTS:
-POSITIONS sector of the Art Basel fair, artist Dane Mitchell will disperse an artificial scent that is usually used by hunters in the RaebervonStenglin booth.
-Andy Warhol, Edie Sedgwick, and Entourage, New York, 1965, Steve Schapiro via the Brett Ratner auction.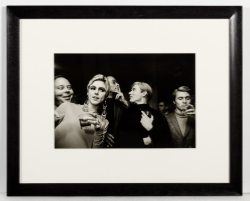 -The KABINETT sector will feature "precisely" curated exhibitions in 30 booths. Highlights include Tom Sachs' recent sculptural works of everyday objects at Sperone Westwater; Mike Kelley's "Paintings in Time" at Galerie Nagel Draxler; and Matt Mullican's light boxes and still-life paintings at Mai 36 Galerie.
-NOVA sector, Installation by Anicka Yi explores "anxieties resulting from biotech" at 47 Canal
-A 360-degree projected video environment by Taro Izumi at Take Ninagawa gallery. You should also visit "freshly cut hedges" by Chosil Kil at One and J Gallery.
SUPER PARTY
Many of them all over town, but here's one super exclusive…. Madonna performing to benefit Raising Malawi on Friday, December 2, in the Faena Forum (32nd Street & Collins Ave., Miami Beach). Special guest appearances by Chris Rock, Ariana Grande and Sean Penn. Only 400 tickets will be available; cheapest ticket is $5,000.
X Contemporary Art
X meaning an evocative title for a new breed of art fair that is a crossover between the visual and performing arts with unique music, fashion, and brand collaborations. Nobu/Eden Roc Hotel (4525 Collins Avenue, Miami Beach) through December 4. They're expecting 35 international galleries along with an exhibition to "The Women Who Made Modern Art Modern," profiling 16 art dealers from the 40s, 50s and 60s.
NOT TO BE MISSED
-Ballerina, Jeff Koons at Oceana Bal Harbor Argentine art collector and real estate developer Eduardo Costantini (10201 Collins Avenue, Bal Harbor) — will unveil that condo's new art collection at a big VIP-only celebration on December 2.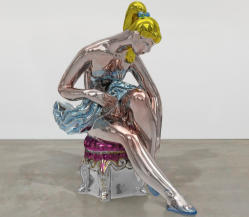 -Yvette Mattern, "Global Rainbow." New York/Berlin-based artist Yvette Mattern will launch a large-scale public installation "The Global Rainbow" through December 3, 6 p.m. to midnight daily. The huge work using seven beams of laser light should be visible from the Design District and across Biscayne Bay to Miami Beach. CONCERT SERIES
There are way too many to list, but here are some…
Paris Hilton. 11 p.m. Friday, December 2, at Wall, 2201 Collins Ave., Miami Beach; 305-938-3130; wallmiami.com.
Simon Hammerstein's L'Eden by Perrier-Jouët Miami. Through December 1, at Casa Faena, 3500 Collins Ave., Miami Beach. Activation is invitationonly.
Calvin Harris Basel Edition. 11 p.m. Thursday, December 1, at LIV, 4441 Collins Ave., Miami Beach; 305-674-4680; livnightclub.com.
Hive Pop-Up Lounge. 4 p.m. Thursday, December 1, at Mana Wynwood, 2250 NW 2nd Ave., Miami; hivewynwood.com. Admission is free.
Seventh Annual Bombay Sapphire Artisan Series Finale. Hosted Russell Simmons and Danny Simmons. With Jermaine Dupri. 8:30 p.m. Thursday, December 1, at 1111 Lincoln Road, 7th Floor Garage, Miami Beach. By invitation only.
Rumors Art Basel, with Guy Gerber. 4 p.m. Friday, December 2, at 1 Hotel South Beach, 2341 Collins Ave., Miami Beach; 305-604-1000; 1hotels.com/ south-beach.
SOUND WORKS IN SOUNDSCAPE PARK
Before the film program begins every evening in Soundscape Park, the state of the art sound system will feature sound works by artists including Ain Bailey, Zoë Buckman, Jonathan Montague and more. Through Dec 4. Soundscape Park, 400 17th St, Miami Beach . The short film program features work inspired by classical music and ballet under the stars. Artists include Alex Prager, Rashid Johnson, Sonia Boyce and Ain Bailey. 400 17th St, Miami Beach. Dec 1 at 10pm; free.
FILM LIBRARY
Head to the Miami Beach Convention Center to check out the films of cutting-edge artists on individual touchscreen monitors. Artists whose works are on show include Stephen Dean, Edith Dekyndt, Maggie Lee, Gabriel Lester, Shelly Nadashi and more. Miami Beach Convention Center. 1901 Convention Center Dr, Miami Beach. through 30–Dec 4: Thu 3–8pm, Fri–Sun noon–8pm. Free with show entrance ticket.
FILM HIGHLIGHTS
-Best Dressed Chicken in Town Named for the '70s reggae song, the two-hour program focuses on films by international artists. Soundscape Park, 400 17th St, Miami Beach. through–Dec 3 at 8pm; free.
-Liliana Porter and Alfredo Jaar The first film by Chilean-born artist Alfredo Jaar, a silent film about music by Christian Marclay and a special screening of Maura Axelrod's "Maurizio Cattelan: Be Right Back. Colony Theatre, Lincoln Road Mall, 1040 Lincoln Rd, Miami Beach. Dec 2 at 8:30pm; free.
-Love Songs: Four Films by Wilhelm Sasnal Showing of four his films ranging from 2002 to 2015: Kiss (2002-2003); Love Songs (2005); The River (2005); and Developing Tank (2015). Soundscape Park, 400 17th St, Miami Beach. Dec 3 at 10pm; free.
SATELLITE ART FAIRS SELECTS
From South Beach to Wynwood and new neighborhoods such as Little Haiti there is something for every artsy soul!
Design Miami — 35 exhibitors at Design Miami. Louis Vuitton presents an installation of Objets Nomades, a collection of furniture. Shop Architects will build a temporary plaza called Flotsam & Jetsam. Look for Milan's Atelier Biagetti and their "NO SEX in Miami," one of this year's Design Curios presented by Patricia Findlay Meridian Ave and 19th St. through–Dec 4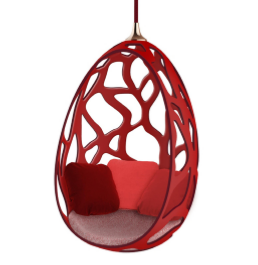 Pulse Miami Beach. More than 75 galleries from all over the world will be on display under a massive pop-up structure in Mid-Beach. At the entrance, digital artist Anne Spalter's Miami Marbles will have an amazing exhibit featuring giant orbs that respond to guests. Indian Beach Park, 4601 Collins Ave. Dec 1–4; $15–$40. through December 4. Here is also PLAY, is a platform for the discovery of digital and new media works.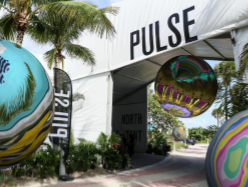 NADA.The art fair pops up inside the Deauville Beach Resort. Exhibitors representing 36 cities and 17 different countries. Deauville Beach Resort, 6701 Collins Ave. Dec. 1–4; $20–$40.
Untitled. Features 128 galleries from 20 countries. Argentine conceptual artist Noemi Escandell will exhibit Diario El Blanco, made up of a pedestal stocked with blank newspapers with the headline 'Escriba la noticia que desea leer' (Write what you want to read). Rirkrit Tiravanija and Tomas Vu called "RT TV Boards" will feature surfboards inscribed with Beatles lyrics, a T-shirt stand, surfboards that you can borrow and a shower to rinse off. Ocean Drive and 12th St. through–Dec 4; $20–$40.
Art Miami. Visitors can expect to see more than one thousand works from artists such as Frank Stella, Andy Warhol, Willem de Kooning and Oscarwinning actor Adrien Brody. Martin Schoeller's portrait of Angelina Jolie, which depicts the actress with blood dripping from her mouth, is one of the pieces anticipated to sell quickly this year. 3101 NE First Ave. through–Dec 4; $30-$250.
Context. Context, with 100 participants across 50 different cities will house "Sound Positions," featuring 12 listening stations, and a sculpture garden for site-specific installations. London's Paul Stolper Gallery will display works of Brian Eno. 118 NE 34th St. through 30–Dec 4; $45–$250.
Pinta Miami. Pinta Miami's expansive showcase inside Mana Wynwood will celebrate the fair's continued mission of connecting Latin American artists with the world. Mana Wynwood, 2217 NW Fifth Ave. through–Dec 4; free with donation.
Lingerie Francaise. The Sagamore Hotel (1671 Collins Avenue, South Beach) — has a show called "Femme Fatale" featuring women artists. The hotel will also host a 150-year retrospective of French Lingerie which includes over 100 pieces from the collections of 11 renowned French manufacturers. It is FREE and open to the public through December 6. Big bash on Dec. 3 by private invite only.
PAMM (Perez Art Museum Miami) (1103 Biscayne Blvd., Miami) has the first North American museum exhibition dedicated to Argentine artist Julio Le Parc. Over 100 works will be on view, with several large installations by this pioneer in "experiential" kinetic art and op art.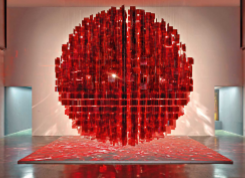 The Institute of Contemporary Art Miami (4040 NE 2nd Avenue, Miami) presents the first American museum show dedicated to the German artist Thomas Bayrle, featuring over 150 works from the 60s to the present. Plus the artist's first large-scale steel sculpture, "Wire Madonna," will reach up 33 feet to the museum's fourth floor. Stay tuned for picture in the next issue of Hola Latinos Magazine or go to www.holalatinosnews.com for updates.
ArtCenter South Florida (924 Lincoln Road, South Beach) The centerpiece, "An Image," is designed to introduce their new "public programming model" using film screenings, photos, paintings, artist talks, performances, study groups etc., the exhibition hopes to "evoke the feeling of being a part of the production of an image."
Wynwood Walls (2520 NW 2nd Avenue, Miami) and the Goldman Family launch their new collection of 12 artist murals. The latest walls are by AVAF, Beau Stanton, Case, Dasic Fernandez, David Choe, Faith47, Felipe Pantone, Findac, Okuda, Pixel Pancho, Risk and Tatiana Suarez. The theme for 2016 is "Fear Less," in honor of the late Tony Goldman who launched the Walls in 2009.
Conversations and Salon Art Basel's Conversations and Salon series will bring together celebrated artists, galleries, art historians, writers, curators, museum directors and collectors from across the globe. Check https://www.artbasel.com/miami-beach for more information.