Por: Nancy Esteves
Si estás anhelando un escape por todo lo alto en los cayos, no busques más. El recientemente inaugurado Resort & Spa Playa Largo trajo un nuevo nivel de lujo a Cayo Largo. Con tal proximidad al área metropolitana del Sur de la Florida, Cayo Largo es un destino privilegiado para las vacaciones familiares y escapes de fines de semana ya que es una opción "cerca de casa" para los viajeros de Florida- unas vacaciones con estilo isleño sin tener que abandonar la costa.
Esta hermosa locación y su nuevo Resort Colección de Autógrafo es la combinación perfecta para un escape de altura y una nueva razón para querer quedarse en Cayo Largo. El impresionante hotel acoge el concepto "ocaso en la bahía" tal como lo refleja en su diseño estilo casa de playa, chic y elegante. Playa Largo tiene 144 habitaciones y suites de lujo, 10 bungalows aislados de dos pisos y una Casa de Playa. Esta mansión de Florida viene con una playa privada, piscina privada, 1200 pies cuadrados de espacios exteriores alrededor de la piscina y 1600 pies cuadrados de áreas verdes y de recepción con vistas panorámicas de la Bahía de la Florida. Ubicado en la milla 9, se encuentra en 14,5 hectáreas de playa aislada.
Música en vivo, hogueras, hermosos ocasos y costas arenosas definen el tono relajado del cayo, mientras los diseños y las comodidades moldean el lujo moderno del lugar. Todo está en los detalles y los toques de diseño son el subtítulo, para un tema naútico lujoso. En cada habitación un iPad conectada a un TV inteligente invita a los huéspedes a explorar las características del cuarto y de entretenimiento así como hacer reservaciones para tours y restaurantes. Los huéspedes pueden chequearse usando iPads en el lobby. Un detalle que se debe perder son los artículos de aseo Bvlgari que se encuentran en la habitación. ¡Gran toque!
El Resort & Spa Playa Largo es, de hecho, la adición número 100 de los hoteles-Resort Colección de Autógrafo, el cual abrió el 31 de Agosto de 2016. Fue desarrollado por el Grupo de Hoteles Prime Hospitality & Shaner y es el primer resort nuevo construido en Cayo Largo en 21 años.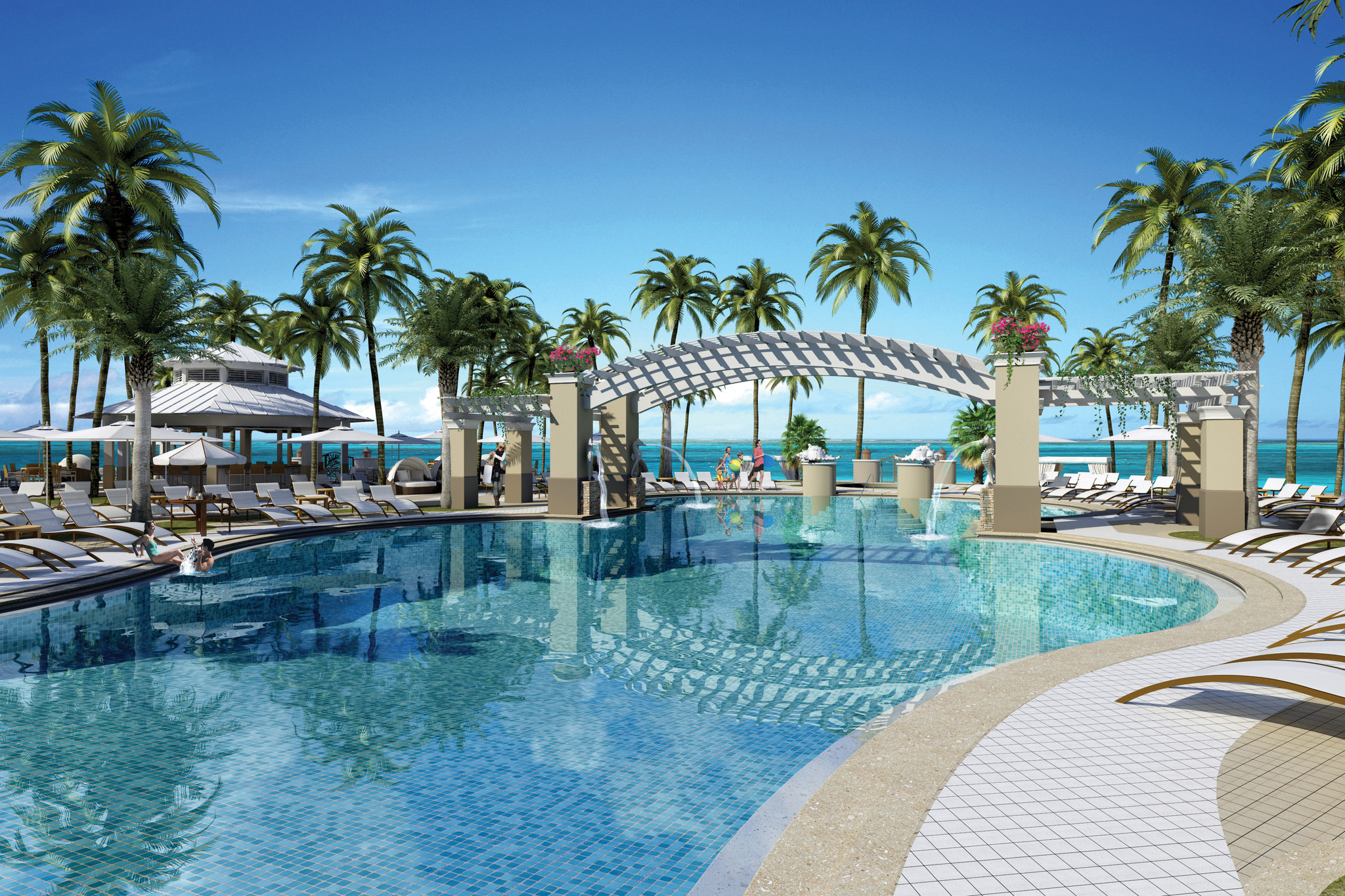 COMODIDADES POR DOQUIER
Las comodidades para los huéspedes incluyen: extensa playa privada, piscina frente al mar estilo laguna, dos pozos de fuego, servicio a la habitación 24 horas, servicio completo Ocean Spa, instalaciones fitness, marina privada con lanzador de bote, cenas al aire libre en Sol by the Sea & Beachfront Sand Bar, una rotisería, un auténtico Bar Peruano de Ceviche, deportes acuáticos, servicios, canchas de basket y tennis, pista de trote, 6000 pies cuadrados de salón de fiestas con patio privado, facilidades para bodas, banquetes y conferencias, centro de negocios y club privado para socios.
ECOAMIGABLES
Para reducir sus huellas de carbón, el resort ofrece a los huéspedes botellas de agua reusables y estaciones de llenado. El 90 por ciento de las habitaciones vienen con lujosas duchas tipo "llovizna del bosque" en vez de bañeras.
ECO-CONSCIENTES
Los cayos de la Florida albergan algunas de las especies animales y florales más exóticas del país y son refugio para algunos de los ecosistemas más diversos y salvajes, mejores preservados del Sur de la Florida, incluso antes de romper el terreno, el equipo de Playa Largo llevó a cabo detalladas y exhaustivas revisiones de tierra para asegurar que la vida silvestre no se dañara en el proceso de construcción. Ellos trajeron a expertos ambientales quienes estudiaron 5700 árboles y movieron y preservaron docenas de árboles gumbo limbo. El equipo del resort invirtió 300.000$ con fines de  preservación ambiental. Ellos estudiaron las especies de mariposas del área y crearon subsecuentemente un sendero natural para que los invitados pudieran observarlas. También son el primer establecimiento comercial en los cayos de la Florida en invertir en un Procesador de alimentos  líquido. Los desechos orgánicos de comida son convertidos en agua gris rica en nutrientes, destinada para regar los terrenos del resort y reducir la huella de carbono en 147 toneladas por año.
COSAS QUÉ HACER
Cayo Largo es un destino premier para practicantes de kayak y eco-turistas, así como buzos. Autoproclamado como la capital del buceo del mundo, cayo Largo es hogar del más grande arrecife artificial del mundo, y del Parque Estatal submarino arrecife coralino John Pennekamp. Hay un sinnúmero de festivales anuales que vale la pena ver: desde el Festival Vino & Comida de Cayo Largo, hasta el Festival de Música Jam de la Bahía, la temporada de Mini Langostas hasta el Festival de Cine Humphrey Bogart, el cual se realiza en Playa Largo.
Playa Largo ofrece bocce ball, yoga paddle board, yoga al amanecer & en el ocaso, Campamentos de entrenamiento playeros, aeróbicos en la piscina, viajes en catamarán al atardecer con brindis, rutas de trote a través del área de hamacas, y canchas de tennis y basket con renta de equipos gratuitos. Los invitados también pueden agendar como complemento actividades de kayak o bicicleta.
SPA
El Spa Ocean es el primer servicio completo de spa de Cayo Largo y ofrece una serie de tratamientos de spa que incorporan súper comidas altas en antioxidantes y aminoácidos para complementar la salud de la piel. El spa provee todo de las granjas sustentables cercanas –desde frutas tropicales como piñas y cocos hasta algas marinas, diseñadas para humectar y nutrir la piel –.
BODAS BAJO EL AGUA
Las novias tienen la posibilidad de dar el "sí" entre las aguas de los corales, naufragios y tesoros escondidos de los Cayos de Florida con las bodas submarinas de Playa Largo.
ACTIVIDADES PARA LOS MÁS PEQUEÑOS
Playa Niños, el campamento de descubrimientos diarios del resort ofrece películas, caza de tesoros, juegos,, deportes, artes & manualidades, y más.
Signature Escapes
Playa Largo Resort & Spa, Key Largo
By: Nancy Esteves
If you're longing for a signature Escape in the Keys, look no further.
The newly opened Playa Largo Resort & Spa brings a new level of luxury accommodations to Key Largo. With such proximity to the South Florida tri-county area, Key Largo is a preferred destination for family vacations and weekend getaways as it's a "close to home" option for Florida travelers—an island-style vacation without having to go offshore.
This beautiful location and this new Autograph Collection Resort is the perfect combination for a signature escape and a brand new reason to want to stay in Key Largo. The recently-opened stunning hotel captures a "sunset on the bay" concept that is reflected in the chic, elegant beach house design. Playa Largo has 144 luxury rooms and suites, 10 secluded two-story bungalows and a Beach House. This Florida mansion comes with a private beach, private pool, 1,200 square-foot exterior pool deck and 1,600 square-foot event lawn & reception area with sweeping views of Florida Bay.  Located at mile marker 97 it is situated on 14.5 secluded beachfront acres.
Live music, bonfires, beautiful sunsets and sandy shores set the Key's laid-back tone, while the design and amenities define modern luxury. It's all in the details and the design details are subtle, yet luxurious nautically themed. In each room, an iPad connected to a smart TV enable guests to monitor in-room features and entertainment as well as make restaurant and tour reservations.  Guests will check in using iPads in the lobby. One detail not to be missed is the Bvlgari toiletries that are provide in the room. Great touch!
Playa Largo Resort & Spa is actually the 100th addition to Autograph Collection Hotels, which opened on August 31, 2016. It was developed by Prime Hospitality Group & Shaner Hotels and is the first new resort built in Key Largo in 21+ years.
AMENITIES GALORE
Guest amenities include: secluded, beachfront acres,  lagoon-style waterfront pool, two fire pits, 24-hour room service , full-service Ocean Spa, fitness facilities, private marina with boat launch, dockside dining at Sol by the Sea & beachfront Sand Bar, a steakhouse, authentic Peruvian ceviche bar,  watersports facilities & services, basketball & tennis courts, jogging trail, 6,000 sq. ft. ballroom with private courtyard, wedding, banquet & conference facilities, business center and a private members club.
ENVIRONMENTALLY FRIENDLY
To reduce its carbon footprint, the resort provides guests with reusable in-room glass water bottles and refill stations and 90% of guest rooms come with luxurious rainforest showers instead of bathtubs.
ECO-CONSCIOUS
The Florida Keys is home to some of the nation's most exotic plant and animal species and houses some of South Florida's most well-preserved wildlife and diverse ecosystems, even before breaking ground, the Playa Largo team conducted detailed and time-consuming land surveys to ensure wildlife wasn't harmed in the construction process. They brought in expert environmentalists who surveyed 5,700 trees and moved and preserved dozens of gumbo limbo trees. The resort team gave $300,000 towards environmental preservation.  They studied the area's butterfly species and subsequently created a nature trail for guests to view them. They are also the first commercial business in the Florida Keys to invest in a Power Knot Liquid Food Composter. Organic food waste is converted to nutrient-rich gray water, which is used to water the resort's grounds and reduce the carbon footprint by 147 tons per year.
THINGS TO DO
Key Largo is a premier destination for kayakers and eco-tourists, as well as scuba divers. Self-proclaimed as the Dive Capital of the World, Key Largo is home to the world's largest artificial reef, and the John Pennekamp Coral Reef Underwater State Park. There are a number of yearly festivals worth checking out: From the Key Largo Food & Wine Festival, to Bay Jam Music Festival to Mini Lobster Season to the Humphrey Bogart Film Festival, which is hosted at Playa Largo, Key.
Playa Largo offers bocce ball, paddle board yoga, sunrise & sunset yoga, beach boot camps, pool aerobics, sunset catamaran sails with complimentary champagne toasts, jogging trails through the wooded hammock trees, and tennis & basketball courts with free equipment rentals. Guests can also check-out a complimentary kayak or bike.
SPA
Ocean Spa is Key Largo's first full-service spa and offers an array of spa treatments that incorporate super foods high in antioxidants and amino acids to complement skin health. The spa sources everything – from tropical fruits like pineapples and coconuts to marine algae, designed to moisturize and nourish the skin – from nearby and sustainably grown farms.
UNDERWATER WEDDINGS
Brides have the option to say "I do" amongst the shallow-water corals, shipwrecks and hidden treasures of the Florida Keys with Playa Largo's underwater weddings.
ACTIVITIES FOR THE LITTLE ONES
Playa Kids, the resort's daily discovery camp offers movies, scavenger hunts, games, sports, arts & crafts and more.