can i order cipro online G Marine, "La Boutique Europea del Yates" en Miami pasó sus últimas vacaciones de verano alineando nuevas propuestas para yates mientras planificaban una agenda completa sobre el show internacional de botes. Agregando una nueva marca italiana, Yates EVO a Astondoa, -la constructora española de barcos personalizados con 100 años de trayectoria- y Yates Fairline, -la marca británica con más de 50 años en el mercado- G Marine traerá 6 nuevas marcas europeas de tres contratistas distintos a 3 shows.
Empezando en el más grande show de botes en Europa este pasado Septiembre, El Festival de Yates de Cannes, la seductora nueva marca italiana, EVO 43 Yates ha creado un verdadero club de playa crucero.
EVO Yates se unirá a Astondoa en el stand de G Marine para el Bahia Mar FG Dock en el Show Internacional de Botes de Fort Laudardale, previsto entre el 3 y 7 de Noviembre. Luego del éxito de su 80 GLX en la exhibición del año pasado y su Century 110 en el Show Internacional de Botes de Miami, Astondoa regreserá con un Yate 80GLX Flybridge totalmente nuevo.
G Marine también presentará la novedad Americana, el familiar 65 Top Deck el cual ha creado una plataforma tipo "isla flotante" súper espacioso – y con todos los extras.
Yates Fairline también asistirá al Show Internacional de Botes de Fort Lauderdale con el despliegue del nuevo 48 Targan Open de G Marine. Un techo retractable de lona le da a este yate expreso una sensación de "aire libre" y la cabina es perfecta para socializar con su extenso espacio de almohadillas para tomar sol. El Targa 48 Open aloja cómodamente más de 7, ofreciendo amplio espacio para entretener a muchos más. El salón, comedor petite y la galera son acogedores e iluminados y el diseño de la cabina presenta un generoso master y una doble cabina al frente. Las opciones para añadir espacio dormitorio o una cabina adicional están disponibles. Un FairlineTarga 53 GT y un Squadron 48 también serán exhibidos con G Marine.
Evo 43Fairline está desarrollando un nuevo 53 Squadron y el bote hará su debut en Estados Unidos en Febrero de 2017 en el Show de Yates de Miami Beach. G Marine también planea desplegar el nuevo Astondoa 65 Fly en Miami y todos sus astilleros están diseñando activamente nuevos modelos para 2017.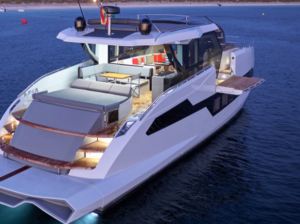 G Marine, "The European Yacht Boutique" in Miami spent its past summer vacation lining up new yacht offerings while planning a full schedule of international boat shows. Adding a new Italian brand, EVO Yachts to Astondoa,the 100-yearold Spanish custom shipbuilder, and Fairline Yachts, the over 50-year UK brand, G Marine will be bringing aboard six new European yachts from three different builders to three shows.
Presented at the Yachting Festival in Cannes, the largest boat show in Europe this past September, the sexy new Italian brand, EVO 43 Yachts boasts an expanded aft deck and swim platform, creating a cruising beach club. EVO Yachts will join Astondoa at the G Marine stand on the Bahia Mar FG Dock at the Fort Lauderdale International Boat Show, November 3-7. After the success of its 80 GLX at last year's show and Century 110 at the Miami International Boat Show, Astondoa will return with a totally new 80 GLX flybridge yacht.