http://charliescatering.com/wp-json/oembed/1.0/embed?url=http://charliescatering.com/restaurant-menu/ Recibir una inyección o realizarse una extracción de sangre puede ser para algunas personas una experiencia traumática sobre todo cuando no encuentran sus venas y tienen que recibir más de un pinchazo. Para las enfermeras ha sido una tarea titánica encontrar las venas de los niños muy pequeños debido a que sus venas son de poco grosor y casi invisibles. Hoy, gracias a la tecnología, se acabaron estos problemas con el desarrollo del Visualizador de Venas VeinViewer.
VeinViewer, es un dispositivo que emite una luz cercana a los infrarrojos y que al ser reflejada sobre la piel logra que las venas sean visibles así como el fluido que circula a través de ellas. Este visualizador de venas ha sido desarrollado por empresa estadounidense Christie Medical Holdings, empresa que pertenece a Christie Group, grupo fundado en 1929 dedicado a proyectos tecnológicos en diversas industrias incluyendo la médica.
Según los desarrolladores de VeinViewer, este dispositivo puede visualizar hasta una profundidad de 10 milímetros, por lo que podría localizar cuáles son las venas más indicadas para el procedimiento médico que vaya a realizarse. Brasil ya cuenta con más de 150 hospitales donde utilizan este visor de venas.
VeinViewer se encuentra disponible en el mercado en tres presentaciones. El visualizador portátil VeinViewer Flex para mayor comodidad del paciente y es recomendado para salas de emergencias y hospitales. El visualizador de pie VeinViewer Vision, que brinda una imagen más avanzada con una batería de mayor duración. Y el visualizador de pared VeinViewer Vision XTND, que ofrece detalles más finos de la imagen y requiere corriente alterna, ideal para pacientes pediátricos y pacientes con tratamiento de escleroterapia.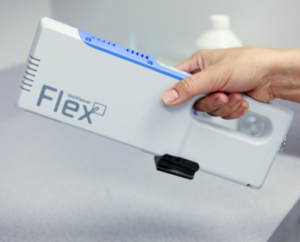 cheap date lyrics High- Tech VeinViewer can prevent extra vein punctures
A blood draw for some people can be a very traumatic experience, especially when they find out they have bad veins and need to have more than one pinprick. Nurses many times have a tough time finding veins, especially with very young children because their veins are thin and sometimes invisible. Today, thanks to technology, these problems may be over with the development of VeinViewer, which is a device that emits infrared light on the skin that allows viewing of veins. The medical product was developed by a U.S. company, Christie Medical Holdings, a company owned by Christie Group, a group founded in 1929 dedicated to technological projects in various industries including medical.
According to the developers of VeinViewer, this device can display up to a depth of 10 millimeters, so you could locate veins that are the most suitable for the medical procedure to be performed. Brazil already has more than 150 hospitals using this high-tech product.