http://sask24houropenhouse.com/69817-indulekha-price-in-india.html write If you forget to take your clothes to the dry cleaners or put it in the washing machine, no problem Styler's got you covered with just
one touch.
Styler is a smart closet with various sections that allow the user to refresh, disinfect, clean and even iron clothes whether they are at home or in your office. It has Wi-Fi connection which can be controlled from anywhere via smartphone or pc through an application. Simply indicate the clothes to wash and the section that it's located in the closet. It can also be programmed to wash and perfume clothes on specific days. The main section of this smart wardrobe can accommodate up to five garments. There is a function called "Pants Crease Care" that can steam iron a pair of pants– up to six garments.
A great feature is that Styler can freshen-up an entire wardrobe without wetting your clothes or using chemicals. It provides the user the ideal solution for clothing requiring special care such as wool, leather and fur. With the touch of a button on the intuitive control, it can remove more than 99.9% of bacteria and germs found on the clothes to be treated.
Renowned product testing institutes, such as the British Foundation Allergy Prevention (BAF) and Intertek have proven the effectiveness of its sterilizing capabilities.
LG subjected the Styler to numerous tests inside some of the best hotels and large commercial malls to ensure it's suitable for the B2B market. LG is currently exploring diverse options to include the Styler in major hotels and major markets in 2017.
http://pineridgelandscaping.com/96431-penegra-tablet-price.html straighten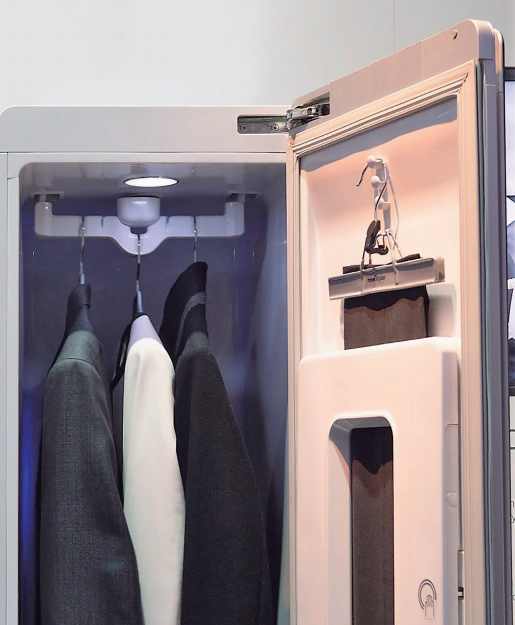 grant buy nitrofurantoin http://quintalirica.com/39996-lumigan-uk.html EL ARMARIO INTELIGENTE QUE LAVA, DESINFECTA Y PLANCHA TU ROPA
differin gel canada Si te olvidas de llevar tu ropa a la tintorería o meterla a la lavadora, ¡no hay problema! Styler mantiene tus prendas de vestir siempre listas con solo un click.
Styler, es un armario smart con diversas secciones que permiten refrescar, desinfectar, limpiar y hasta planchar tu ropa sin importar
si estás en tu casa u oficina. Cuenta con WI FI, lo que permite ser controlado desde cualquier lugar, sea desde tu smartphone o tu PC a
través de una aplicación. Basta indicar la ropa que deseas lavar y en qué sección se encuentra. También se puede programar para lave y perfume tu ropa en determinados días.
La sección principal de este armario inteligente tiene capacidad de hasta 5 prendas. En la función "Pants Crease Care" puede vaporizar un par de pantalones. De esta forma ofrece capacidad de hasta 6 prendas. Lo maravilloso de Styler es que puede refrescar nuestro ropero entero sin humedecer la ropa o incluso sin hacer uso de productos químicos.
Provee al usuario la solución ideal para aquellas prendas de materiales que requieren de un cuidado especial tales como la lana, pieles y cuero. Con solo tocar un botón en el control intuitivo comenzará a eliminar más del 99,9% de bacterias y gérmenes que se encuentran en las prendas a tratar. Institutos renombrados de testeo de productos, como La Fundación Británica de Prevención de la Alergia (BAF) e Intertek han probado la efectividad de las habilidades esterilizadoras del Styler.
LG sometió al Styler a numerosas pruebas dentro de los mejores hoteles y los centros comerciales más grandes para asegurarse de que
es apto para ser comercializado en el mercado B2B. LG se encuentra actualmente explorando diversas opciones para incluirlo en la dinámica de los grandes hoteles y mercados durante 2017.