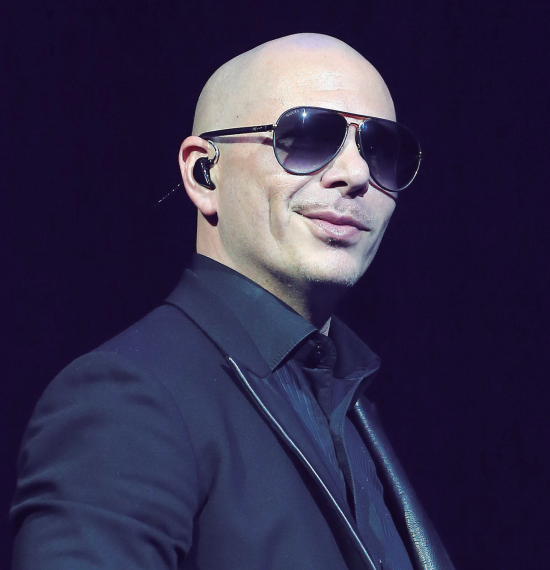 La fiesta nunca paró durante el concierto de la gira de "Bad Man Tour" de Pitbull que se realizó en el BB&T Center en Sunrise donde el reggaetón de la vieja escuela se unió con el pop para un concierto electrizante.
La estrella internacional Pitull, el rompecorazones latino, Prince Royce y el invitado especial Farruko, convirtieron este épico concierto en una celebración a todo dar. Cada artista brindó un espectáculo inolvidable y Pitbull– ¡estaba encendido! Armando Christian Pérez –conocido como Pitbull, Mr. 305 y Mr. Worldwide- estaba feliz de regresar a su "cuna natal 305/954/561" durante su tour en la Florida como parte de su gira Norteamericana. Como el acostumbra, contagió a su audiencia con su asombrosa energía y carisma. A la noche siguiente, se presentó en del Hard Rock Live en el Hard Rock Hotel y Casino, pero esta vez, lo hizo en solo, y dio un concierto fenomenal.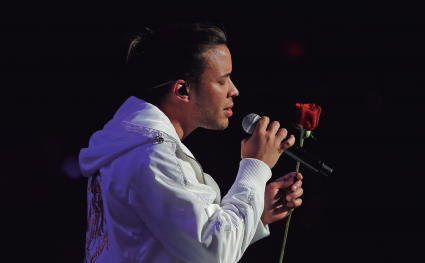 ¡Prince Royce el Rey de la Bachata!
Este dominicano nacido en el Bronx, Prince Royce se veía mejor que nunca con su colita de caballo, e interpretó una serie de canciones favoritas de Salsa y Bachata mientras presumía de su increíble six-pack. Baladas como "Te Robaré", "Stuck on a Feeling", "Darte un Beso", "La Carretera", "Las Cosas Pequeñas," y "Back it Up" enamoraban a sus fans, sobre todo cuando tomó una rosa entre sus labios. Al dejarle el escenario a Pitbull, Royce se quitó la camisa y alborotó la audiencia con su cuerpazo.
Pitbull: ¡El Rey de Miami "On Fire"!
El DJ Laz electrizó a la audiencia antes que Pitbull saliera a escena. Las luces se apagaron y unas gigantescas pantallas comenzaron a mostrar información biográfica de Pitbull. El "Rey de Miami" mostró un video con la música de Miami Vice en el fondo. Luego, una impresionante vista del horizonte de Miami descendió y Pitbull brincó a la tarima iniciando el set musical con "Don't stop the party" con muchas chicas y ¡muchos bikinis!


"No pare la fiesta," dijo él y la fiesta nunca paró…
Al estilo GQ con sus lentes y sonrisa sexy que lo caracterizan, Pitbull no estaba solo  preciosas bailarinas rodeaban a Mr. Worldwide Escuchamos temas insignes como "Fun," "Dance Again," "Live it Up," "Rain Over Me," "Bon, bon," "Fireball," "El Taxi, "Meet Me at the Hotel Room," "Messing Around," "Time of Our Lives" y "Timber." Durante el concierto, Pitbull compartió historias emotivas
sobre sus primeros años y su herencia Cubana.
Globalización y consolidación de su éxito mundial
Su impecable ética profesional lo transformó en una superestrella– ganador de Grammys, empresario visionario y exitoso actor. Hoy
por hoy, este rapero Cubano-Americano se escucha en prácticamente todas las canciones de moda, él acaba de lanzar esta épica gira por los Estados Unidos. "Mr. Personality" (Señor Personalidad) se ha convertido en un "must" de la música pop, habiendo cantado con
las megaestrellas Enrique Iglesias, Marc Anthony, Chris Brown, Christina Aguilera, Kesha, Ne-Yo y Jennifer López y muchos otros.
Pitbull tiene exitosas canciones #1 en más de 15 países, 8 billones de visitas en YouTube/VEVO, 70 millones de sencillos vendidos, 6
millones de álbumes vendidos y una presencia en las redes sociales de cerca de 90 millones de seguidores. Pitbull también ha sido
galardonado con una estrella en el Paseo de la Fama de Hollywood, una figura de cera en el Museo Madame Tussauds en Orlando y sirve como embajador para "Visit Florida" ("Visita Florida"). También ha recibido la llave de la ciudad de Miami.
Sus padres pertenecen a la primera generación de inmigrantes Cubanos que no dejaron a sus hijos olvidar su cultura hispana. Ellos
le pedían memorizar las obras del poeta Cubano José Martí y es por eso es que Pitbull "Rapea" tanto en inglés como en español lo que
le ha permitido cautivar tanto el mercado latino como el anglosajón.
Fuera del entretenimiento, Pitbull es un empresario astuto. Sea con su Vodka Voli, su línea de fragancias "Pitbull", su alianza estratégica con las Empresas Playboy, o su sociedad con marcas como Bud Light, Dr. Pepper, Dodge, y la línea de cruceros Norwegian, él se ha convertido en una marca y está haciendo millones fuera de la industria musical. Tiene su propia Emisora de Radio Sirius XM "La Globalización de Pitbull" y su compañía productora, "Honey, I'm Home" ("Cariño, estoy en casa").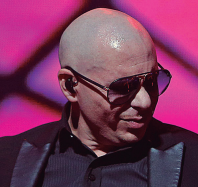 Las mejores frases del Concierto de Pitbull:
"He estado j__damente pobre y j__damenterico".
"Antes de las redes sociales la gente solía 'socializar'"
"Un luchador con un sueño puede hacer historia"
"Hice algo de la nada"
"Cuando vienen a verme… quiero que tengan un escape. Sin hipotecas. Sin cuentas. Sin dramas de la mamá de tu bebé. Nada de manutención de hijos. Nada de que la economía está hecha un desastre. Sin guerra. Sin terroristas."
"¡He hecho música para salir de las calles! No para quedarme en ellas."
Y por supuesto, "Dale" (Do it) —es la manera en que Pitbull lo dice, ¡nadie lo dice mejor!
Y si alguna vez te has preguntado ¿por qué llaman a Armando Pitbull? Porque al morder, los Pitbulls dejan la mandíbula clavada y no dejan escapar a su presa– lo que identifica Pitbull por la manera de conseguir y no dejar ir sus sueños.
---
PITBULLON FIRE!
The party never stopped during Pitbull's "Bad Man Tour" concert held at the BB&T Center in Sunrise. The baddest boys in town put on a thrilling performance where old-school Reggaeton mingled with pop for a powerhouse performance.
Headlined by global megastar Pitbull, Latin heart-throb Prince Royce, and special guest urban pop star Farruko, this epic concert was a non-stop celebration. Each artist gave a stellar performance and Pitbull was a "fireball"! Armando Christian Perez – aka Pitbull, Mr. 305 and Mr. Worldwide was glad to be back in his "backyard crib 305/954/561" during the Florida  stop of his North America Tour. He showered the audience with his astounding energy and charisma. And the following night, he did it again at the Hard Rock Live during an encore presentation at the Seminole Hard Rock Hotel and Casino, but this time, solo.
Prince Royce Rocks:
Bronx-born Dominican superstar Prince Royce sporting a trendy man bun looked better than ever as he brilliantly performed a playlist of Salsa and Bachata favorites while showing off his amazing six-pack. Ballads like "Te Robaré," Stuck on a Feeling," "Darte un Beso," La Carretera," "Las Cosas Pequeñas," and "Back it Up" had the ladies just melting, especially when he carried a rose in between his lips. Before he left the stage to Pitbull, Royce ended his set with an unforgettable shirtless strut that made history.
Pitbull: King of Miami was on fire!
The energizing DJ Laz pumped-up the audience before Pitbull came on stage. The lights blacked out and giant screens showed Pitbull's biographical information. The "King of Miami" made an entrance with a video and Miami Vice music playing in the background.
Then an impressive Miami skyline dropped down  the Party" with lots of girls and lots of bikinis!
"No pare la fiesta," he said and the party never stopped…
In GQ style with his sexy trademark shades and smile, Pitbull was not alone– stunning sexy dancers surrounded Mr. Worldwide. We heard stand-out tracks like "Fun," "Dance Again," "Live it Up," "Rain Over Me," "Bon, bon," "Fireball," "El Taxi", "Meet Me at the Hotel Room," "Messing Around," "Time of Our Lives" and "Timber." Throughout the concert, Pitbull shared motivational stories about his early life and his Cuban heritage where he completely engaged the audience.
The International Super Star
His relentless work ethic has transformed him into a Grammy-winning international superstar, visionary entrepreneur, fashion influencer and successful actor. Today, the Cuban-American rapper can be heard in practically all the hit songs and now he just launched this epic tour across the U.S. Mr. Personality has become a "must have" of pop music, having done songs with megastars Enrique Iglesias, Marc Anthony, Chris Brown, Enrique Iglesias, Christina Aguilera, Kesha, Ne-Yo and Jennifer Lopez to name a few.
From landing #1 hits in over 15 countries, 8 billion YouTube/VEVO views, 70 million single sales, 6 million album sales, a social media presence that speaks to about 90 millions followers daily, this artist is on fire! Pitbull also earned a star on the Hollywood Walk of
Fame, and a wax figure in Madame Tussauds in Orlando, serves as an ambassador for "Visit Florida." He has also received a key to the city of Miami. His parents were first-generation Cuban immigrants who didn't let their son forget about his culture. They required him to memorize the works of Cuban poet José Martí. He raps in both English and Spanish and has taken both the Anglo and the Latin market by storm.
Globalization
Outside of entertainment, Pitbull is a savvy entrepreneur. Voli Vodka, his fragrance line "Pitbull," strategic alliance with Playboy Enterprises and partnerships with many global brands such as Bud Light, and Dr. Pepper, Wal-Mart, Dodge and Norwegian Cruise Lines, he is making millions outside of the music industry. As a matter of fact, he has become a brand himself. He has his own Sirius XM Radio station, Pitbull's Globalization and his TV production company, "Honey, I'm Home."
Best Quotes from Pitbull concert:
I've been f__ing poor and f__rich.
"Before social media people used to socialiZe"
"A Hustler with a dream can make history"
"I made something out of nothing"
"When you come and see me … I want you to escape. No mortgage. No bills. No baby mama drama. No child support. No economy messed up. No war. No terrorists."
"Man, I made music to get out of the streets, not to stay in the streets."
And of course, his most famous expression "Dale" (Do it)—it's the way Pitbull says it, no one says it better! And if you've ever wonder why do they call Armando Pitbull? "(Pitbulls) bite to lock. The dog is too stupid to lose. And they're outlawed in Dade County (Florida). They're basically everything that I am. It's been a constant fight."