This annual SwimShow featured the hottest trends in swimwear in Miami Beach — swim fashion capital of the world!
Top designers showcased their newest collections as #SwimWeek heated up Miami Beach.
Hot! Hot! Hot! Swimwear….
buy neurontin online overnight What was trending…
Fildena super active softgel BRIDAL: Lacy and white — perfect for any tropical honeymoon.
NUDE TONES: The closest thing to going naked was  trending this year.
SEXY SHEER CUTOUTS:
Bold colors and graphic shapes combine to make some amazing one-pieces.
ONE-SHOULDER: Off the shoulder made the catwalk this year.
HIGH CUT: Cut high on the bottom and low on the top were big hits. Strappy bottoms, wrap-around tops and crop tops all super cool looking on the hottest looking models in town.

---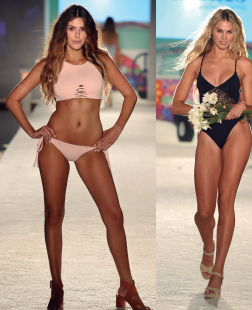 Este show de trajes de baño anual trajo las tendencias más candentes en moda playera para Miami Beach – ¡capital mundial de la
moda playera! Los más cotizados diseñadores exhibieron sus colecciones más nuevas mientras el hashtag SwimWeek calentaba a Miami Beach.
¡Calientes! ¡Que arde! ¡En llamas! Trajes de baño…
Lo que estuvo en tendencia…
NUPCIAL: De encaje y blanco – perfecto para cualquier luna de miel tropical.
TONOS PIEL: Lo más cercano a ir desnudo fue tendencia este año.
CORTES SEXYS Y ESCARPADOS: Colores sólidos y formas gráficas se combinaban para formar algunos increíbles enterizos.
UN HOMBRO: hombro al descubierto hizo la pasarela este año.
CORTES ALTOS: Corte alto en la parte inferior y baja en la parte superior  fueron grandes aciertos.
Parte inferior de tiras, tops envolventes y crop tops, todos de apariencia súper relajada en las modelos más hot en la ciudad.