http://weightlosstrainer.us/tag/oven-baked-kfc-recipe/ Experiencias que verdaderamente "rockean"
can i buy prednisone online in uk Los huéspedes de los Hoteles Hard Rock pueden darle un nuevo nivel a su estadía con un paquete "amplificado"
Los hoteles Hard Rock – con destinos desde Bali hasta Cancún y de Ibiza a Palm Springs- están invitando a sus huéspedes a subirle a su estadía con el paquete "Amplificado", disponible hasta el 31 de Diciembre de 2016 en todos sus 23 hoteles alrededor del mundo. El paquete "Amplificado" le ofrece a sus usuarios una marca centrada en inolvidables experiencias a través del enlace directo con ofertas exclusivas del Hard Rock Hotel para elevar la experiencia del invitado. Reconocido como el propietario de la más grande colección de cosas memorables en la música con más de 80000 artículos legendarios, Hard Rock ofrece a los huéspedes que se registren con este paquete una mirada tras bastidores a la colección con un tour VIP personalizado durante su estadía. Como parte del sello de la marca, el programa de actividades musicales "El sonido de tu estadía" les dará a los huéspedes una guitarra Fender pre-reservada, un amplificador de piso y audífonos para una sesión de improvisación en privado. Además, los invitados tendrán la oportunidad de llevarse recuerdos a casa con un pin coleccionable y un sombrero de edición limitada con la leyenda "Me conectaron en los hoteles @Hard Rock".
Durante el proceso de registro, los huéspedes pueden pedir servicios extras, tales como programar el tratamiento en "Ritmo y movimiento" en el Rock Spa o adquirir entradas para un evento local. Los huéspedes son invitados a compartir su experiencia amplificada en Facebook, twitter e Instagram con taggeando a @HardRockHotels e incorporando la etiqueta #ElSonidodemiEstadia para más oportunidades de recibir aún más exclusivos tratos. Para una lista completa de los hoteles Hard Rock con el paquete "Amplificado", incluyendo tarifas y disponibilidad, por favor visite hardrockhotels.com/amplified.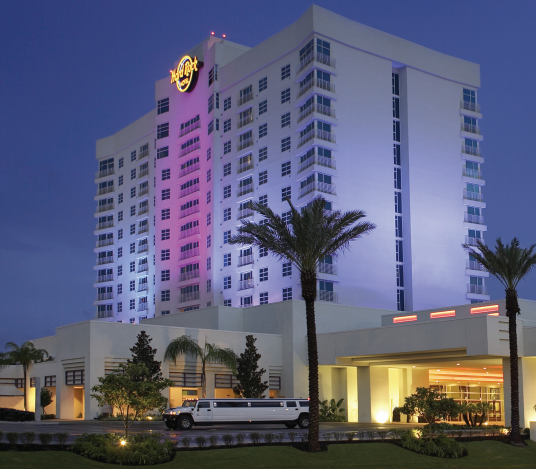 Authentic experiences that "rock"
HARD ROCK HOTELS GUESTS  CAN TURN UP THEIR STAY WITH THE 'AMPLIFIED' PACKAGE
Hard Rock Hotels – with destinations from Bali to Cancun and Ibiza to Palm Springs is inviting guests to turn up their stay with the 'Amplified' package, available through December 31, 2016 at all 23 hotels around the globe.  The 'Amplified' package provides hotel guests with a memorable brand centric experience through direct engagement with offerings exclusive to Hard Rock Hotels to elevate the guest experience. Recognized as the owners of the world's largest music memorabilia collection with more than 80,000 legendary items, Hard Rock will offer guests who book the 'Amplified' package a behind the scenes look at the collection through a personalized, VIP memorabilia tour during their stay. As part of the brand's signature The Sound of Your Stay® music amenity program, guests will also receive a pre-reserved Fender guitar, complete with floor amp and headphones for in-room jam sessions. In addition, guests will have the opportunity to take their memories home with a collectable pin and limited edition hat featuring the "I Got Plugged In @ Hard Rock Hotels" tagline.
During the booking process, guests are able to select extra services, such as booking a Rock Spa® Rhythm & Motion treatment or acquiring tickets to a local event.  Guests are encouraged to share their amplified experience on Facebook, Twitter and Instagram by tagging @HardRockHotels and incorporating the #SoundOfMyStay hash tag for their chance to receive even more exclusive perks.
For a full list of Hard Rock Hotels featuring the 'Amplified' package, including rates and availability, please visit hardrockhotels.com/amplified.