buy generic Neurontin By: Nancy Esteves
Perfectly situated on Fort Lauderdale's most exclusive oceanfront real estate, this stunning luxury hotel is a great place for a quick, yet fabulous getaway. For locals it's just a drive away to a worry free blissful escape with no airport hassles. The W Fort Lauderdale infuses elegance and relaxation offering signature amenities all throughout your stay. The hotel's design was actually inspired by a sailboat and boasts two magnificent towers. Top rated, the W has been named a Top 100 "US Hotel" in Condé Nast Traveler's Readers' Choice Awards. The Destination What's great about staying on Fort Lauderdale Beach is that there's a lot to do. From world class cuisine, shopping, great beaches– plenty of things even in walking distance, and trendy Las Olas is just a quick ride away. You can even take a water taxi over there. Just Relax Out of the ordinary is their unique signature pool and lounge trademarked WET, where you can also enjoy magnificent views of the ocean and a unique glass bottom pool.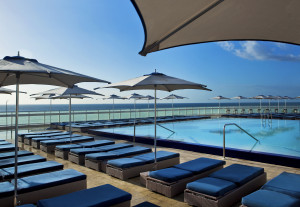 They also have a secluded pool oasis of calm named WET West.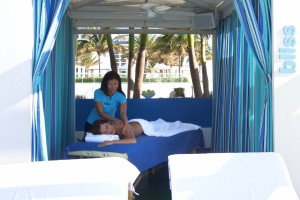 Comfy loungers and a seductive infinity edge hot tub while being served poolside drinks make for a very relaxing escape. There's even an oversized, gas-powered fire pit and a DJ playing great songs all weekend. WET Cabanas You can slip into Their WOW Cabanas (all feature High Speed Internet Access and private bathroom). A cool signature feature: Whatever/Whenever® for reservations-from water sports to dinner, theater—whenever/whatever concierge service. Things like having your luggage picked up from your home
Ah, the Spa… Appropriately named, Trademark Bliss® touches are terrific: jazzy blues tunes, a luxe nail lounge, pampering treatment rooms—a must try, their deep tissue massage! Separate men's and women's locker rooms and lounges open out to the outdoor terrace, featuring digital lockers, sand-tiled amazing steam showers, and spa snacks just waiting for you including their legendary brownie buffet. Some of the standout: Ginger Rub, Betweeny Wax and Triple Oxygen Treatment.


W Fort Lauderdale guests can look forward to "BIP" (Bliss Important Person) status for priority reservations (that last-minute Blissage 75™ ) and exclusive in-room sampling. Available service and amenities include: • Massage/Spa Treatments • Waxing • Manicures/Pedicures • Retail Store You can book your appointment at www.blissworld.com. The W Fort Lauderdale is the Perfect Getaway
The Nightlife Whiskey Blue Florida's first Whiskey venue is located at the property. It's a unique horseshoeshaped bar set off by a mirrored back wall. The aqua cushions are signature Whiskey Blue style. The Living Room Here you can enjoy signature cocktails and light fair at the beach front's hottest newest-spot. Lounge in sleek-yetcomfy décor and toast with fabulous cocktails Take it outside onto their terrace where perfect martinis and a tempting finger food menu are enjoyed overlooking the azure waters of the Atlantic.
Pet Friendly • Your very own Pet Suite tailored to suit your favorite things • A Suite Balcony with Tinkle Turf Pad • Limited Edition W Fort Lauderdale Dog Bandana • Bark Box delivered to the room • Specially Crafted Doggie Menu • Plush In-Room Doggie Bed • In-Room Food & Water Bowls • All Natural W Fort Lauderdale Peanut Butter & Oatmeal Snacks • Supply of Doggie Pick Up Bags • Available dog-walking service
useful link Perfectamente ubicado frente a la playa de Fort Lauderdale, este impresionante hotel de lujo es el lugar ideal para una escapada fabulosa. Para los locales sus vacaciones están solo a minutos en carro sin el estrés del aeropuerto. El W Fort Lauderdale es una combinación de elegancia y relajación que ofrece servicios de primera clase durante toda su estadía. El diseño del hotel fue inspirado en un barco de vela y cuenta con dos magníficas torres. El W ha sido calificado como uno de los Top 100 Hoteles en los EEUU por el Readers' Choice Awards de Condé Nast Traveler. Cuenta con habitaciones de lujo, un espectacular spa y gimnasio, piscinas frente al mar, restaurantes de primera como el Steak 954 que es espectacular, clubs nocturnos, cabañas con baño y Wifi alrededor de la piscina y servicios de concierge Whatever/Whenever®. Hasta puede llevar su mascota ya que tienen habitaciones especiales para ellos.