MEXICO: Guacamole Autentico at Cancun Marriott Resorts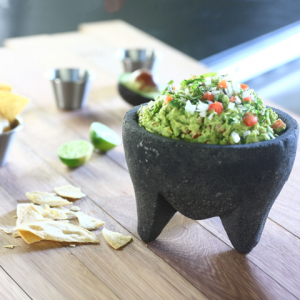 When in Mexico, one must always Guacamole, and the Cancun Marriott resorts offer one of the beach town's best. Be it at BeachWalk at the JW Marriott Cancun Resort & Spa or at La Isla located at sister property (and next door neighbor) CasaMagna Marriott Cancun, travelers can enjoy the creamiest guacamole with views of the bright blue Mexican Caribbean. Can't make it to Mexico this Hispanic Heritage Month? Celebrate at home with the recipe, straight from the Cancun Marriotts' kitchen staff.
Ingredients:
4 Hass avocados, ripe
3 plum tomatoes, small dice
1/2 yellow onion, small dice
1/2 bunch cilantro, chopped
1 oz fresh lime juice
sea salt and pepper to taste
Method:
1. Cut each avocado in half, remove the seed and extract the pulp. Mash the avocado pulp in a bowl.
2. Mix in all the ingredients, reserving some tomato, onion and cilantro for garnish.
3. Season with salt and pepper to taste.
4. Garnish with tomato, onion and cilantro, and serve with tortilla chips.
MIAMI: Peruvian Ceviche at Essensia Restaurant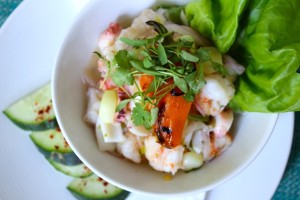 A melting pot of international flavors, Miami offers some of the best Hispanic cuisine in the western hemisphere. Venoy Rogers, executive chef at Essensia Restaurant & Lounge inside of the Palms Hotel & Spa, has embraced the international influences while taking a hyper-local approach to his menu with ingredients sources from the on-property chef's garden and nearby farms. His version of "traditional Peruvian ceviche" doesn't spare any of the flavor.
Ingredients:
Ceviche Marinade (3 cups which is good for a 6" 1/6th pan of seafood)
1 t. Minced Garlic
1 t. Minced Ginger, peeled
2 oz. Red Onion, chopped
2 oz. Celery, chopped
16 oz. Lemon Juice
2 oz. Aji Amarillo Paste
Method:
Combine all in the vita prep and blend until fully pureed (no chunks). Set aside until needed to marinate the fish (proper marinating should be a minimum of 20 minutes and up to 24 hours).